Celebrate the summer's bounty of peaches with this beautiful peach upside-down cake, a recipe from Nicole Hampton's book, Sugar High. Nicole's book features recipes ideal for high altitude baking and this cake recipe is one you'll repeat throughout the seasons with a variety of fruits.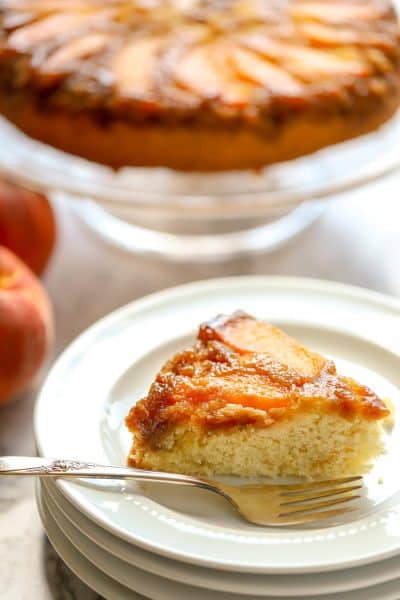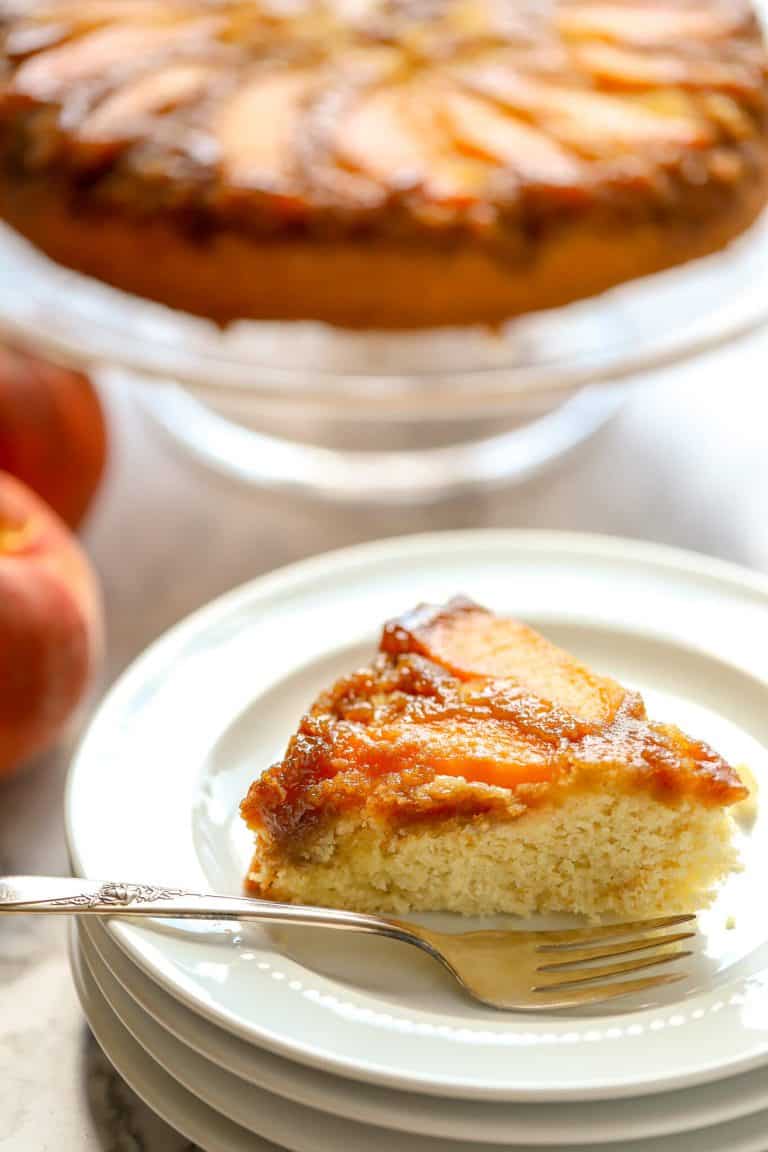 Baking at high altitude has its challenges and Nicole Hampton of Dough Eyed has taken the mystery and frustration out of the process with her new book, Sugar High.  Please note that I received a complimentary, advance copy of the book from the publisher, Graphic Arts Books. 
Nicole bakes here in Colorado and has been busy compiling her favorite sweet and savory recipes along with useful high altitude baking tips. Her book is filled with recipes for breads, cakes, cookies, bars, tarts, pies and more.
Sugar High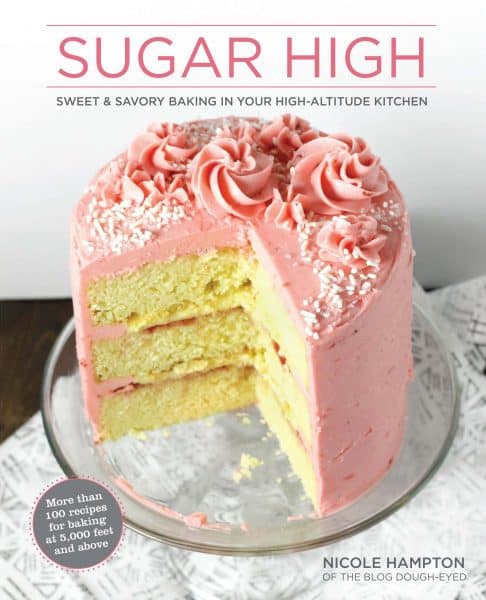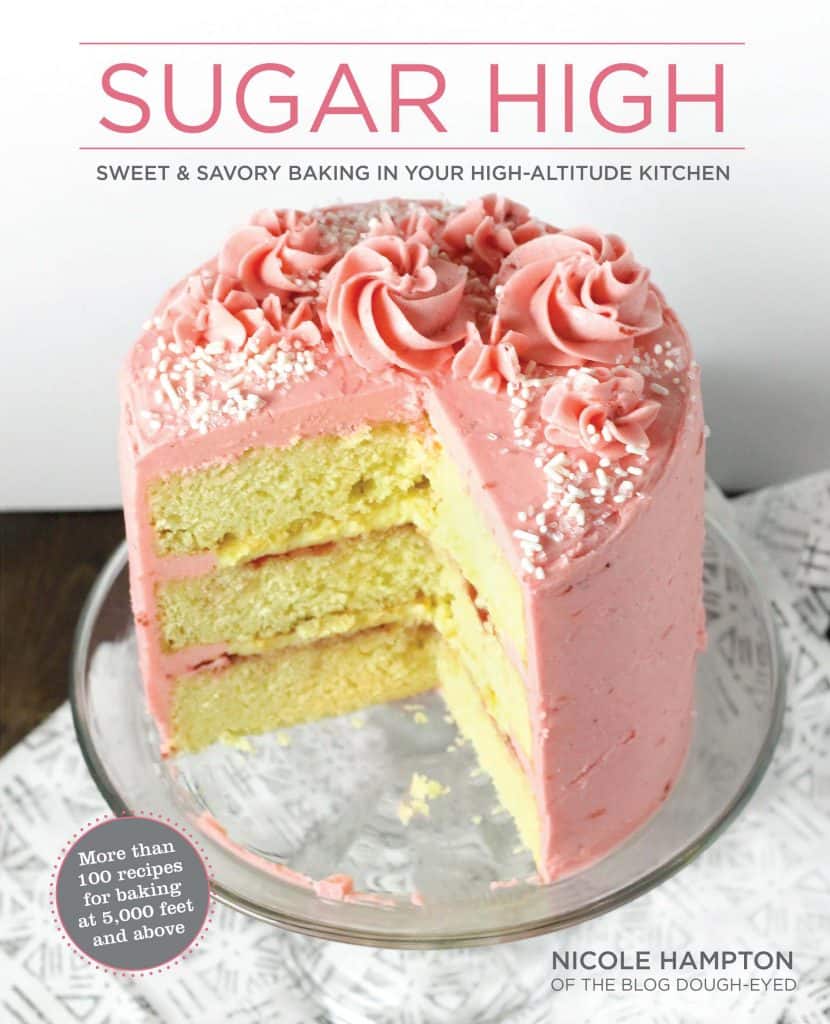 I jumped into Sugar High with this recipe for Peach Upside Down Cake. It is Palisade Peach season here and Colorado peaches are like no other. Juicy, vibrant, and only at peak ripeness for a short time of the year makes these peaches a very special treat. My Palisade peaches arrived thanks to a local Boy Scout fundraiser in which Cunningham Peaches participated. Next year I'll double my order. So good!
Upside-down cakes remind of my grandmother. She often made a pineapple upside down cake with a box cake mix, pineapple slices from a can, and jarred cherries. I can see the cake so clearly and even picture the 9 by 13 pan she used.
This peach upside-down cake is similar in concept but baked from scratch. It's just as easy as my grandmother's version and will come together quickly. Melted butter and brown sugar form the bottom layer in your round cake pan; sliced peaches are laid on top. The batter easily covers the sugary goodness and the peaches then it all turns upside down after baking for a beautiful presentation.
I like to arrange the peaches in a sunburst pattern but this cake is just as good if you fill the peach layer any which way you'd like.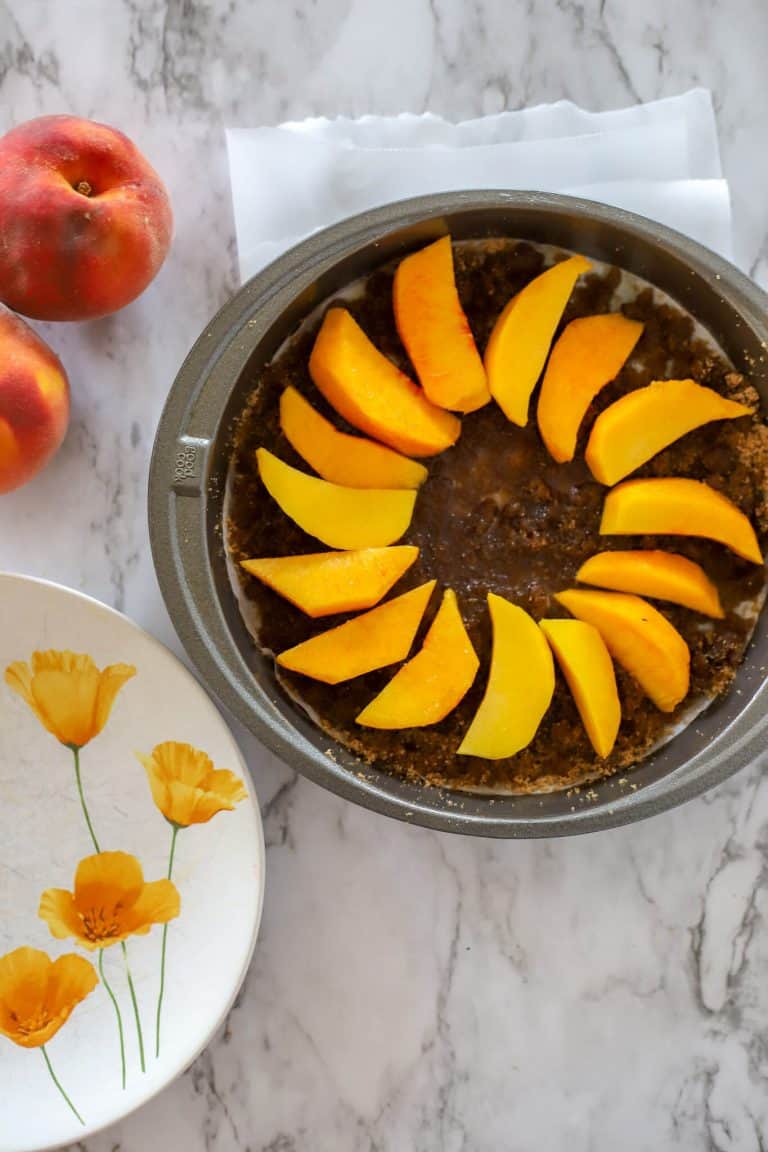 The cake batter is ideal for high altitude baking, and I'll use the recipe again for other fruits throughout the year. I substituted the cake flour with 1 1/2 cups gluten free flour blend plus 2 tablespoons gluten free corn starch making cake perfect for gluten free bakers too.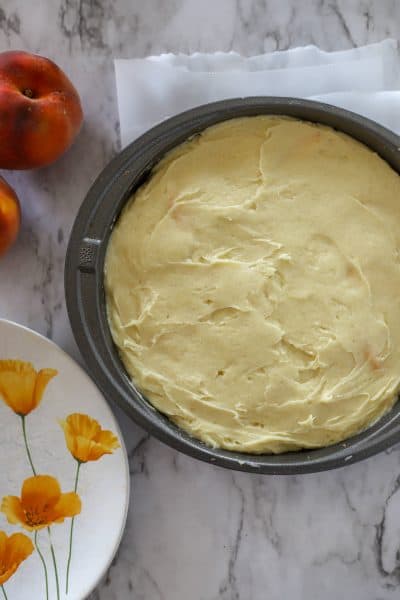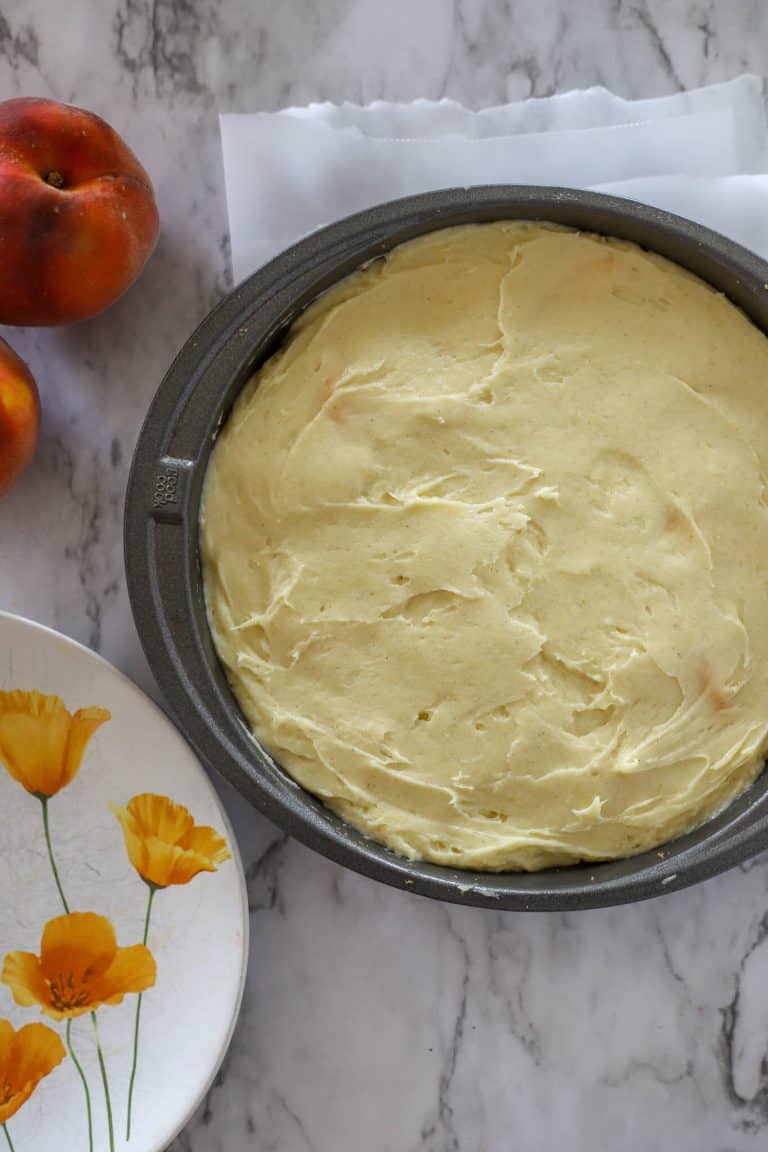 Turning the peach upside-down cake over after removing it from the oven and allowing 10 minutes of rest time is the moment of truth. What a joy to find the sunburst design of peaches bathed in a crunchy layer of brown sugar and butter!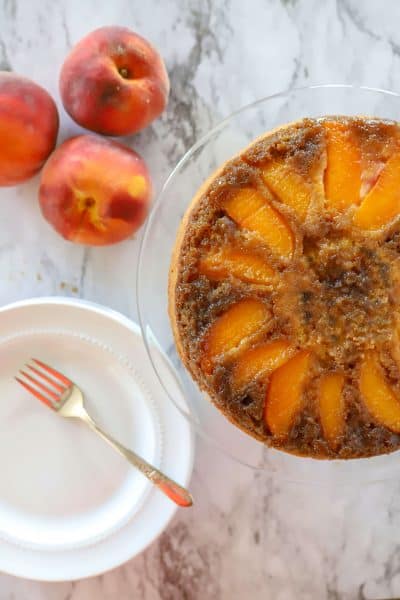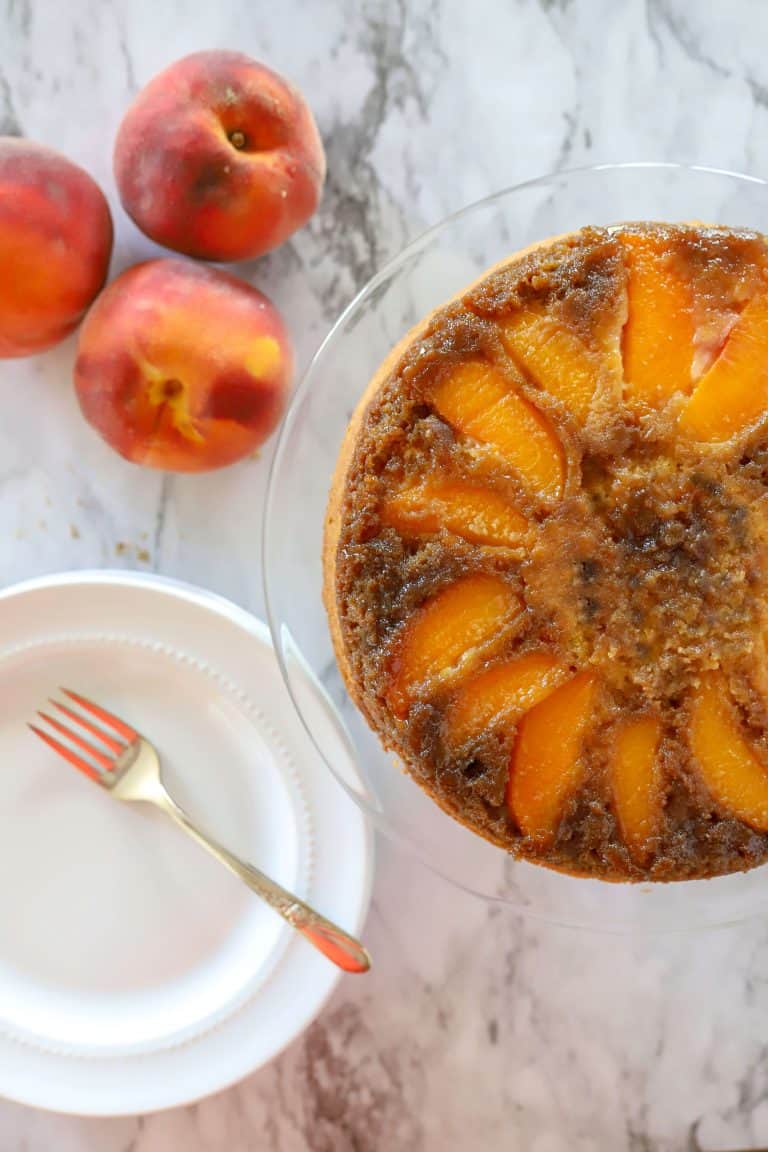 There are so many recipes in Nicole's book that I will be busy baking for months. Her peach upside-down cake will be served for guests again this weekend. Next up I have my eye on her plum orange cake, gingerbread, and my son has requested the vanilla layer cake. Congratulations, Nicole, on your new book, Sugar High!
Recipe for Peach Upside-Down Cake
"Sugar High: Sweet & Savory Baking in Your High-Altitude Kitchen, ©2018 by Nicole Hampton, Graphic Arts Books®, reprinted by permission."
Print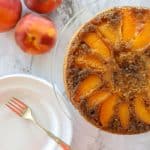 Peach Upside-Down Cake
Author:

Prep Time:

25

Cook Time:

35

Total Time:

1 hour

Yield:

8-12

Category:

Dessert

Method:

Baking

Cuisine:

Dessert
---
Description
Peaches are the star in this classic recipe for upside-down cake. Printed with permission (page 98 of Sugar High)
---
Ingredients
1/2 cup unsalted butter, softened
1/4 cup granulated sugar
2 eggs
1 egg white
1 teaspoon vanilla extract
1/4 cup whole milk
1 1/2 cups plus 2 tablespoons cake flour
1 1/2 teaspoons baking powder
1 teaspoon salt
1/3 cup unsalted butter, melted
3/4 cup firmly packed dark brown sugar
2 firm but ripe peaches, pitted and sliced (I removed the peel as well)
---
Instructions
Preheat the oven to 350 degrees F. Grease and flour an 8-inch round cake pan. Line the bottom of the cake pan with parchment paper cut to fit. In a large bowl beat together the butter and granulated sugar until fluffy. Beat in the eggs, egg white, and vanilla, and beat for 2 to 3 minutes. Mix in the milk. Add the flour, baking powder, and salt, and beat until combined.
Pour the melted butter into the bottom on the greased cake pan and tilt the pan around so the butter evenly coats the bottom. Sprinkle the brown sugar evening over the butter. Arrange the peach slices on the bottom of the pan, on top of the butter and brown sugar in one even layer. Pour the cake batter over the peaches and spread evenly in the pan.
Bake until a cake tester inserted in the center of the cake comes out clean, 35-40 minutes. Let coo for 10 minutes.
Place a serving platter upside down on top of the pan. Using oven mitts invert the platter and pan together in one swift motion. Give it a gentle shake, if needed, until the cake releases onto the platter. Cut into wedges to serve.
---
Notes
Gluten Free Option: I substituted 1 1/2 cups gluten free flour blend plus 2 tablespoons gluten free corn starch instead of the cake flour to make this cake gluten free.
Recipe Card powered by

Now who is ready for more peach recipes? I certainly am!
Peach Bundt with Raspberry Jam Swirl
Kitchen Tools you May Need for this Recipe:
We are a participant in the Amazon Services LLC Associates Program, an affiliate advertising program designed to provide a means for us to earn fees by linking to Amazon.com and affiliated sites.