Learn how to make golf ball cookies with these easy steps and share these golf cookies with golf fans for celebrations like Father's Day, Mother's Day, teacher appreciation, golf themed birthday parties and golf parties!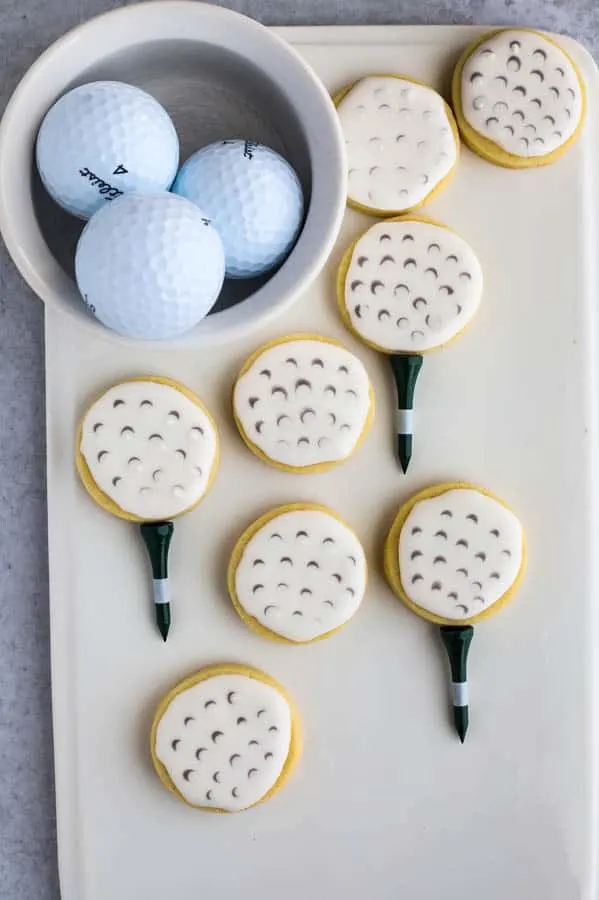 Decorated sugar cookies add such a special touch to celebrations! We cheered my mom's hole in one on with these hole in one cookies. We also celebrated a Masters themed party for my dad with these Masters golf cookies. Can you tell that we are a golf loving family?
Golf ball cookies are a simple decorated cookie. No fancy cookie cutter required. All you need is a circle cookie cutter for the golf ball shape. White royal icing with a smaller amount of gray royal icing are the two shades needed for icing the cookies. The goal is to recreate that dimpled look of a golf ball. Perfection is not required. Just achieving the idea of a lifelike golf ball in a flat, sugar cookie is more than enough.
How to Make Golf Ball Cookies
Bake sugar cookies in a circular shape.
Ice the circles with white royal icing.
While the white icing is wet, drop small gray circles of royal icing on the cookie.
While the gray circles are wet, drop white circles just off center of the gray circles.
Let the icing settle and dry.
Golf decorated cookies are as easy as those steps! These sports cookies would be a great place to start for beginner cookie decorators.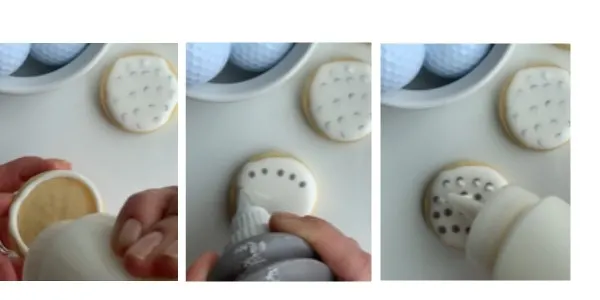 Royal Icing Decorating Techniques
Let's talk about how to be successful using royal icing to decorate sugar cookies. You'll need to have the right consistency of royal icing for each step of these golf cookies. From thick consistency, to outline consistency, to thinner filling consistency, the difference is only the amount of water added to change the royal icing.
For this golf cookie you'll be using a wet on wet icing technique. You'll drop WET gray circles onto the WET white cookie. On top of this you'll add another drop of white WET icing on top of the gray wet circle.
The wet on wet icing technique allows your cookie decorations to blend in with each other to create a smooth finish on top. If you wait and let the layers dry in between each step you will have BUMPS of white and gray on top of the initial white layer. While not incorrect, that bumpy look is just not what we are going for in this cookie.
Thickness of Royal Icing for Golf Ball Cookies
Royal icing can be very thick for icing details for sweets like gingerbread houses. Thick royal icing is usually what you have after you whip the icing to soft peaks. It is from this point that you'll add drops of water to thin the icing to the desired consistency.
For golf ball cookies, we start with white royal icing in an outline consistency. This icing creates a border around the circular outline for your sugar cookie. You'll then fill the cookie in with that same white icing.
The gray icing will also be close to outline consistency. When you drop the circles of gray on to the wet icing you don't want the gray circles to spread too much. You can drop the gray circles in straight lines but I like to arch the gray dots as you'll see in the video below to add to that 3-D look.
Now, here is a key point– for the final layer you'll drop a WET dot of white icing (same icing from step one) just off center of the wet gray circles. This step creates a look of depth with the cookies.
Let the cookies sit and dry for a few hours or even overnight.
Yield: 2 dozen
How to Make Golf Ball Cookies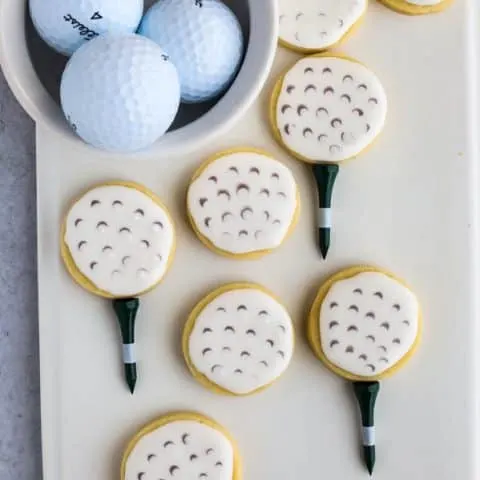 Learn how to make golf ball cookies for your golf fans!
Materials
Baked circle sugar cookies
Royal Icing in White and Gray
Tools
Pastry bag
Icing squeeze bottles
Instructions
Bake sugar cookies in a circular shape.
Ice the circles with white royal icing.
While the white icing is wet, drop small gray circles of royal icing on the cookie.
While the gray circles are wet, drop white circles just off center of the gray circles.
How to package decorated cookies
Whether you are sharing these cookies as party favors or gifts, it is a nice touch to put each cookie in its own small treat bag. Tie the packaged cookies with a ribbon for a colorful pop. And if you are celebrating an occasion such as Mother's Day, Father's Day, Teacher Appreciation, or a special birthday, I may have the perfect (FREE!) label for you to add to the cookies just like I did for my dad.
Golf Party Favors– use a golf label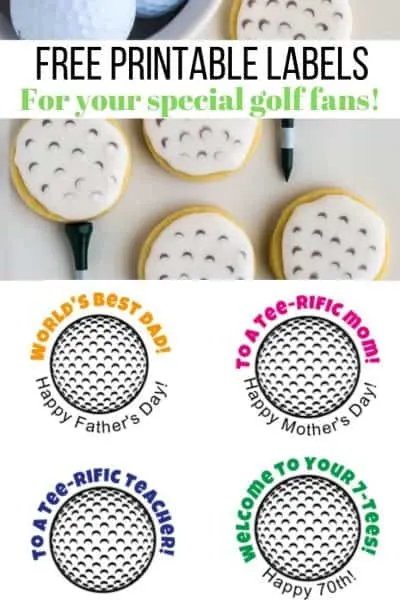 These sweet golf cookies really do make lovely party favors. As an addition (or if you don't feel like baking) use these labels to make a golf party favor without the cookies. Simply put some golf tees in a party favor bag and add one of the free golf ball labels to the bag.
Do you like a play on words? I sure do! Try these suggestions:
With a bag of 7 golf tees and the printed golf label "Welcome to you 7-Tees" you have a 70th birthday party favor ready to go! Same for Happy 80th! (8-Tees).
Or is it teacher appreciation that you are celebrating? How does this sound: To my TEE-rific teacher!
Father's day and Mother's day are certainly not left out and there are labels for those holidays too.
I like to print these labels on Avery 2 inch round stickers but if you don't have the sticky labels, simply print on paper and cut out in circles for your party favors.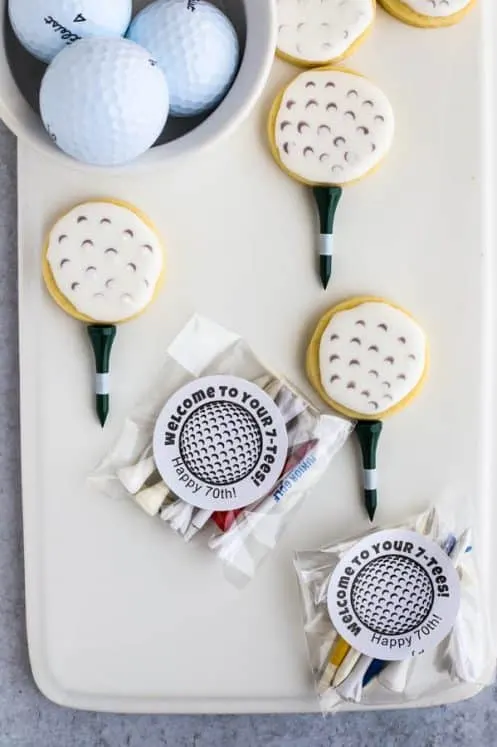 Find these FREE PRINTABLES on this free library page on my site. Labels are available for personal use only and not for resale.
Looking for more beautiful ideas for sugar cookies decorated with royal icing? Try these ideas from my Decorated Cookies Collection:
BAKING SUPPLIES YOU MAY NEED:
As an Amazon Associate I earn from qualifying purchases.
Pin this Golf Ball Cookie for your golf occasions!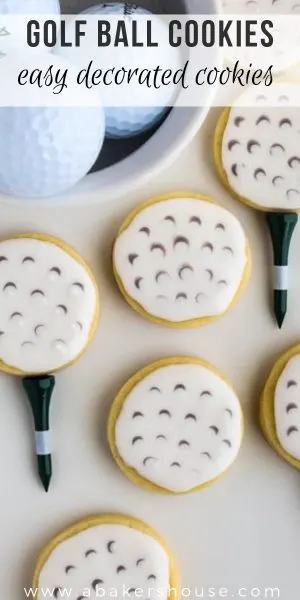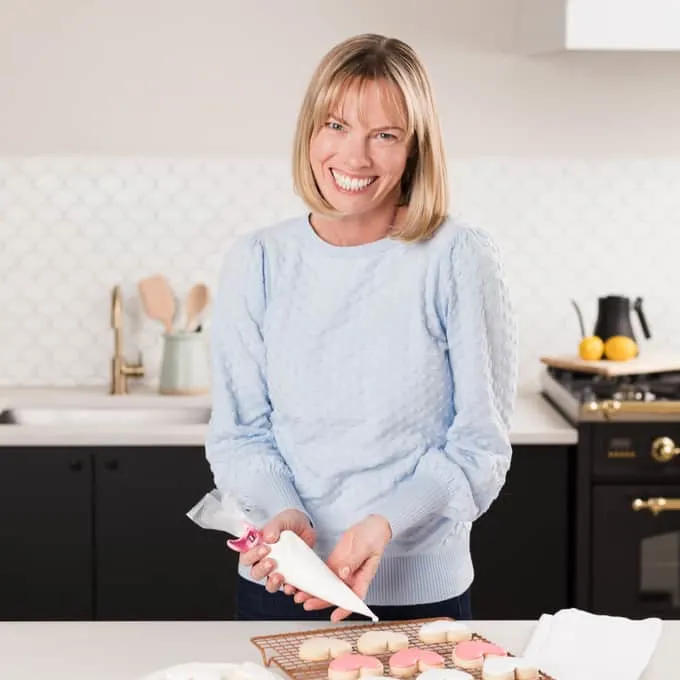 Holly Baker started the food blog, A Baker's House, in 2011. She is the writer, recipe creator, and photographer for the site. Holly loves to bake and shares recipes for gluten free food, canning recipes, as well as traditional desserts too. Her recipes and food photography have been highlighted by BuzzFeed, Reader's Digest, and She Knows.