Add a festive touch to your holiday table with this stunning raisin and nut bread wreath. The technique of braiding the strands of dough is not as hard as you might think and the process creates an impressive visual effect.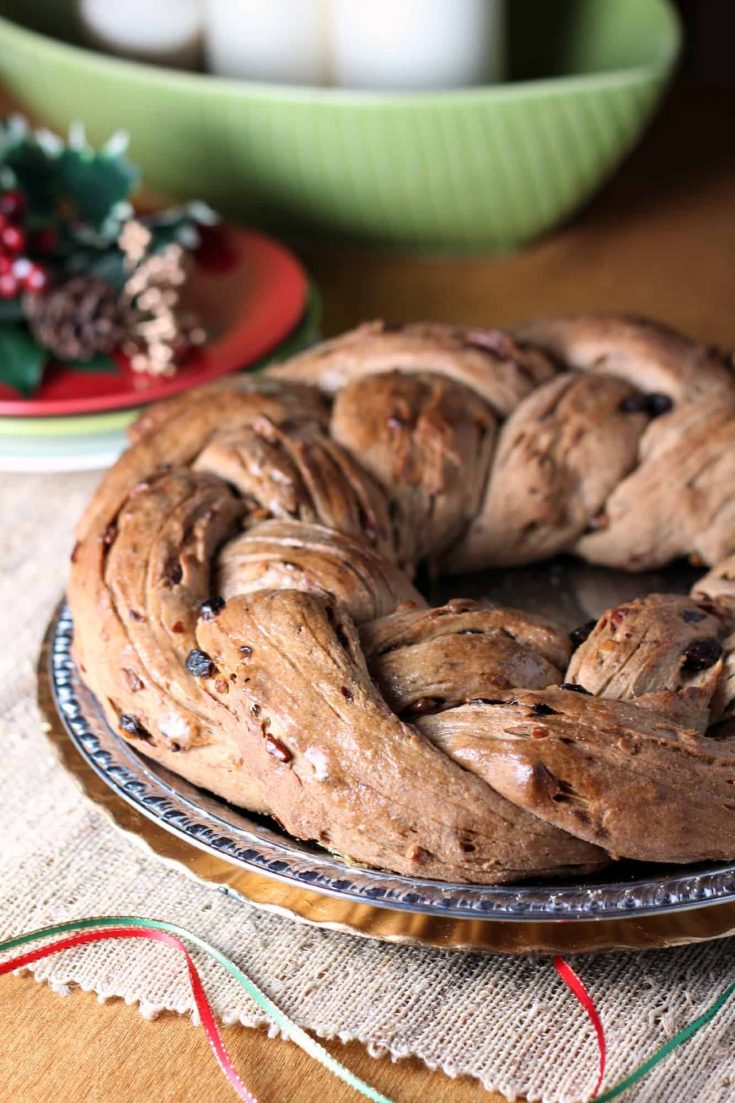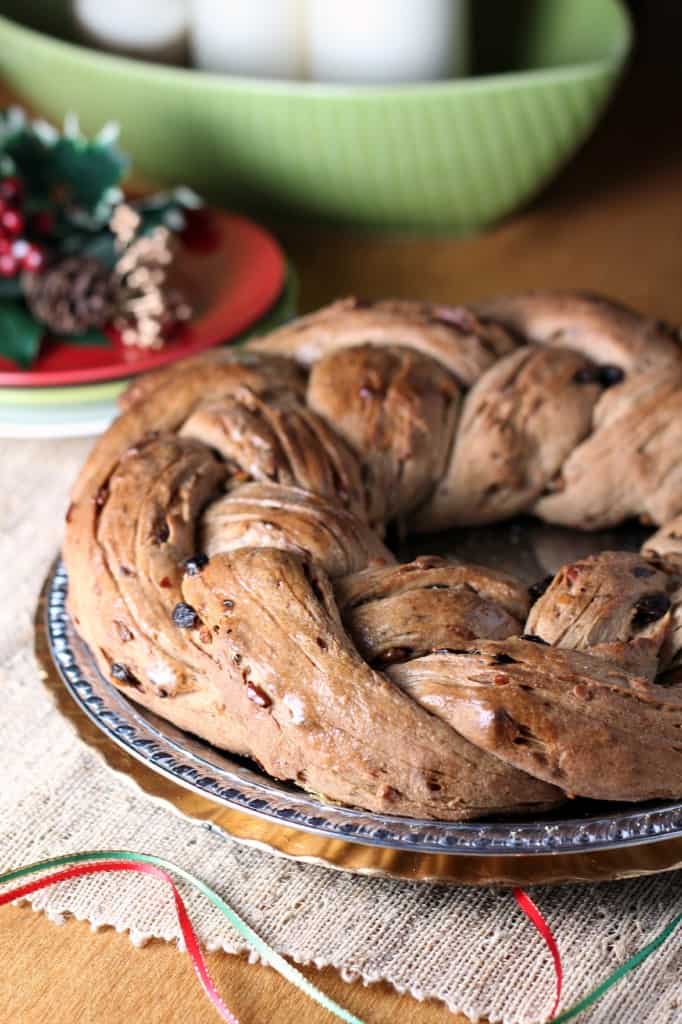 This raisin and nut wreath bread is a recipe from the website for The Telegraph, a newspaper published in the United Kingdom. I enjoy their food section and love the British take on holiday foods.
Some traditions are similar to those in the U.S such as a roast turkey dinner with all the trimmings but others like Christmas pudding and fruitcake are stars on a British menu that are rarely given the same worth here.
This wreath bread would impress on either side of the Atlantic without a doubt. It can be a centerpiece for your table and looks stunning with some greenery and a candle in the middle.
Or serve it on a buffet with a small bowl of soft butter in the middle of the wreath so that the bread can be pulled off in small pieces then topped with butter or jam.
Can I use a variety of nuts in this bread wreath?
Use any type of nuts you'd like– pecans and walnuts would be nice– and switch out the raisins for dried cranberries or currants if you please.
Twelve Loaves Baking Group
The #TwelveLoaves bakers are baking Holiday Breads this month. We'd love to see how you celebrate the season and welcome you to share breads from any holiday you cherish.
Yield: 1 loaf
Raisin and Nut Wreath Bread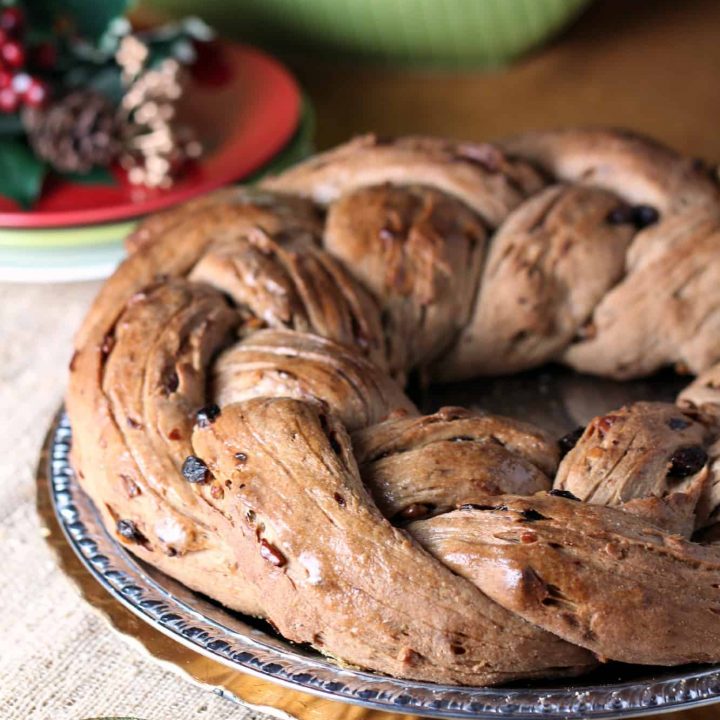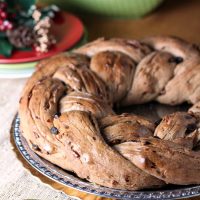 This raisin and nut wreath bread is a recipe from the website for The Telegraph, a newspaper published in the United Kingdom. I enjoy their food section and love the British take on holiday foods.

Prep Time 20 minutes

Additional Time 3 hours

Cook Time 40 minutes

Total Time 4 hours
Ingredients
200g (7oz) raisins
200g (7oz) walnut pieces (I used pecans)
450ml (16fl oz) whole milk
125g (4½oz) unsalted butter
1 tbsp dried yeast
500g (1lb 2oz) whole wheat flour
250g (9oz) bread flour, plus extra for dusting
100g (3½oz) granulated sugar
1 Tablespoon salt
milk, to glaze
Instructions
Preheat the oven to 350 degrees F and toast the chopped nuts for 5-7 minutes or until they are fragrant.
Meanwhile, cover the raisins with boiling water (add two Tablespoons of rum if you'd like) and allow them to plump for 15 minutes. Drain them and set aside.
Bring the milk to a simmer in a saucepan over medium heat. Cut the butter into small cubes. Once a thin skin forms, remove from the heat and add the butter. Transfer to a large bowl and leave to cool for about 30 minutes. The mixture should feel warm to the touch but not burning hot. Add the yeast and stir to dissolve.
In a medium sized bowl add the wheat flour, bread flour, sugar and salt. Whisk gently to combine. Pour the wet ingredients into a stand mixer. Add half of the dry ingredients then add the raisins and nuts. Stir with a spoon before adding the remaining dry ingredients. Mix thoroughly with a wooden spoon then put your dough hook onto the stand mixer and let the mixer knead the bread for 5-8 minutes or until the bread is smooth.
Spray a clean bowl with baking spray then turn the dough ball in the bowl a few times to coat all sides. Cover with plastic wrap also coated in baking spray and let the dough rise for about 2 hours.
Remove the dough from the bowl and divide into three pieces. Roll into sticks about 80cm (30in) long and 5cm (2in) wide. Start to braid, leaving the top end of your pieces unattached at first so that you can weave them into your braid as you complete the circle, forming the wreath shape.
Transfer the wreath to a large baking-tray. Cover with a clean tea towel and leave for 45 to 55 minutes.
Preheat the oven to 400 degrees F.
Use a spray bottle to spritz the bread with water right after you put it in the oven and bake for 35 to 40 minutes. If it starts to brown too much, turn the temperature down to 325 degrees F. Five minutes before the end, brush with milk for a shiny glaze. Serve warm.
Notes
Recipe source: The Telegraph

http://www.telegraph.co.uk/foodanddrink/recipes/9736802/The-new-baker-Christmas-bread.html
Nutrition Information:
Yield:
20
Serving Size:
1 slice

Amount Per Serving:

Calories: 318 Total Fat: 14g Saturated Fat: 5g Trans Fat: 0g Unsaturated Fat: 8g Cholesterol: 17mg Sodium: 337mg Carbohydrates: 45g Fiber: 4g Sugar: 14g Protein: 8g

This data is provided by Nutritionix and is an estimate only.

#TwelveLoaves is a monthly bread baking party created by Lora from Cake Duchess and run with the help of Heather of girlichef, which operates smoothly with the help of our bakers.
Our host this month is Liz from That Skinny Chick Can Bake, and our theme is Holiday Breads. For more bread recipes, visit the #TwelveLoaves Pinterest board, or check out last month's mouthwatering selection of #TwelveLoaves Pumpkin Breads.
Holiday Bread Recipes