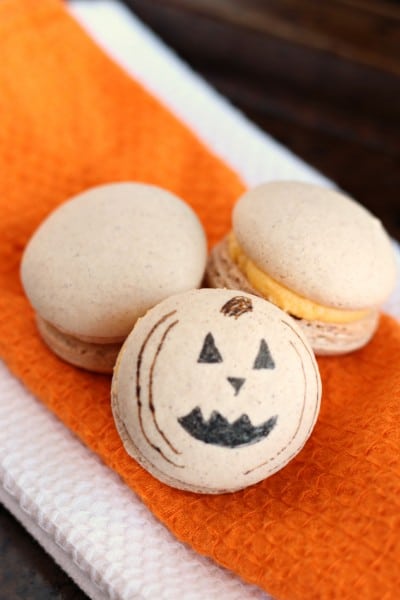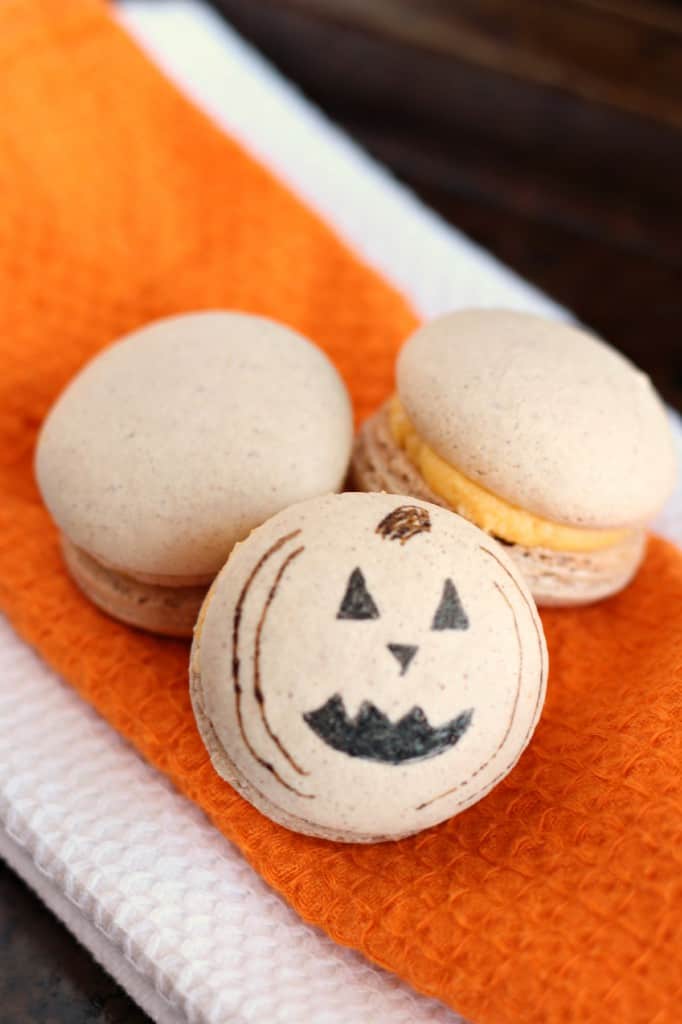 Pumpkin Macarons are a seasonal twist on standard macarons and well worth your time. Pumpkin pie spice adds flavor to the shells and pumpkin butter elevates the filling. I made pumpkin treats which take basic macarons to silly-holiday-fun when you add a jack-o-lantern face. Let the kids get involved and decorate their own! Or keep it simple and elegant with the plain macaron– a pumpkin spice shell with a pumpkin butter filling. These won't disappoint; they are the melt-in-your-mouth kind of good.
The #CreativeCookieExchange is all about HALLOWEEN this month. Whether you make something spooky, crafty, outrageous or simple, we'd love to see how your cookies celebrate Halloween.
I started with a macaron recipe from Brave Tart, The proportions of egg whites to almond flour, powdered sugar and granulated sugar that she provides work well for me too. It is helpful to use a kitchen scale to weigh ingredients when making macarons. That method is more accurate than measuring cups and you'll have better luck perfecting your macarons. To make these pumpkin flavored I used a generous amount of pumkin pie spice. You can make your own mixture out of cinnamon, nutmeg, allspice, ginger and cloves or you can buy it already mixed and ready for purchase in the spice aisle.
The baking tool I find most helpful when making macarons is a Macaron Baking Mat. The mat has circular indentations that make crafting identical macarons SO MUCH EASIER. When I've experimented with that same batch of macaron batter and made one tray with my molded baking mat and the other tray without the mat, I've had much better results with the mat. The molds give the macarons structure and, for me, are an insurance policy for when I may have under mixed my batter. Instead of spreading all over a regular baking mat, my macarons puff up, develop that signature foot around the edge, and bake beautifully.
We are a participant in the Amazon Services LLC Associates Program, an affiliate advertising program designed to provide a means for us to earn fees by linking to Amazon.com and affiliated sites.
Print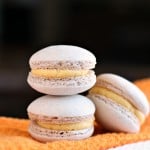 Pumpkin Macarons
---
Ingredients
4 ounces (115 g) almond flour
8 ounces (230 g) powdered sugar
5 ounces (144 g) egg whites
2 1/2 ounces (72 g) granulated sugar
1 teaspoon vanilla extract
2 teaspoons pumpkin pie spice
1/2 teaspoon kosher salt
For the filling (use only pumpkin butter on its own if you need a dairy free recipe)
4 ounces butter, softened
4 ounces cream cheese, softened
1/2 cup powdered sugar
1/2 cup pumpkin butter
---
Instructions
Please click through to original recipe from Brave Tart here. She provides excellent detail for each step. Add the pumpkin pie spice along with the salt.
For the filling
To make the filling dairy free simply use store-bought pumpkin butter. Or if you prefer, try this:
In a stand mixer beat together the butter, cream cheese, powdered sugar and pumpkin butter.
Pipe small amount onto one shell, top with second shell.
Optional: use food-safe markers or pens to decorate the shells like jack-o-lanterns.
Recipe Card powered by
Do you need more cookie inspiration? Check out our Pinterest Board and our monthly posts (you can find all of them here at The Spiced Life). You will be able to find them the first Tuesday after the 15th of each month! Also, if you are looking for inspiration to get in the kitchen and start baking for Halloween, check out what all of the hosting bloggers have made: