Ghost meringues are a perfect dessert for a Halloween party: easy to bake ahead of time and the recipe makes plenty for a crowd. Turn meringues into ghosts with a few pieces of chocolate. You'll have fun with these spooky ghost meringues dripping in a scary strawberry sauce.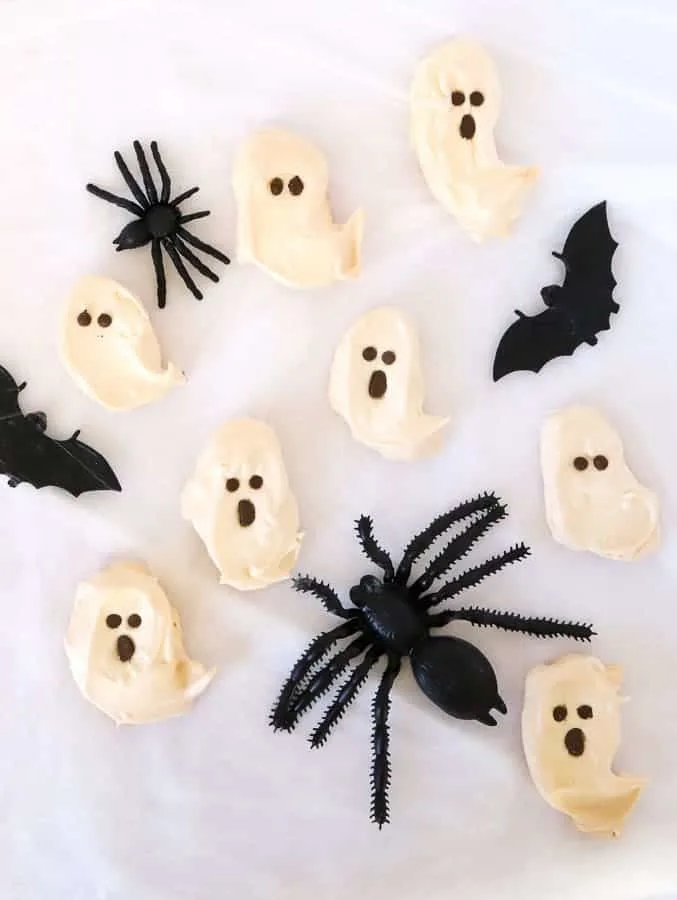 Get ready for Halloween with this adorable Halloween dessert!
This post is sponsored by Sprouts Farmers Market. I appreciate the opportunity to share recipes made with ingredients from brands I trust and support. All opinions are my own and do not necessarily reflect those of Sprouts Farmers Market. #sponsored
What are meringues?
Meringues are a dessert made by whipping egg whites and adding sugar. This recipe includes cream of tartar as well which helps with the stability of the meringue.
All it takes is a short time to whip the egg whites first to soft peaks, then you'll add the sugar and keep whipping until you reach stiff peaks.
The stiff peaks allow you to make shapes that remain even after baking.
Traditionally meringues are baked at a low temperature in the oven which slowly dries out the egg whites. Carefully watch the cooking instructions. The meringues are baked for half of the time with the oven turned ON and then are left in the oven while it is turned OFF. You are left with a crisp outside and a soft inside bite.
Meringues are gluten free. This style of meringue is more like a meringue cookie—crisp on the outside and barely chewy on the interior. Melt in your mouth goodness!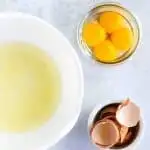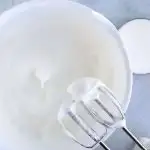 How do you make Halloween meringues?
We've turned this easy meringue recipe into a Halloween treat by making playful ghosts.
The traditional way to make ghost meringue cookies is to use a piping bag and to pipe little towers of swirls like the top of an ice cream cone. We build on that idea by removing the hassle of the piping bag and making ghosts that lay flat on the parchment rather than upright like a cone.
Honestly it couldn't be any easier to make this festive treat.
Here's the trick—scoop 3 inch tall ovals of the unbaked meringues on your parchment lined baking sheet. You could leave the meringues exactly as is and they will bake up in a spooky shape.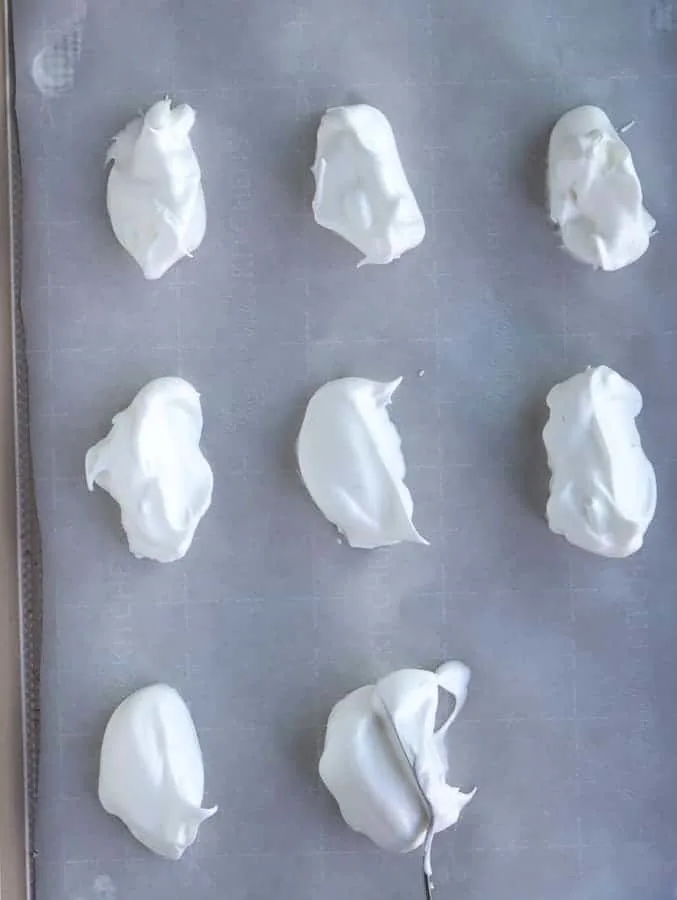 I think taking one more step helps you achieve the ghostly look we are going for in this Halloween dessert. Use a small spatula to gently flatten the surface of the meringue and add a "swoop" to the bottom of the meringue cookie.
Now you'll have a flat area on which you'll later create the ghost's face. Also, the artistic swoop at the bottom makes your ghost look as if it is in motion. Such fun!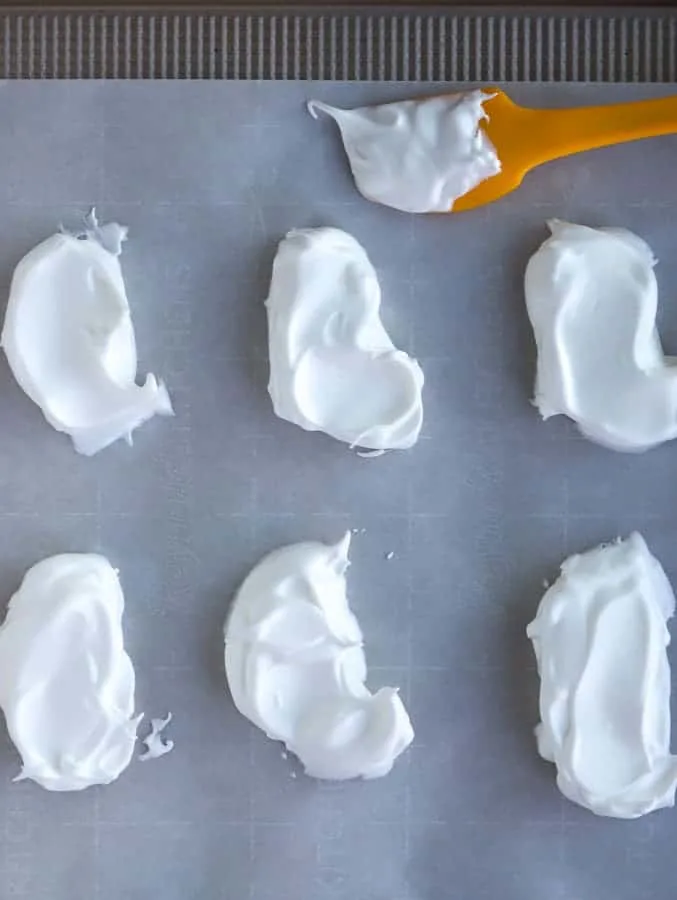 How do you make the ghosts' faces on this dessert?
I placed mini chocolate chips for the eyes and a sliver of a chocolate chunk for the mouth. Let the chocolate melt a bit on the ghosts in the oven and then use a toothpick to make the "O" shape of the mouth.
Chocolate frosting or black royal icing could be used to pipe the eyes and mouth.
Store-bought icing eyes
Food-safe edible icing pens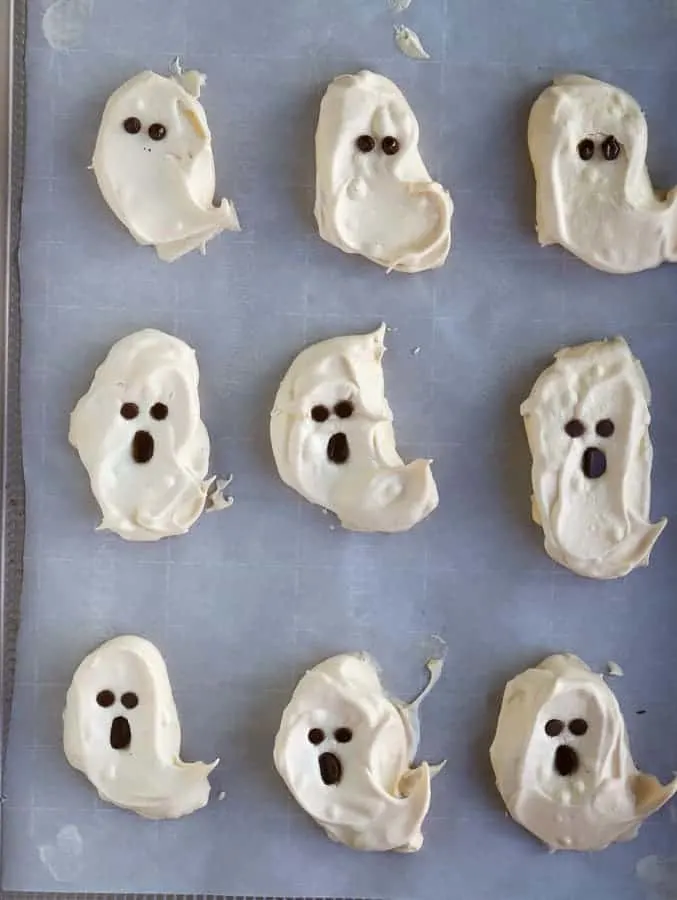 Easy frozen strawberry sauce
Add a bit of drama to your meringue cookies with a red strawberry sauce. Your ghost cookies can either be placed on top of the strawberry sauce or you can artfully drop the sauce around the plate for a blood splattered look.
You'll find bags of Sprouts Farmers Market frozen fruits in my freezer at all times. We use frozen fruits like strawberries, blueberries, cherries, and mixed berries in our smoothies on a daily basis.
Frozen fruits from Sprouts also make it easy to make this easy dessert sauce. In less than 15 minutes you can create a vibrant, fruit sauce for desserts, pancakes, yogurts, waffles, cakes and more.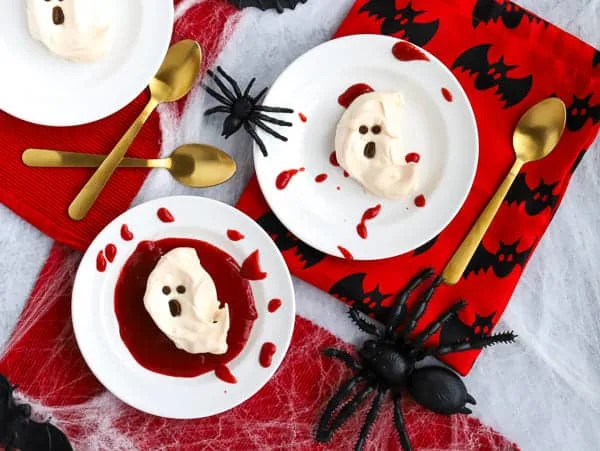 Click here to find the Sprouts store closest to you!
How do you make an easy strawberry sauce?
Place frozen strawberries and sugar in a saucepan. Add some lemon juice.
Bring to a simmer and let the sauce reduce slightly.
Pureé.
The strawberry sauce can be served cold or warm. Keep it refrigerated until ready to use.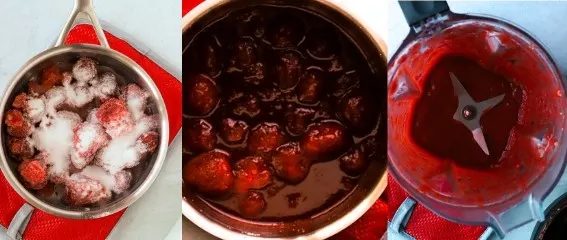 Yield: 18
Ghost Meringues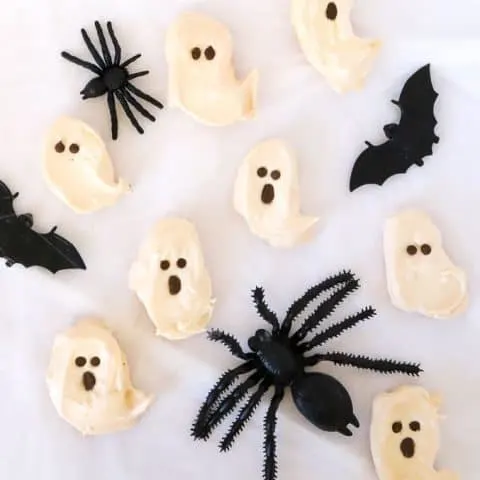 You'll have fun with these spooky ghost meringues dripping in a scary strawberry sauce! Meringue cookies are a simple gluten free dessert that can be made ahead of time.
Total Time
1 hour
10 minutes
Ingredients
For the meringues
4 egg whites (save yolks for another use) Sprouts Cage Free Farm Fresh Eggs
1/8 tsp cream of tartar
½ cup sugar
For the strawberry sauce
2, 10 oz. packages of Sprouts frozen organic strawberries
½ cup sugar
One small lemon
For decoration (optional)
Mini chocolate chips and regular or chunk chocolate chips
Instructions
To make the meringues:
Line two baking sheets with parchment paper. Set aside. Preheat the oven to 250 degrees F.
Sprinkle the cream of tartar over the egg whites in a large mixing bowl. Beat until soft peaks form. Slowly add the sugar and continue to beat on high until stiff peaks form.
Spoon 3-inch oval mounds of egg whites on the parchment lined baking sheets. Use a small spatula to gently flatten the egg whites to form into a ghost-like shape.
Bake at 250 degrees F for 30 minutes then turn the oven OFF and leave the meringues in the oven for an additional 20 minutes.
Remove the baking trays from the oven and use the mini chocolate chips to create eyes and the larger chips or chocolate chunks to create mouths. Put the trays back into the warm (but turned off oven) and let the chocolate melt for about 10 minutes.
Serve with strawberry sauce.
To make the strawberry sauce
Empty two packages of Sprouts frozen organic strawberries (10 ounces each) into a medium saucepan. Add ½ cup sugar and the juice of one small lemon. Stir to combine.
Heat on medium and simmer for 10-15 minutes. Puree the strawberries until smooth with a hand-held immersion blender or in a high-speed blender.
Notes
Feel free to serve your ghost meringues with a dollop of whipped cream and fresh berries.
Nutrition Information:
Yield:
18
Serving Size:
1
Amount Per Serving:
Calories:

130
Total Fat:

5g
Saturated Fat:

3g
Trans Fat:

0g
Unsaturated Fat:

2g
Cholesterol:

52mg
Sodium:

23mg
Carbohydrates:

20g
Fiber:

2g
Sugar:

18g
Protein:

4g
This data is provided by Nutritionix and is an estimate only.
Pin with me! Save this Halloween idea on your Pinterest Boards
Looking for more Halloween desserts? Try these!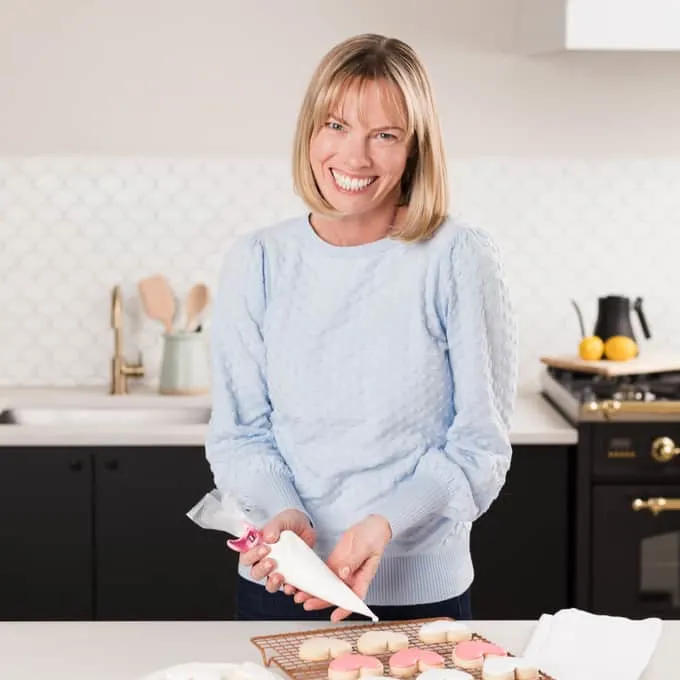 Holly Baker started the food blog, A Baker's House, in 2011. She is the writer, recipe creator, and photographer for the site. Holly loves to bake and shares recipes for gluten free food, canning recipes, as well as traditional desserts too. Her recipes and food photography have been highlighted by BuzzFeed, Reader's Digest, and She Knows.