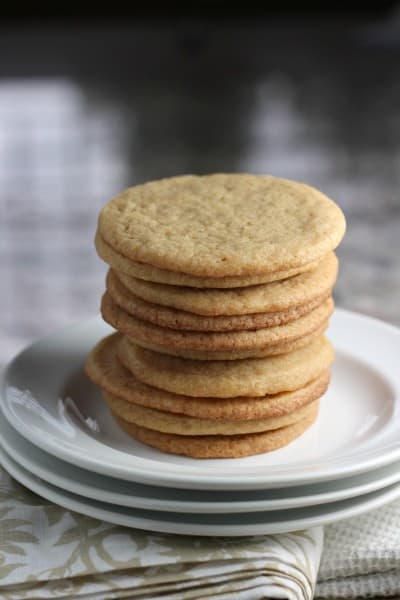 One of the best things about fall–in addition to sweaters and football–is all of the delightful seasonal themes that come to mind for baking: pumpkin, apples, late summer and early fall harvest, Halloween, Thanksgiving…. they are all fun and delicious to play around with, so check out what we have for you this month!
I'm sharing these maple sugar cookies of which it is nearly impossible to eat only one. Or two. Or three. You get the idea! Stacked up like pancakes, this tower of maple cookies offers a crispy bite and a homey maple syrup flavor that you're sure to enjoy. The original recipe called for these to be cut into maple leaf shapes but I found that even with taking time to chill the dough in between each step, the cookies spread quite a bit while baking. Circular shapes were an easy solution and they turned out nicely. Circles are a forgiving shape when it comes to cut-out cookies– honestly, if a small circle is good, isn't a larger cookie even better? In my book, yes! It's optional to brush the baked cookies with more maple syrup and top with a sprinkling of sugar. I thought they were sweet enough as is but give both a try.
You can also use us as a great resource for cookie recipes.
Be sure to check out our
Pinterest Board
and our monthly posts (you can find all of them here at
The Spiced Life
). You will be able to find them the first Tuesday after the 15th of each month! Also, if you are looking for inspiration to get in the kitchen and start baking, check out what all of the hosting bloggers have made: