This honey granola is a favorite homemade granola recipe of mine. The sweetness of honey paired with oats, nuts, and seeds makes a crispy granola in 30 minutes.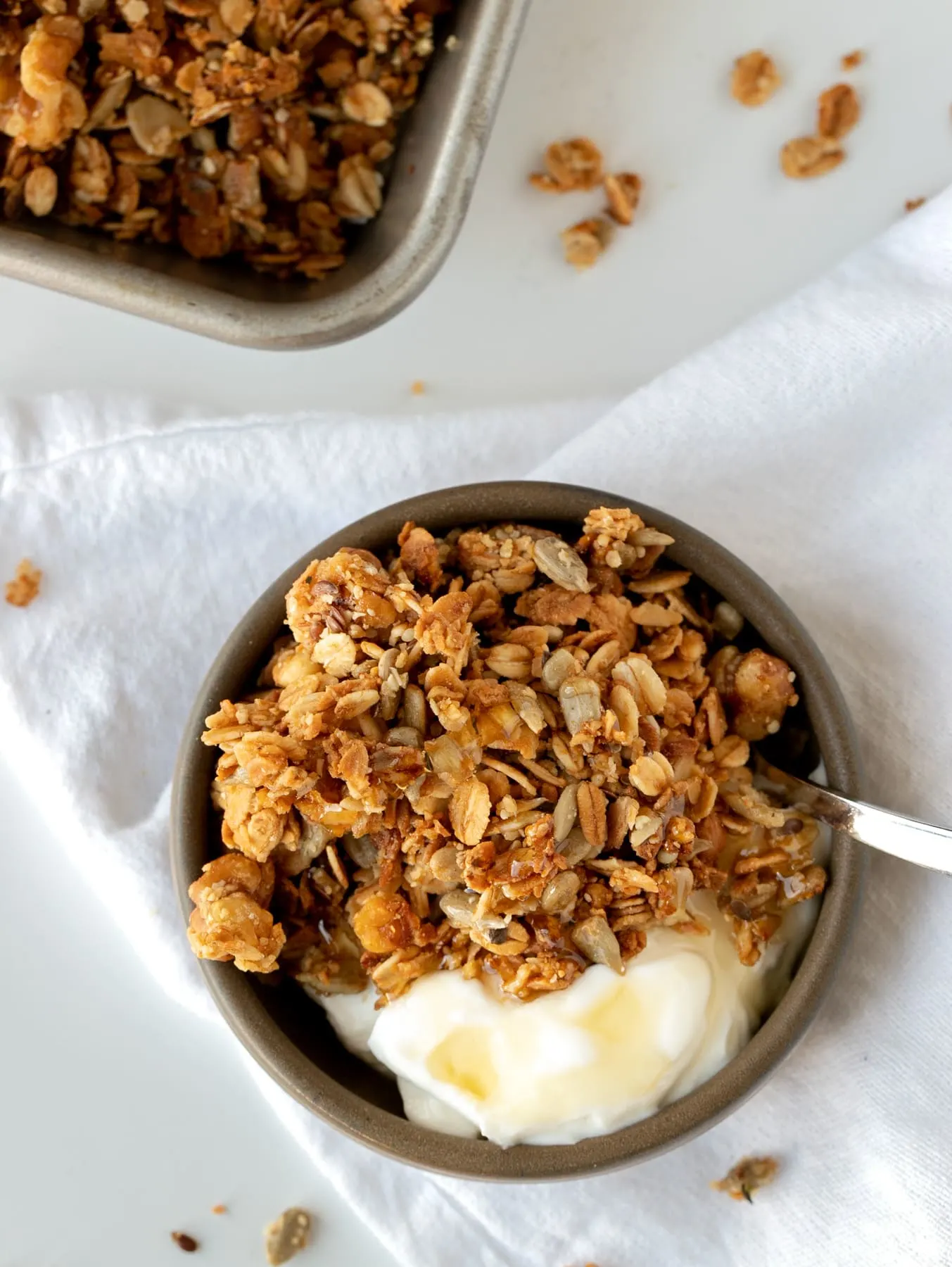 Why this recipe works
Making granola at home gives you control over your ingredients– especially how much sugar or sweetener you add to your recipe.
While store bought granola is quick and easy, homemade granola really doesn't take that much time either and this recipe allows you to be flexible with what type of nuts and seeds you include or leave out.
If you are looking for a honey oat granola bar recipe, try this version of homemade granola bars. Or, if you want to make a seasonal granola I recommend my pumpkin granola recipe.
Here is a web story for Homemade Honey Granola.
Ingredients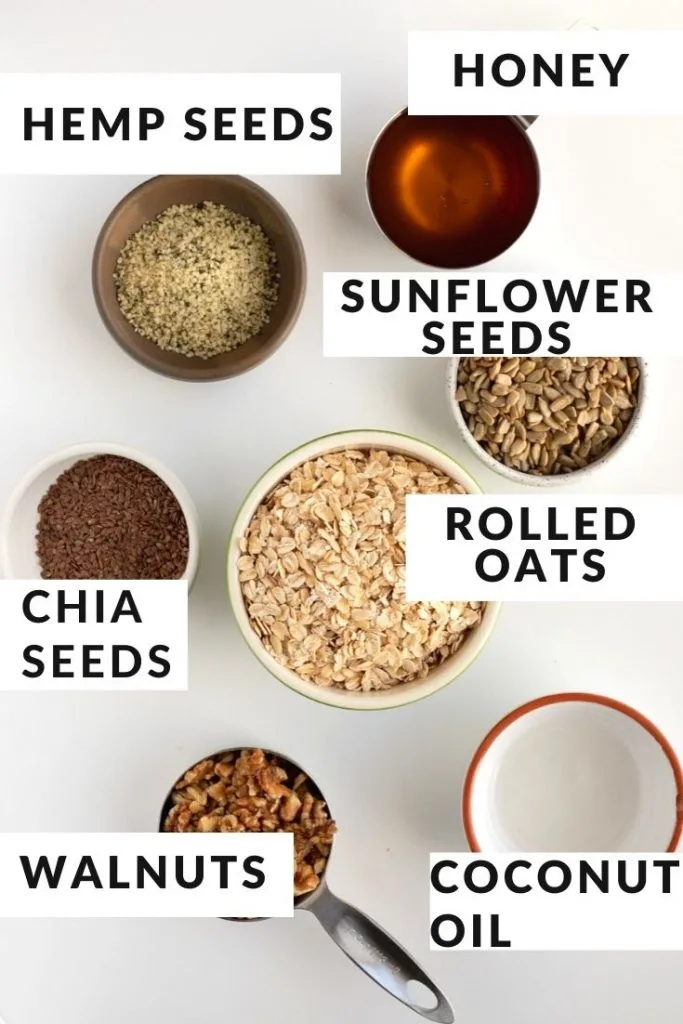 Oats are the base for this granola recipe. They are rich in fiber. Choosing gluten free oats is important to me and is a main reason that I like to make homemade granola. Look for GF Old Fashioned Rolled Oats. Quick cooking oats are ok too in a pinch but are processed in a way that makes them thinner and they aren't ideal for granola. Conversely, steel cut oats are a bit to thick for this quick baking granola recipe. Rolled oats are just right!
Nuts: Here's where you can be creative. Today I baked with walnuts but you may use any type of nut you have on hand — almonds, pecans, or even hazelnuts would be lovely. Nuts provide protein in this recipe.
Seeds: Pack in some fiber and amplify the nutritional value of your granola with seeds. Flax seeds, hemp seeds, chia seeds, sunflower seeds.. make it your own recipe by using seeds you love.
Honey: A sweetener like honey helps bind the bits of granola together and even a small amount satisfies a sweet tooth. (Who else loves finding those tiny clusters of granola throughout your mix? Is it just me?) You could use other options like maple syrup to make a vegan granola, or molasses if you'd like a deeper flavor.
Coconut oil: Coconut oil helps the honey mix more easily with the dry ingredients and does its job without imparting much of any coconut flavor.
How to make granola from scratch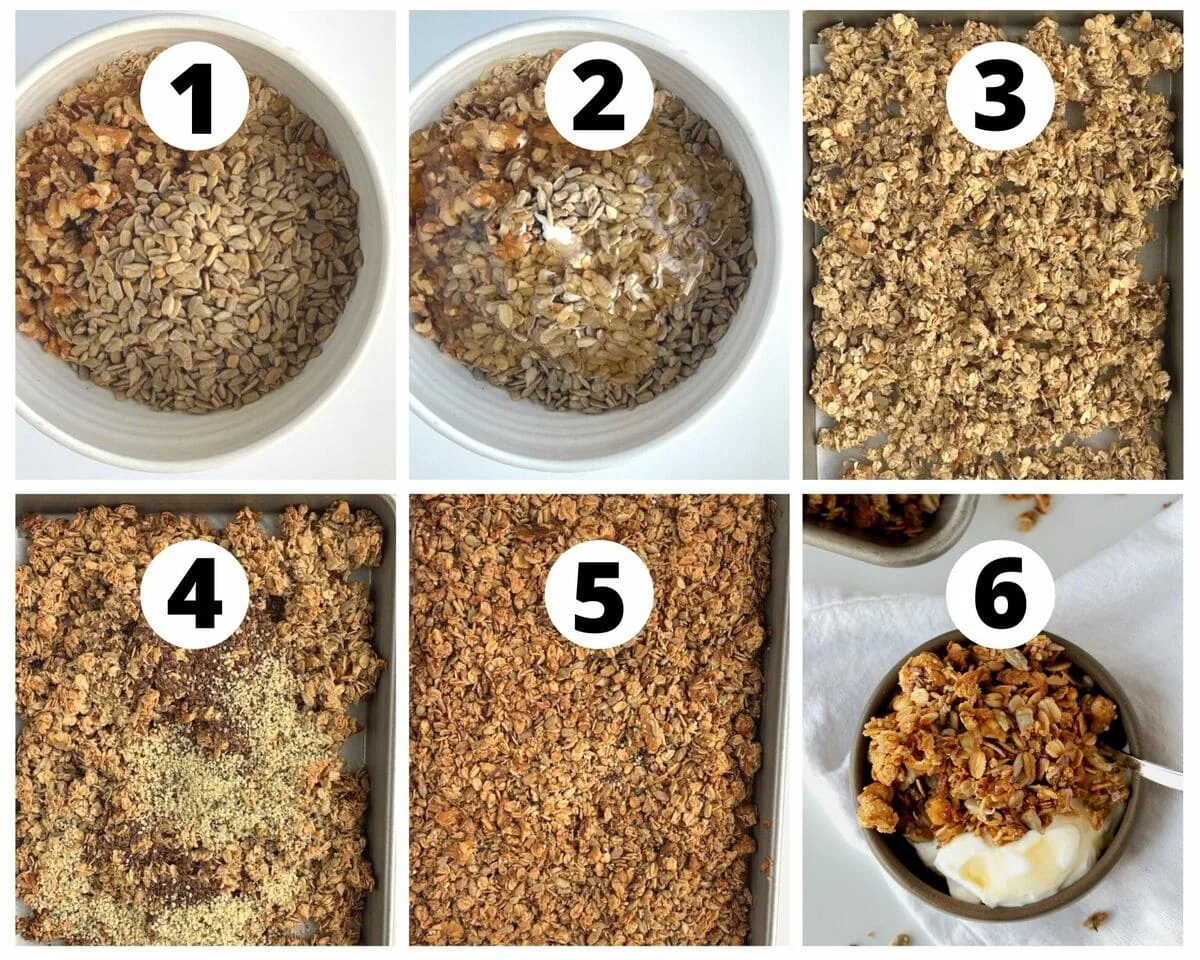 Toss together your dry ingredients.
Add your wet ingredients like honey and coconut oil. Stir well.
Spread onto a parchment lined baking tray.
Bake for 20 minutes then add any other mix-in like small seeds.
Bake for an additional 10 minutes until lightly golden.
Enjoy! Store in an air-tight container for 1-2 weeks.
As an Amazon Associate I earn from qualifying purchases.
What spices are good in granola?
Adding spice is a great way to jazz up your granola and to differentiate it from store bought. Use 1/4 teaspoon of cinnamon or ginger or 1/8 teaspoon of nutmeg.
What kind of seeds and nuts are best?
I look for unsalted and usually unroasted nuts and seeds. That way when you bake your granola, the nuts and seeds are less likely to burn. Some smaller seeds like chia or flax seeds are best added in later in the baking time or even at the end.
Can I add dried fruits?
Sure, dried fruits are a nice ingredient to include in homemade honey granola. They will increase the sugar content so be aware that you may not be making a low sugar breakfast or snack. Dried cherries, cranberries, blueberries or apricots are all tasty in granola.
How do I use granola?
Oh so many ways! Enjoy it plain, on its own. Add milk to it like cereal. Top yogurt with granola. Use it as an ice cream topping. Granola can be sprinkled over baked fruit for a quick fruit crisp.
What can I substitute for honey in granola?
If you want an alternative to honey, use maple syrup or molasses.
How do I make clusters of granola?
The trick it to let your granola cool without stirring it right away. When the granola comes out of the oven it will still be soft. You can even use your hands (careful not to burn your fingers on the hot pan or hot food) and squish little morsels together. I love those clusters too!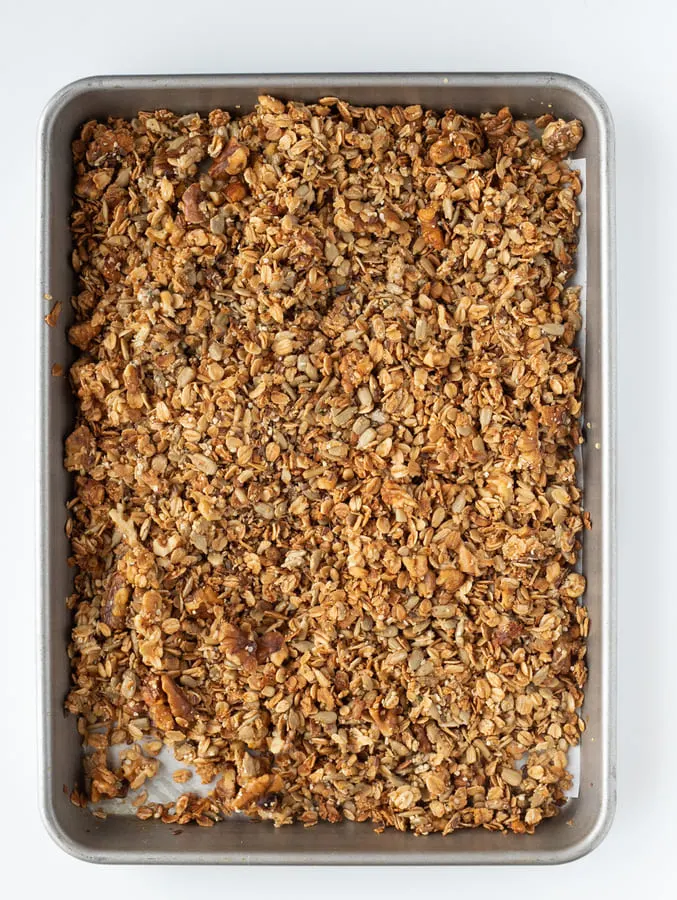 Yield: 3 cups
Honey Granola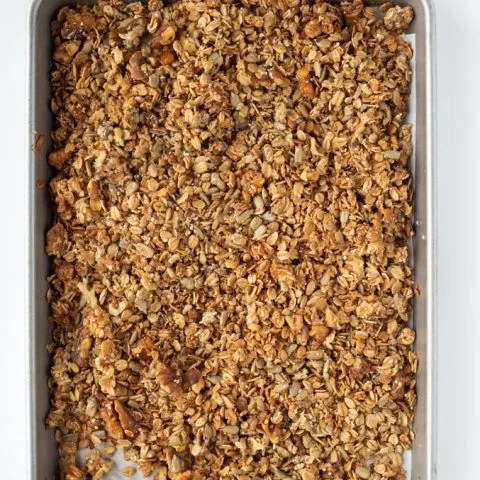 The sweetness of honey paired with oats, nuts, and seeds makes a crispy granola in 30 minutes.
Ingredients
2 cups gluten free old fashioned rolled oats
1/2 cup chopped walnuts
1/2 cup unsalted sunflower seeds
1/4 cup honey
2 Tbsp coconut oil, melted
2 Tbsp flax seeds
2 Tbsp hemp seeds
Instructions
Preheat the oven to 350 degrees F.
Combine the oats, walnuts and sunflower seeds in a bowl.
Add the melted coconut oil and the honey. Mix well to completely coat the dry ingredients.
Spread the mixture on to a parchment lined pan. Bake for 20 minutes.
Remove from oven and add the remaining seeds (flax seeds and hemp seeds). Bake for an additional 10 minutes.
Let cool completely on the pan. Store in an airtight container for one to two weeks.
Notes
Use any combination of seeds: flax, chia, sunflower are all great options.
Use any nut that you'd like: walnut, almond, pecan
To make vegan granola substitute mapke syrup for the honey.
Recommended Products
As an Amazon Associate and member of other affiliate programs, I earn from qualifying purchases.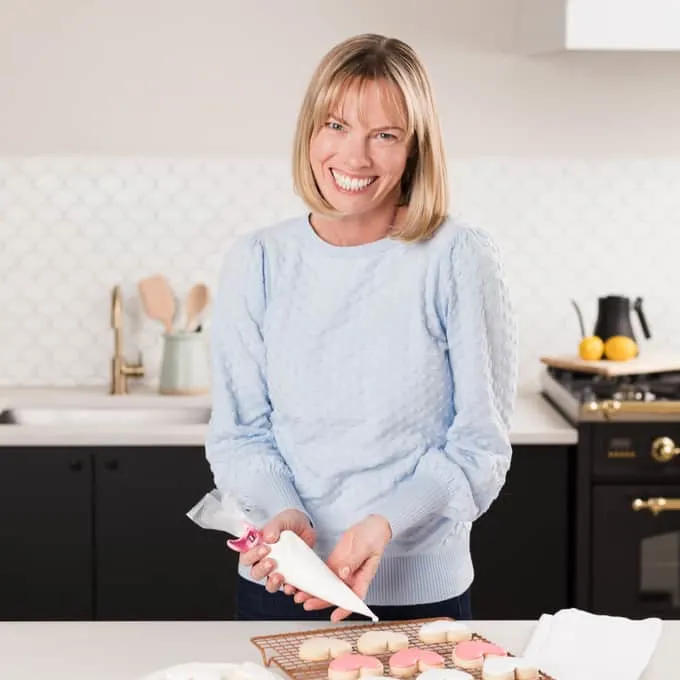 Holly Baker started the food blog, A Baker's House, in 2011. She is the writer, recipe creator, and photographer for the site. Holly loves to bake and shares recipes for gluten free food, canning recipes, as well as traditional desserts too. Her recipes and food photography have been highlighted by BuzzFeed, Reader's Digest, and She Knows.