Create beautiful Easter basket cookies with ease. This is a great icing project for beginners because it doesn't require making royal icing. Buttercream icing is perfect and the store-bought icing right out the can works great! Use a weave pattern to make the basket then add green grass and jellybean eggs.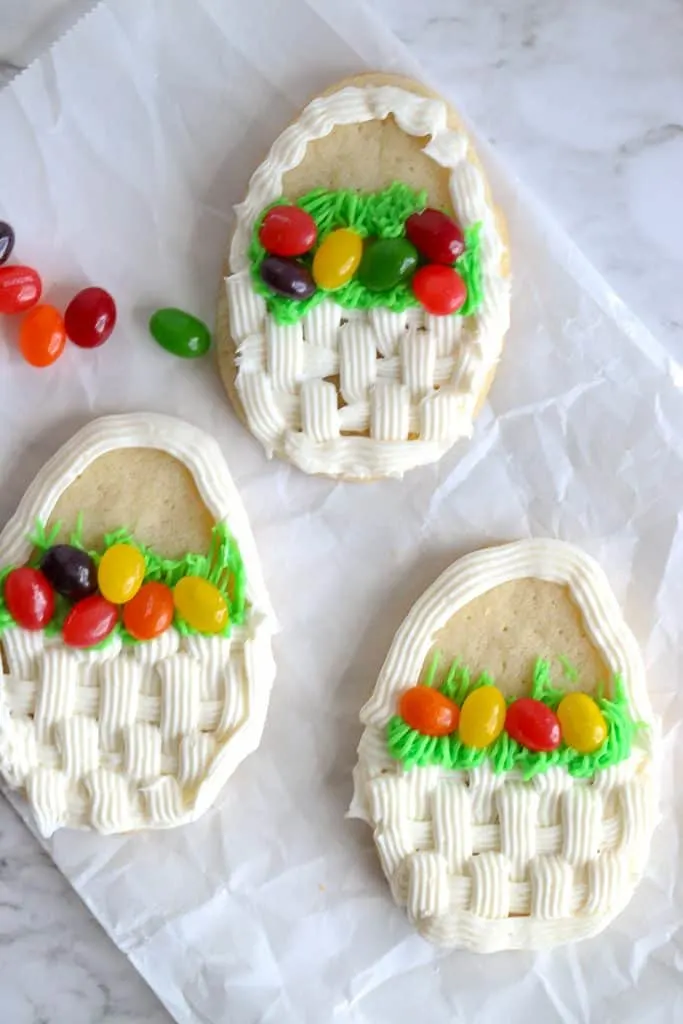 Aren't these sweet Easter basket cookies? The best part is that they weren't hard to decorate– at all!! I am a beginner when it comes to icing techniques for decorating cookies & cakes with buttercream icing.
Cross cookies decorated with royal icing make a beautiful choice for Easter cookies too.
How do you create a basket pattern on these Easter cookies?
This basket weave pattern is created with careful attention to the order and placement of each row of icing.
Practice the pattern on a piece of bread first. It's much easier to grab a piece of bread instead of baking up a batch of cupcakes for icing practice. You'll get the hang of the basket weave in no time, then you're ready for these Easter basket cookies.
Watch the video to learn how to make the pattern for these Easter Basket Cookies
What kind of dough should I use for sugar cookies?
Use any cookie dough recipe you like. Refrigerated store-bought cookie dough is the shortcut taken here to make these Easter sugar cookies. The cookies baked in 12 minutes, cooled and I was ready to try my hand at icing them. Note that the dough expanded A LOT in the oven. No worries, simply press the egg cookie cutter into the baked cookies as soon as they come out of the oven to give your egg shape new life.
Icing tips make this project special and provide that basket texture look. These are the two icing tips I used came in a pack together— the basket weave tip (number 47 for Wilton) and the grass (or hair) icing tip (number 233 for Wilton).

Step by Step how to make Easter Sugar Cookies: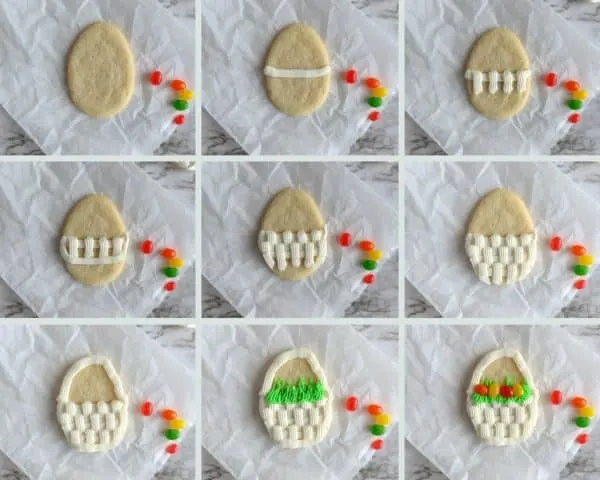 Pipe with a disposable icing bag and make one horizontal line of icing. Space out vertical lines across the width of your basket.
Continue to the next row by adding another solid horizontal line of icing at the base of your vertical lines. Fill in the gaps by placing vertical bars of icing that overlap your horizontal line.
Continue to the bottom of your basket. Create a basket handle with a line of icing around the top.
Add some "grass" with green icing using the grass tip. Squeeze the icing such that a small bit builds under the tip then pull upwards to create the pieces of grass. Dab dots of icing on some jellybeans and add them as the eggs to your Easter basket.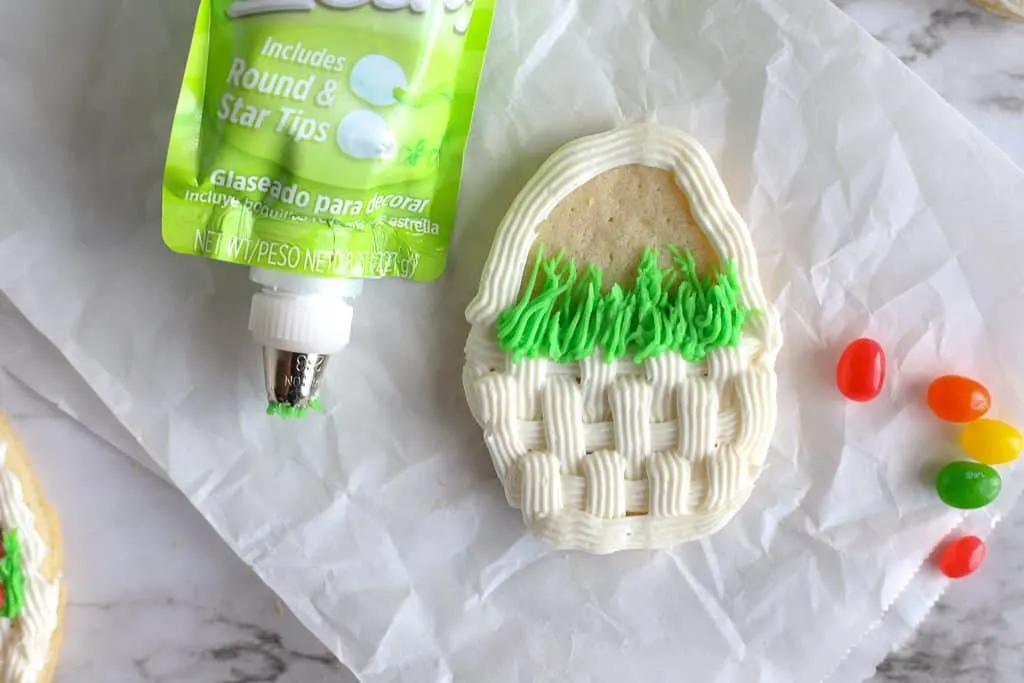 Let the cookies dry uncovered overnight before storing them. These Easter basket cookies make a great Easter gift. Place them in
plastic gift bags
and tie with a ribbon or yarn.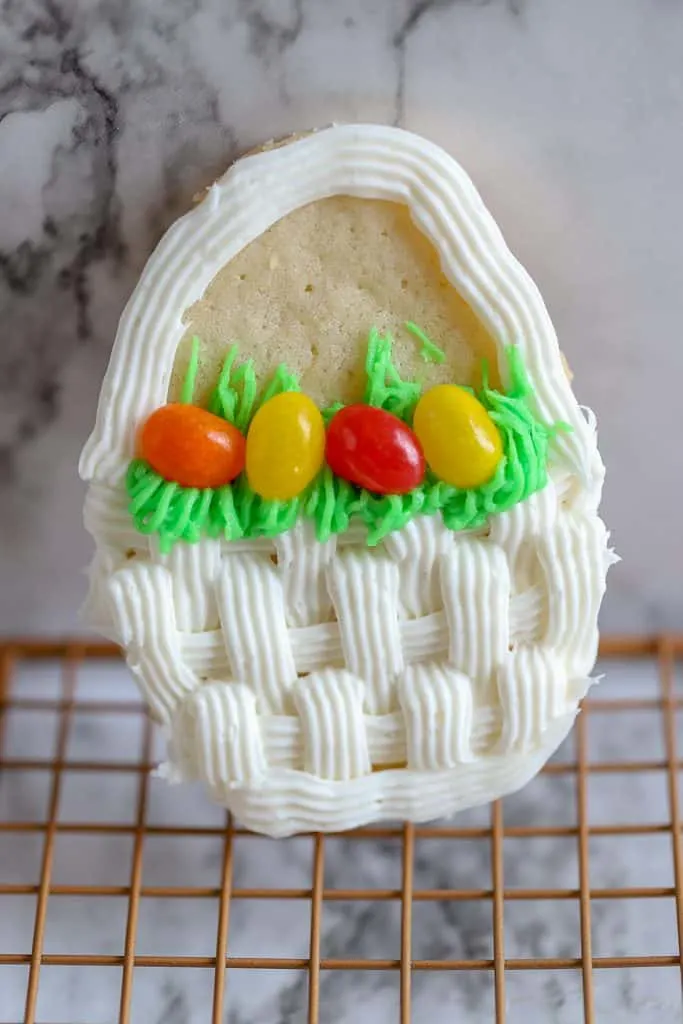 Oh so festive and pretty!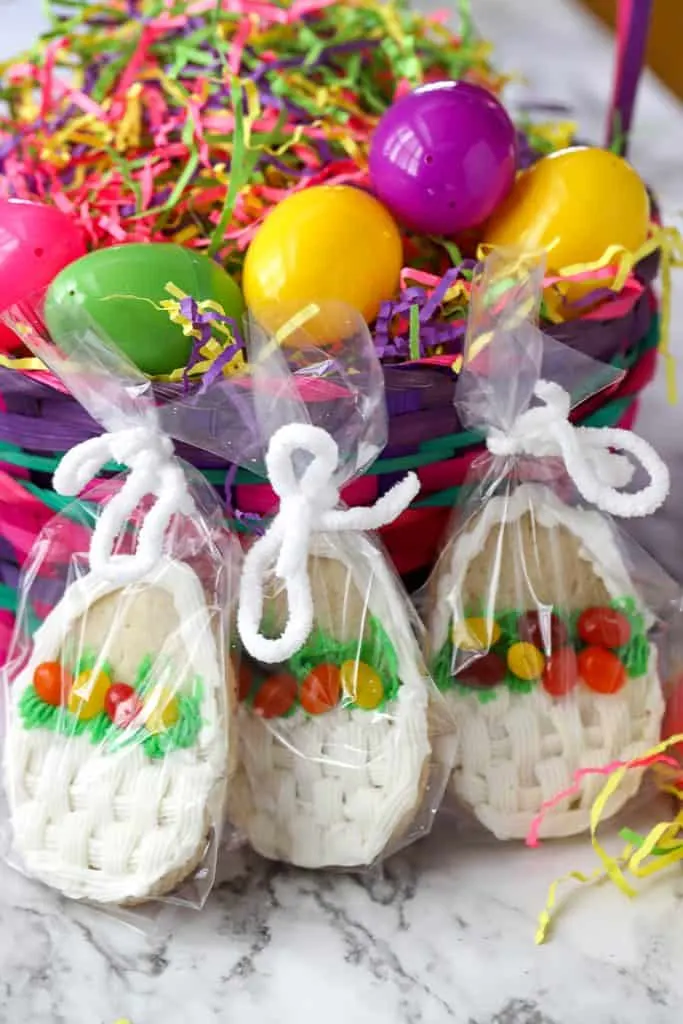 Tools Used to Create these Easter Basket Cookies:
We are a participant in the Amazon Services LLC Associates Program, an affiliate advertising program designed to provide a means for us to earn fees by linking to Amazon.com and affiliated sites.
Do you love decorating cookies as much as I do? Try your hand at using royal icing to make these designs:
Easter Basket Cookies originally posted in March 2012; updated in March 2018.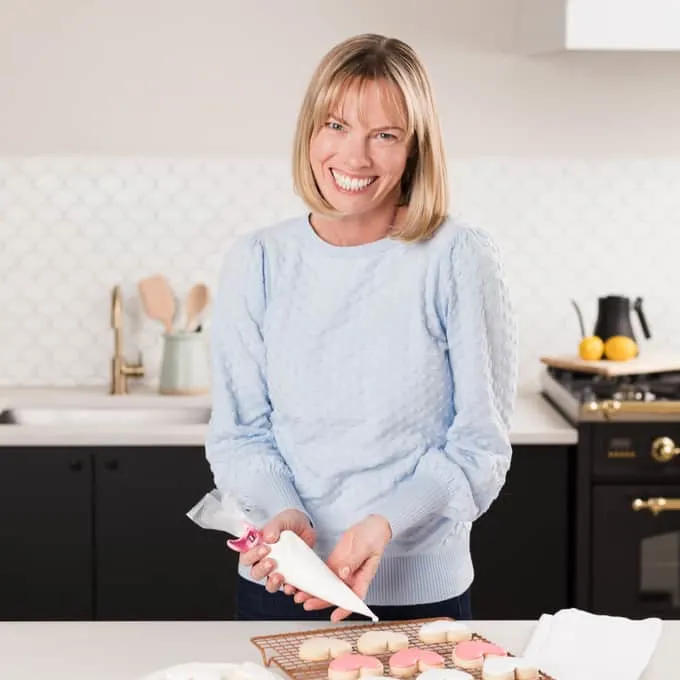 Holly Baker started the food blog, A Baker's House, in 2011. She is the writer, recipe creator, and photographer for the site. Holly loves to bake and shares recipes for gluten free food, canning recipes, as well as traditional desserts too. Her recipes and food photography have been highlighted by BuzzFeed, Reader's Digest, and She Knows.