Simply decorated cross cookies are made from a cut out cookie recipe then decorated with white royal icing. These cross cookies are perfect for first communion favors, baptism desserts, or Easter treats.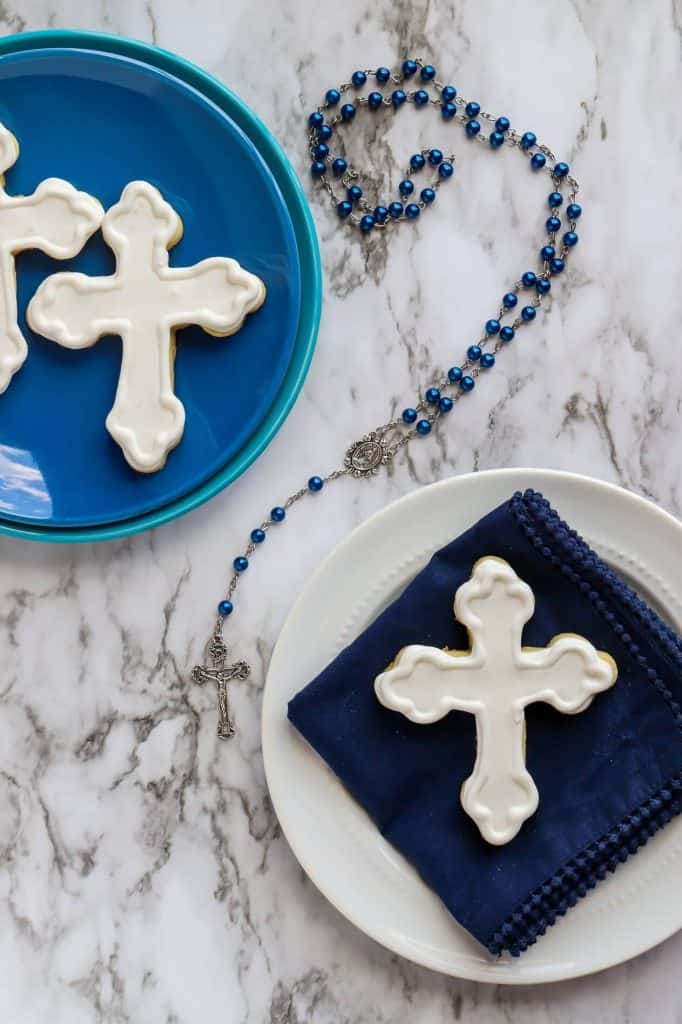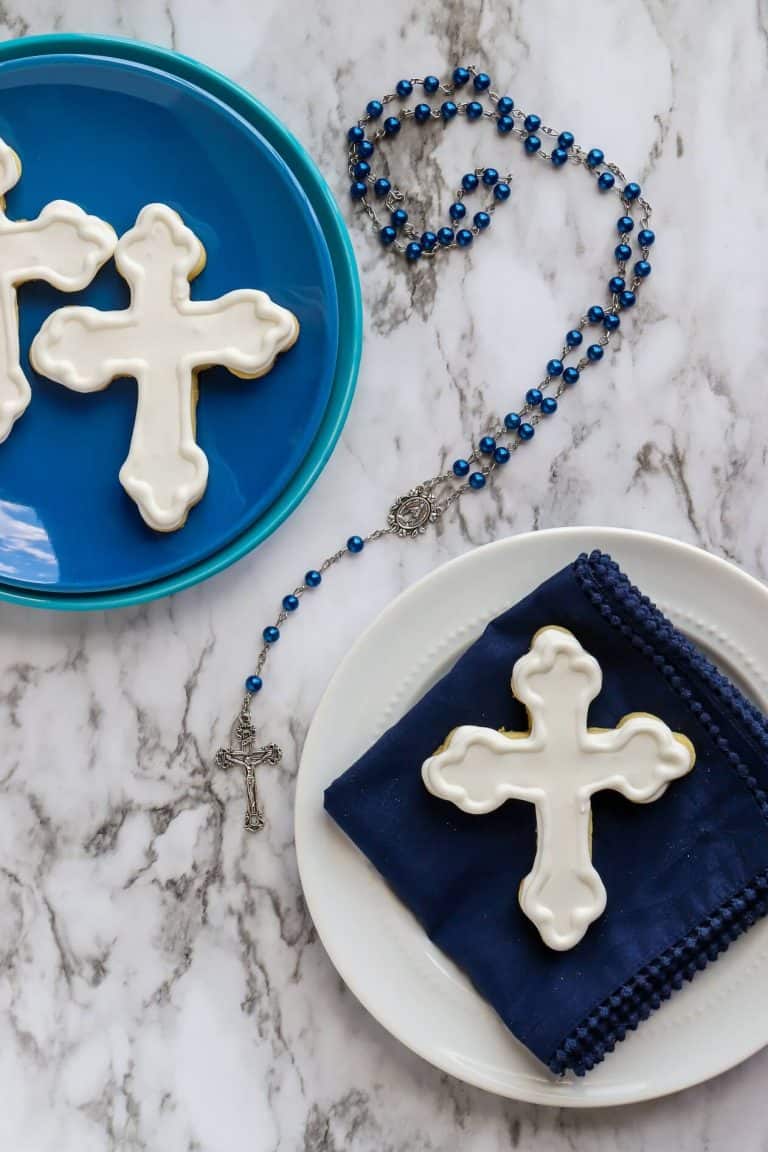 Cross Cookies
Cross cookies are sweet and simple decorated cut out cookies. It's first communion and confirmation time here at our house and these cut out cookies are perfect for your religious celebrations. Look how easy it is to decorate the cookies with a white royal icing.
These would also be wonderful cookies for a baptism, cookies for a christening, or cookies for a first communion.
How do I make Cross Cookies?
Start with a basic cut out cookie and use your favorite cross cookie cutter. I used two different cookie cutters. This basic cross cookie cutter and this slightly more decorative St. Nicholas' Cross cookie cutter.
As an Amazon Associate I earn from qualifying purchases.
If you are baking with more than one shape of cookie cutter, always bake ONLY ONE shape of dough on a cookie sheet at a time. Cookies of similar shape will bake at a similar rate.
If you had small squares baking next to cross shaped cookie dough, the two shapes would bake and brown at different rates. Most likely the edges of the crosses would brown more quickly and the center of your squares would still be under baked at the end of the baking time.
Cut out Cookie Baking Tips
Roll your dough about 1/4 inch thick then cut out your cross shapes. The key to consistently sized cookies is to refrigerate your dough both before rolling and then again before baking.
Try to waste the least amount of cookie dough as possible when cutting out shapes of dough. I make it a game with young kids– tell them you are fitting puzzle pieces together.
Dough can be rolled out a second time but it doesn't bake as consistently as the first rolling. The more you handle cookie dough, the tougher it may become so be gentle and take care to position your cookie cutters such that you don't have much leftover dough.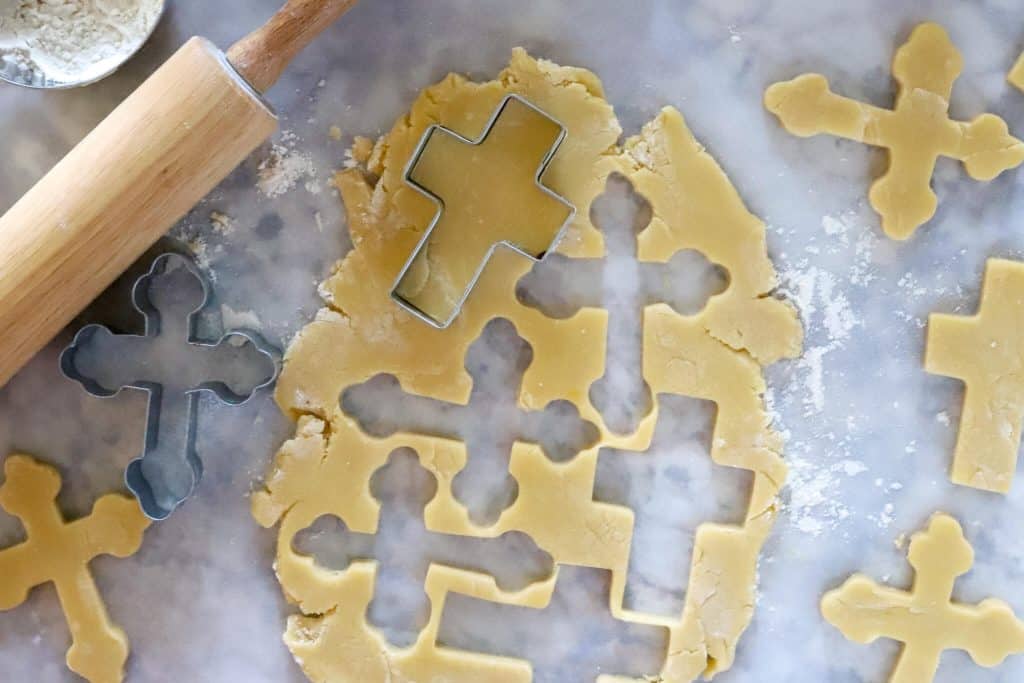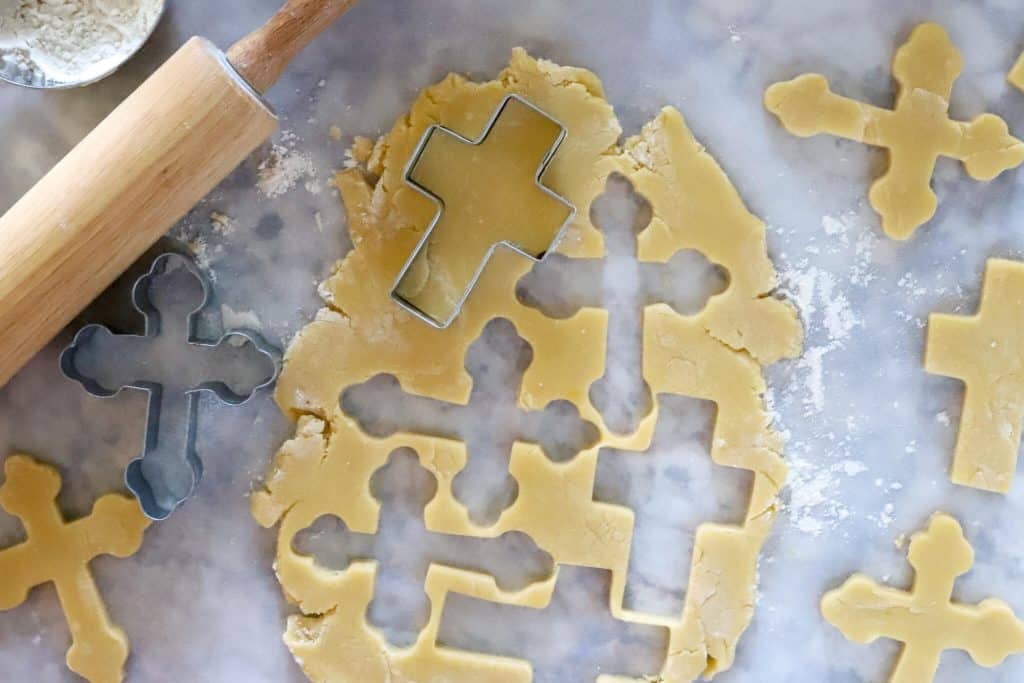 How do I decorate Cross Cookies?
Icing these cross cookies can be as simple or as elaborate as you'd like. A basic, white cookie is elegant.
Adding layers of white icing either as an outline or as intricate designs would work well. Small roses, a child's name, or even a monogram would add a personal touch.
Sticking to a basic white decorating theme is ideal if you are new to using royal icing.
Royal icing doesn't have to be complicated. The ingredient list is simple– powdered sugar, meringue powder and water. Some recipes add a touch of corn syrup.
Begin by outlining the cookie with a slightly thick royal icing then go back and fill in the space with a thinned royal icing. A teaspoon of water is usually all it takes to thin royal icing to a good filling consistency.
Let the icing dry for about 20 minutes then add a second outline on top for a decorative touch.
For what occasions could I make Cross Cookies?
These cookies were part of a gift for my son's religious school teacher.
They also make easy favors at:
first communion
baptism
christening party
Easter
other religious celebrations
Wrap them individually in bags and tie with a festive bow. Experiment yourself with presentation for cookies and see what suits your eye the best. Some people prefer simplicity of a small, individual bag tied with a piece of twine. Others like the visual abundance of cookies stacked in a tin with a see-through panel on the lid.
Birthdays might all for a festive ribbon or a colorful bag. How will you personalize your cookies and your celebrations? Tag me on instagram @abakershouse to show me your creations.
Yield: 2 dozen
How to Decorate Cross Cookies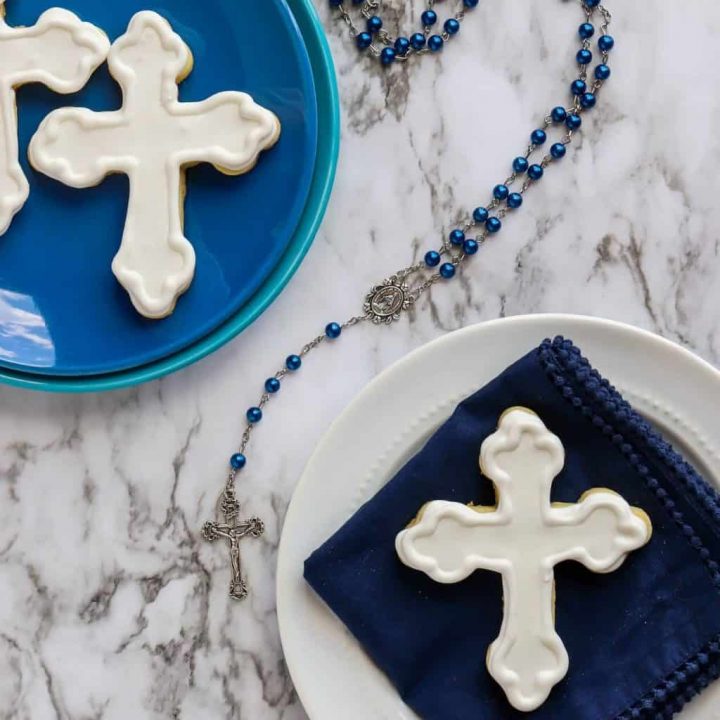 Simply decorated cross cookies make an elegant dessert or party favor.
Materials
White royal icing
Baked sugar cookies in the shape of a cross
Tools
Small Icing Tip
Icing Bag
Instructions
Make the white royal icing.
Outline the cookie in royal icing. Let dry for one minute.
Fill in the cookie with thinner filling royal icing.
Optional: add a decorative outline again to the cookie with thick royal icing.
Notes
Please let the icing dry completely-- overnight -- before bagging these cookies or stacking the cookies.
Recommended Products
As an Amazon Associate and member of other affiliate programs, I earn from qualifying purchases.
Pin these beautiful cross cookies for another time!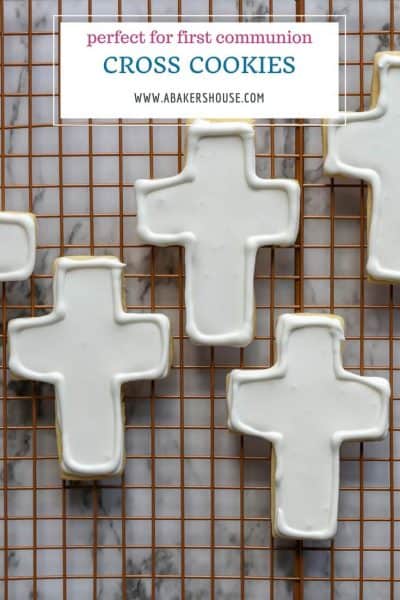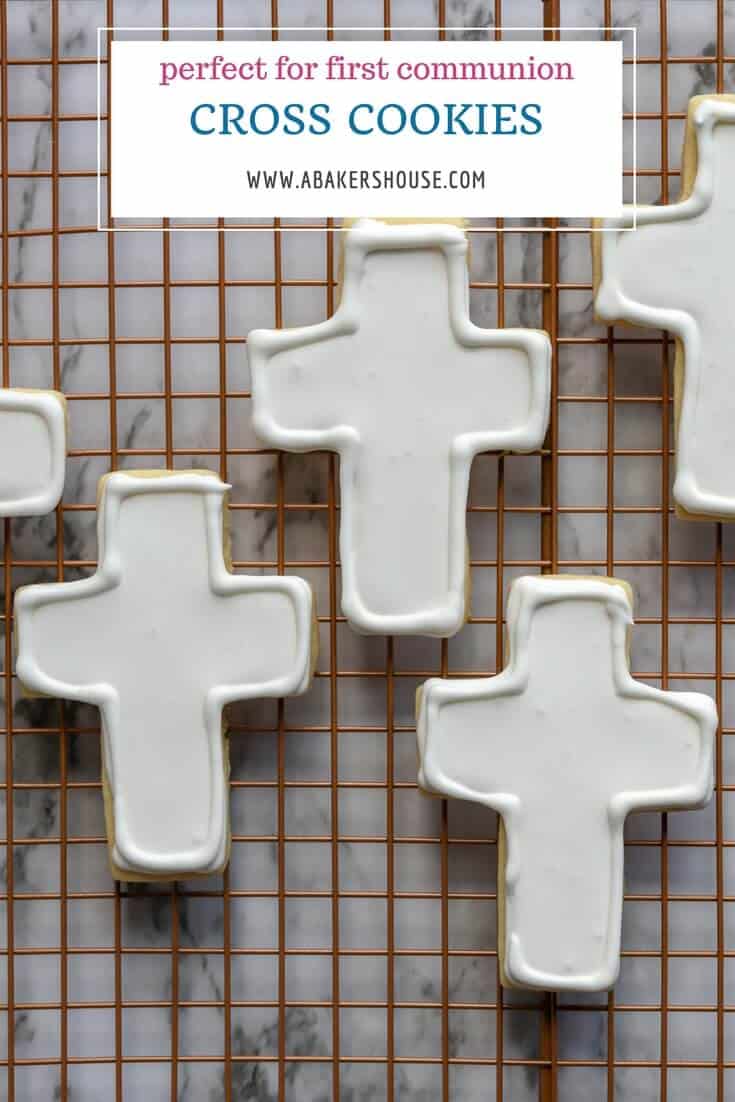 Are you ready to try your hand at more royal icing decorated cookies? Here are some good ideas:
We are a participant in the Amazon Services LLC Associates Program, an affiliate advertising program designed to provide a means for us to earn fees by linking to Amazon.com and affiliated sites.
BAKING SUPPLIES YOU MAY NEED: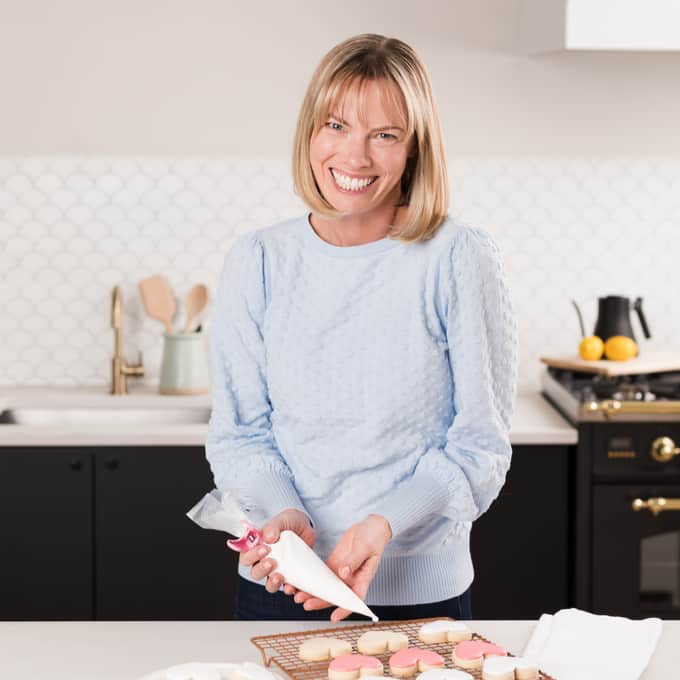 Holly Baker started the food blog, A Baker's House, in 2011. She is the writer, recipe creator, and photographer for the site. Holly loves to bake and shares recipes for gluten free food, canning recipes, as well as traditional desserts too. Her recipes and food photography have been highlighted by BuzzFeed, Reader's Digest, and She Knows.