Baking freezer cookies (or slice and bake cookies as they are often called) is a great time saver around the holidays. The trick is to keep your dough in a circular shape while it is stored in your freezer. Try this tip that uses a simple tool– an empty paper toll roll– to keep your cookies looking beautiful!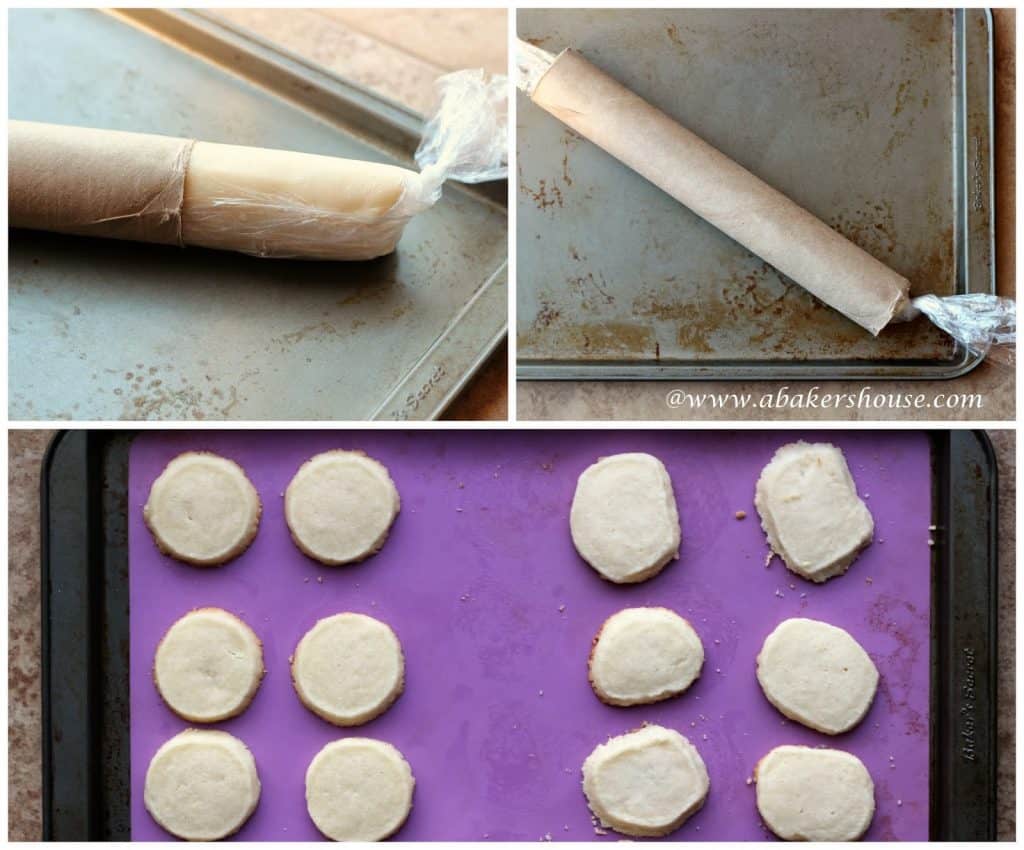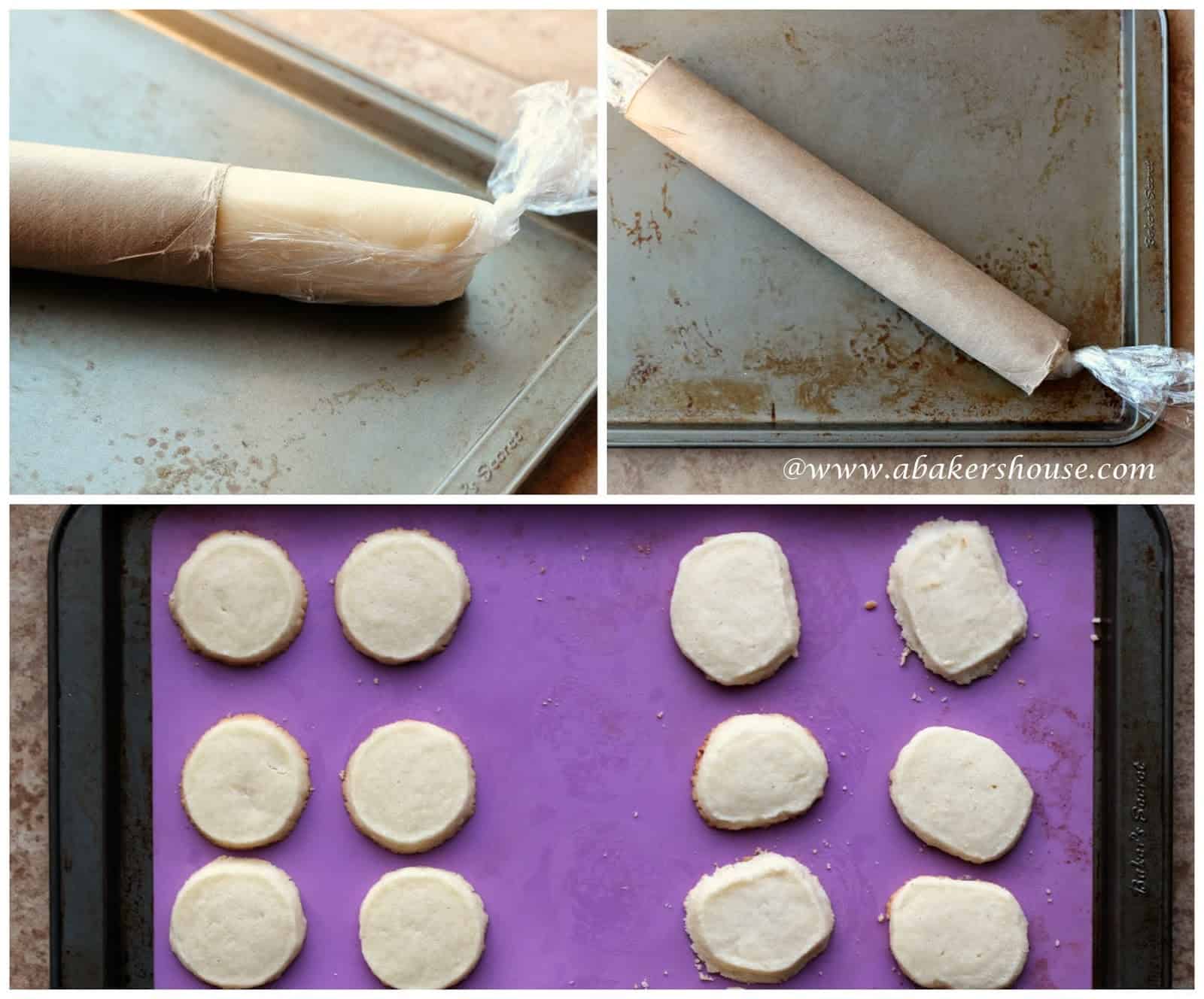 Can I share my secret of how to shape freezer cookies? You know, the kind where you make the dough ahead of time, roll it into a log, then slice and bake the cookies later? The trick is to use a paper towel roll to shape and to protect the dough in the freezer.
It is cookie baking season! There are cookie exchanges, cookies to share with neighbors, cookies for gifts and cookies for Santa. That is a lot of cookies! I love baking cookies but what if some or all of those cookie-baking occasions fall within a short span of days?
The fun of creating can disappear and you might feel like you are just baking in order to be finished and not to enjoy it. Other than heading to the local bakery, what can you do to make things easier? Slice and bake cookies are a great solution because you can make a lot of dough at once, freeze it, then bake it when you have time and are ready to do so.
Slice and bake cookies (or freezer cookies as they are also called) were the theme of November's baking group. I baked these espresso pinwheel cookies which were a good candidate for this shaping trick.
How to use a paper towel roll to shape your slice and bake cookies
Here is the trick I use to make my slice and bake cookies as close to a circle as possible; all you need is some plastic wrap and a paper towel roll.
In the photo above, the cookies on the right were my first attempt. I made the dough, formed it into a log, wrapped it in plastic wrap, rolled it a few times on the counter top to try to make the log round, then I froze the dough. You can see the misshapen cookies that resulted. Tasty, yes, but not so pretty.
On the left are the cookies from my second batch. I made the same dough, formed it into a log and wrapped it in plastic wrap. Then I inserted the wrapped dough into a paper towel roll.
You'll have to make sure the log is just smaller than the roll itself. If you have trouble use a piece of parchment paper wrapped around the plastic wrap to help slide the dough into the paper towel roll.
Now roll the dough back and forth a few times so that it takes the shape of the paper towel roll. Round, right? Leave the dough as is and freeze it. The paper towel roll helps to protect the shape in the freezer too. When you are ready to bake, your log of dough is still in good shape and your cookies will be a uniform shape.
Even though the taste is the same between the two examples above, presentation counts when it comes to baking and the prettier the cookies, the better they taste! And yes, some icing and maybe sprinkles would help too!
Slice and Bake Recipes
Here are recipes that make beautiful slice and bake cookies, especially if you use this technique of rolling the dough and freezing it inside a paper towel roll:
Use the Newell FoodSaver to Freezer your Cookie Dough
Here is another tool that adds on to this time saving technique of freezing cookie dough: The FoodSaver. Read this post about How to Freeze Cookies with the FoodSaver. In it I show how to freeze already formed individual cookies. You could do the same thing with a log of cookie dough for slice and bake cookies. After preparing the dough with the FoodSaver, I recommend placing the logs of dough inside the paper towel roll as shown here so they are protected in the freezer.
Have you found this tip helpful? Leave a comment to let me know what recipe is a family favorite for slice and bake cookies!
Pin with me!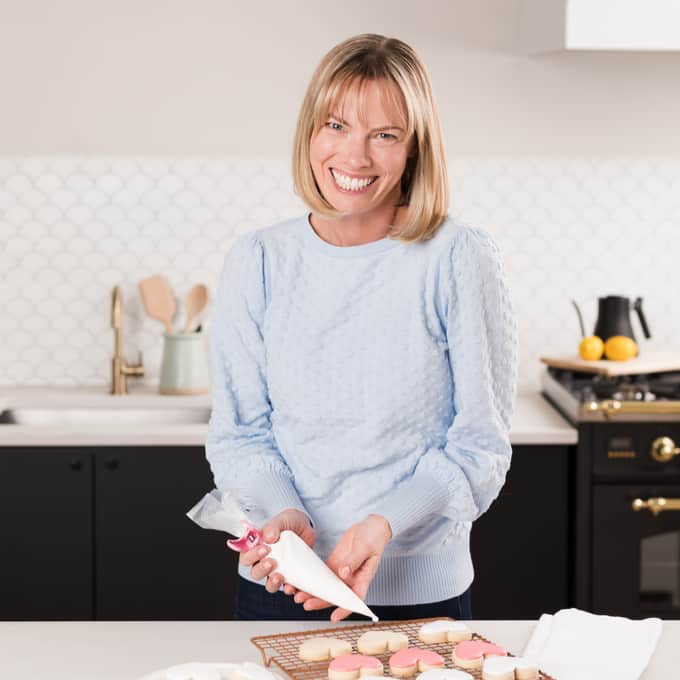 Holly Baker started the food blog, A Baker's House, in 2011. She is the writer, recipe creator, and photographer for the site. Holly loves to bake and shares recipes for gluten free food, canning recipes, as well as traditional desserts too. Her recipes and food photography have been highlighted by BuzzFeed, Reader's Digest, and She Knows.