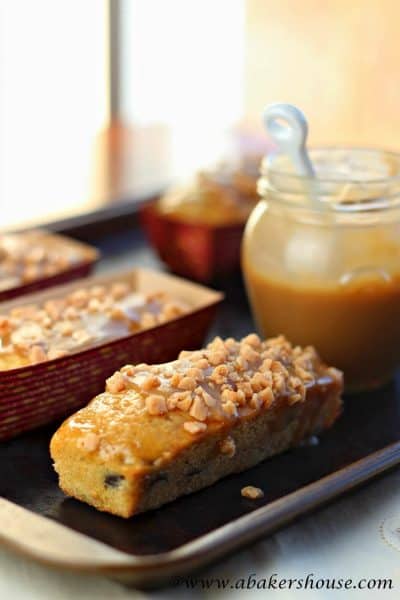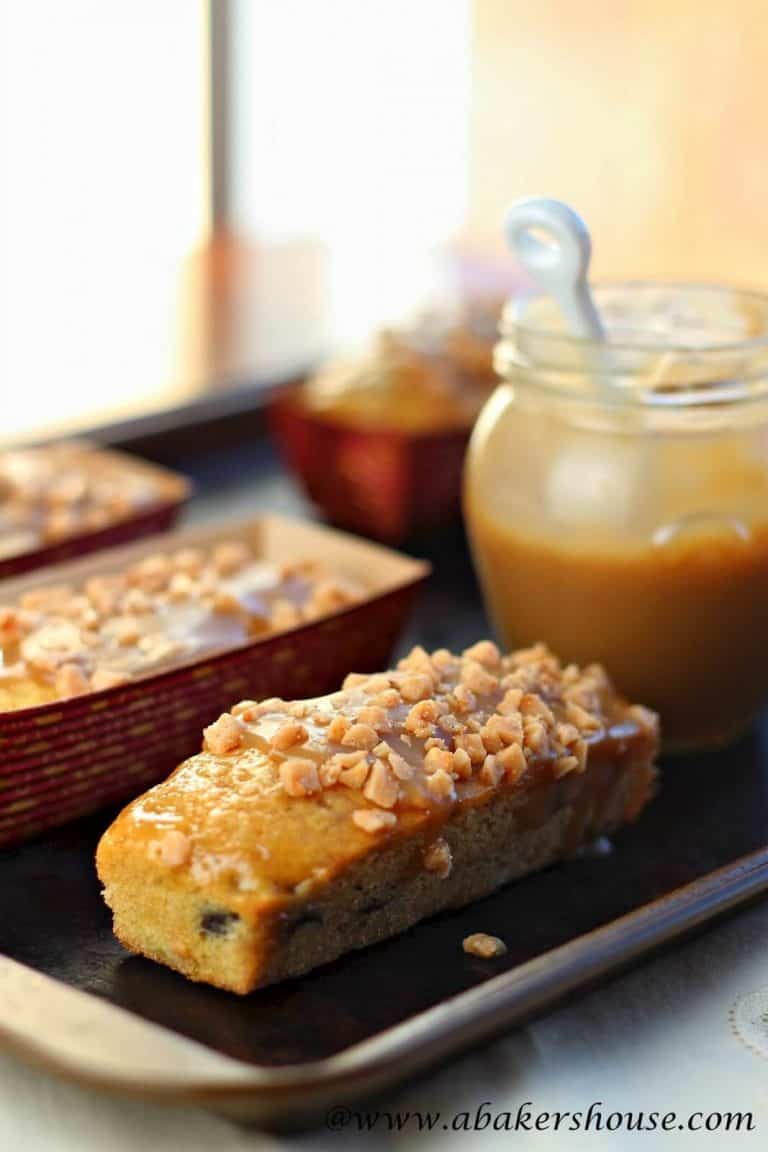 I have a new favorite: toffee banana bread with caramel sauce. You will agree that it is banana bread amplified on many levels. I read many food magazines each month and it's always a real treat when I have a copy of British food magazines.
My mother-in-law sent me a holiday themed magazine recently and my husband brought me a Woman & Home Passionate About Food magazine from a recent trip to England. I treat these like cookbooks and study them like textbooks. Each page offers something new– ingredients are slightly different than the typical American style; the food photography catches my attention, and the recipes always keep my interest.
When I came across the Toffee and banana mini loaf cakes I knew I wanted to make some to share as gifts this holiday season. I made a few changes to fit the staples I had in my pantry and was ready to go. The salted caramel sauce is worth the recipe all by itself. And, yes, you might want to eat it by the spoonful.
By the way, I tend to think that caramel is made with granulated sugar and butterscotch with brown sugar. This sauce is made with brown sugar but named "caramel" sauce. I need to check with my mother-in-law and English friends to see if they use the same terminology for their sauces or not. Either way, it doesn't matter, call it what you like– this sauce is GOOD.
If you like baking with bananas, try recipes like banana cake, upside down banana bread, and banana oatmeal cookies.
Holiday Breads are the theme this December with my baking group. Bread is perfect for gift-giving. A gift from your kitchen is from the heart and shows that you've thought ahead by baking something special. Mini loaves are just right– such a sweet gift and when thoughtfully wrapped and presented beautifully these loaves will be requested from your friends and family as a new tradition.
What bread are you baking this month? Leave a comment below and let me know!
Mini Toffee Banana Bread Loaves with Salted Caramel Sauce
recipe adapted from Woman & Home Passionate about Food Sept/Oct 2013 issue
Yield: 9 mini loaves
Mini Toffee Banana Bread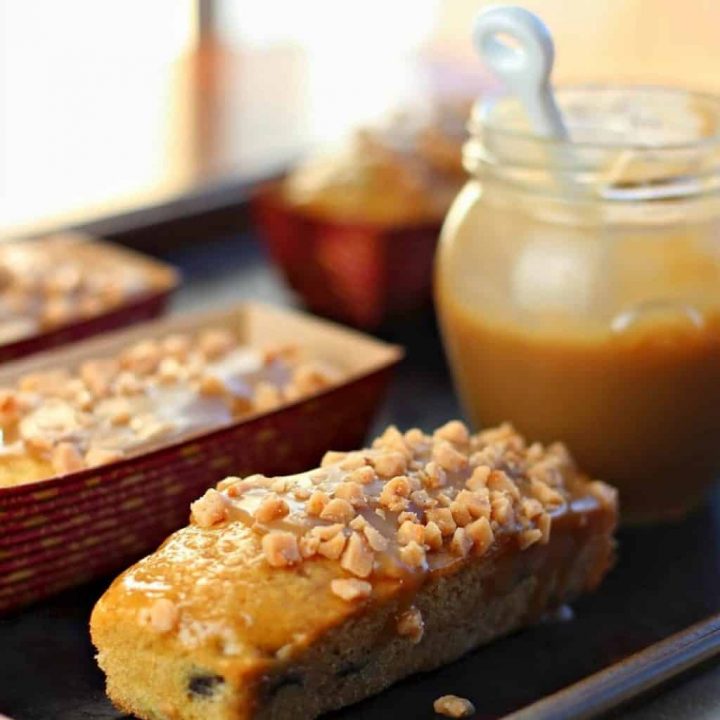 Mini toffee banana bread makes the BEST homemade bread gifts! The toffee sauce is amazing!
Ingredients
For the toffee banana bread:
1 cup raisins
3 Tablespoons rum
4 oz butter (1 stick), room temperature
1/2 cup granulated sugar
3 eggs
1 1/2 cups all purpose flour
1 teaspoon baking powder
1/2 teaspoon ground cinnamon
1/2 teaspoon ground ginger
1/4 teaspoon salt
2 ripe bananas, mashed
1 cup brown sugar
4 oz butter (1 stick)
3/4 cup heavy cream
1 teaspoon vanilla extract
1/2 teaspoon sea salt
1 cup toffee bits
Use mini loaf pans-- either disposable or silicone baking loaf pans, approx 3 x 1 x 1.5 inches
Makes 9 mini loaves
Instructions
Preheat the oven to 350 degrees F. Spray pans with baking spray.
Bring the raisins and rum to a boil in a small saucepan. Turn off the heat and let the raisins soak up the rum for about 30 minutes. Let cool.
In a small bowl combine the flour, baking powder, cinnamon, ginger and salt. Whisk to combine. Set aside.
In a stand mixer, blend the butter and sugar until fluffy. Add the eggs one at a time. Slowly add the flour mixture and mix until combined. Fold in the raisins & rum as well as the mashed banana.
Divide into the mini loaf pans and bake for 20-22 minutes.
Meanwhile make the sauce. Melt the brown sugar and butter on low heat in a medium saucepan. Once the sugar dissolves, continue to cook for 5 minutes still on low heat. Add the cream, vanilla and sea salt while stirring with a whisk or wooden spoon. Once the mixture comes to a simmer remove it from the heat. Allow to cool, stirring now and then as it thickens.
As soon as the bread comes out of the oven, poke holes with a toothpick over the top of the bread. The sauce will still be warm and thin-- use a pastry brush to brush a layer of the sauce over the breads. When the sauce has cooled completely top the bread with the sauce and sprinkle with toffee bits.
Nutrition Information:
Yield:
18
Serving Size:
1/2 a mini loaf
Amount Per Serving:
Calories:

351
Total Fat:

19g
Saturated Fat:

12g
Trans Fat:

1g
Unsaturated Fat:

6g
Cholesterol:

83mg
Sodium:

233mg
Carbohydrates:

42g
Fiber:

1g
Sugar:

31g
Protein:

3g
This data is provided by Nutritionix and is an estimate only.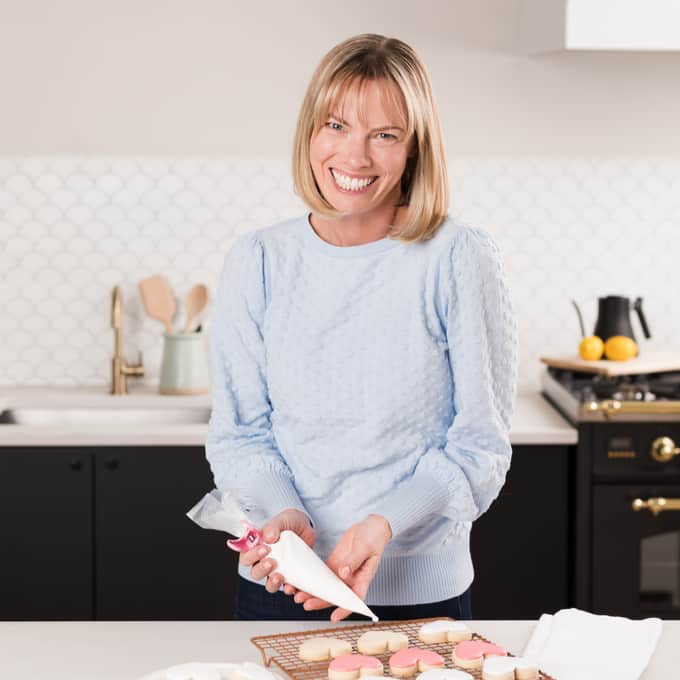 Holly Baker started the food blog, A Baker's House, in 2011. She is the writer, recipe creator, and photographer for the site. Holly loves to bake and shares recipes for gluten free food, canning recipes, as well as traditional desserts too. Her recipes and food photography have been highlighted by BuzzFeed, Reader's Digest, and She Knows.