Granita is a frozen dessert that is similar to water ice, sorbet, or even Hawaiian shave ice. With a short list of ingredients and only a few steps, granita is a summer dessert that is a crowd-pleaser! Make melon granita with any variety of melons such as canary melon, cantaloupe, or watermelon.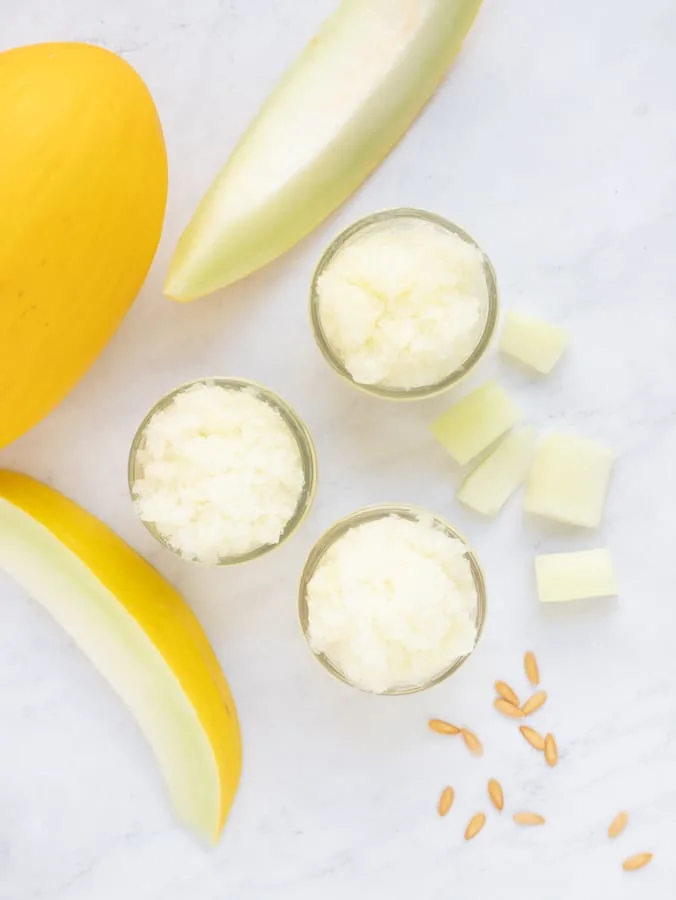 This post is sponsored by Sprouts Farmers Market. I appreciate the opportunity to share recipes made with ingredients from brands I trust and support. All opinions are my own and do not necessarily reflect those of Sprouts Farmers Market. #sponsored
Granita is an icy treat that is sure to cool you off in the summer heat. Once you learn the simple technique of freezing the pureed mixture and frequently scraping the icy crystals, you'll want granita in all the flavors of summer!
Who else remembers buying water ice from the ice cream man? What a perfect treat at the beach! We'd hem and haw over what flavor to buy and then savor every bite.
Homemade granita is similar to that old time favorite summer dessert. Whether you are looking for water ice or trying to replicate the Hawaiian shave ice you sampled on vacation, this granita recipe is for you.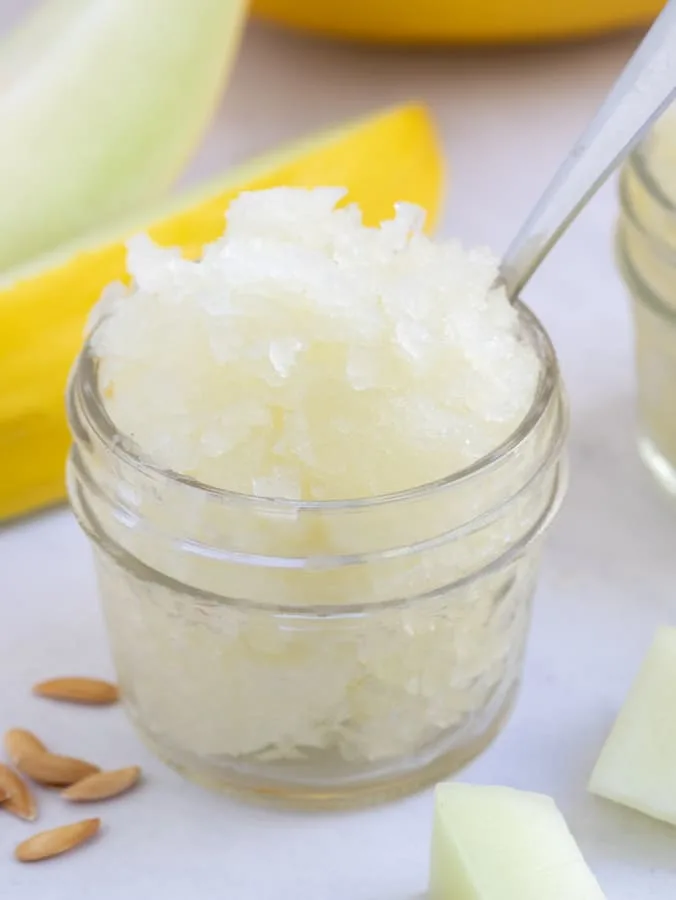 Melon-Mania!
Today we're focusing on the beauty of fresh melons. You'll find over 10 varieties of melons at your local Sprouts Farmers Market. I love shopping at Sprouts because their produce options broaden my horizons. Read about some of the specialty melons in this informative article by Sprouts that talks all about Melon-mania!
Of course Sprouts offers traditional melons like cantaloupe and watermelon, but it is the specialty melons that caught my eye. Check out these Canary Melons from Five Crowns, a farm in California.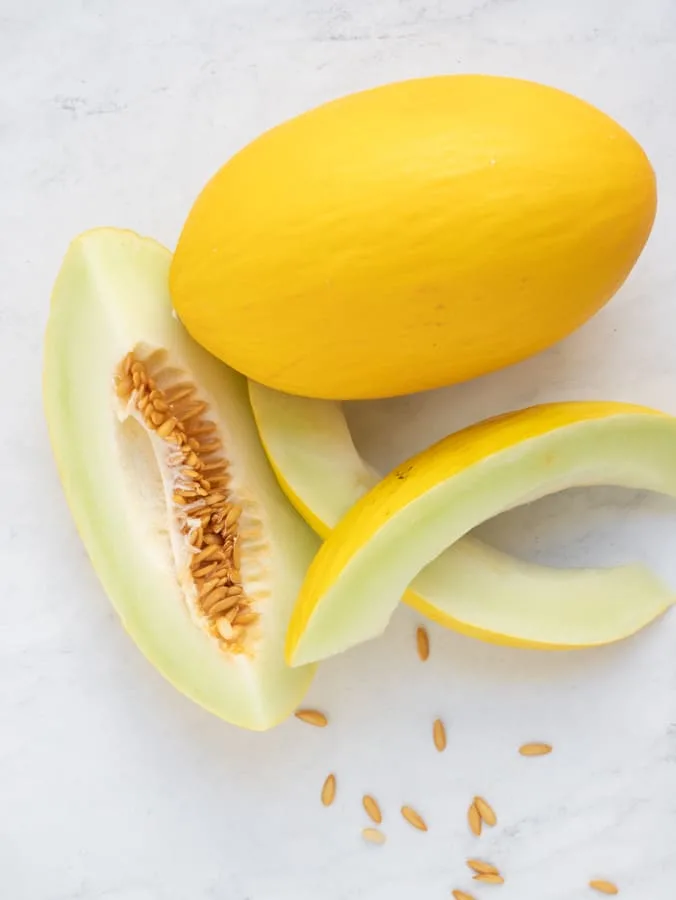 Canary melons are bright yellow on the outside and yield a very light green fruit on the interior. Similar to a honeydew in texture, Canary melons are smooth and mildly sweet. Their seeds have an orange tint.
Canary melons are oblong and from about 2 to 3.5 pounds. They are easy to slice into. Enjoy them in the same way as a cantaloupe — eat the fruit on its own, in fruit salads, in smoothies, or in summer salads. They make a great option for frozen desserts like this granita, or try it in sorbet or gelato.
Preparing the fruit: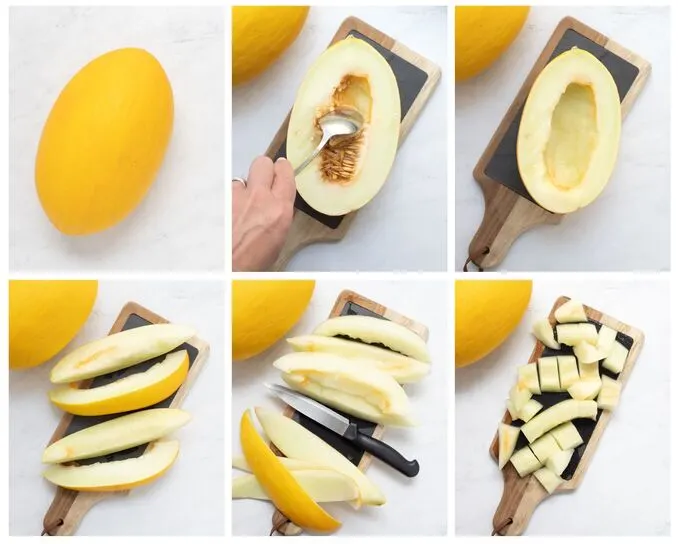 It doesn't take long to prepare fresh melon.
Wash the outside of the melon. Pat dry.
Slice from top to bottom.
Remove the seeds with a spoon.
Slice each half into quarters.
Remove the skin and cube the flesh of the fruit.
Ingredients in Granita:
Making a gluten free, dairy free, vegan recipe is no problem when the ingredient list is short and simple. Fruit is a safe bet for many special diets. If you're looking for a vegan dessert then make sure the sugar or other sweetener you choose is certified vegan.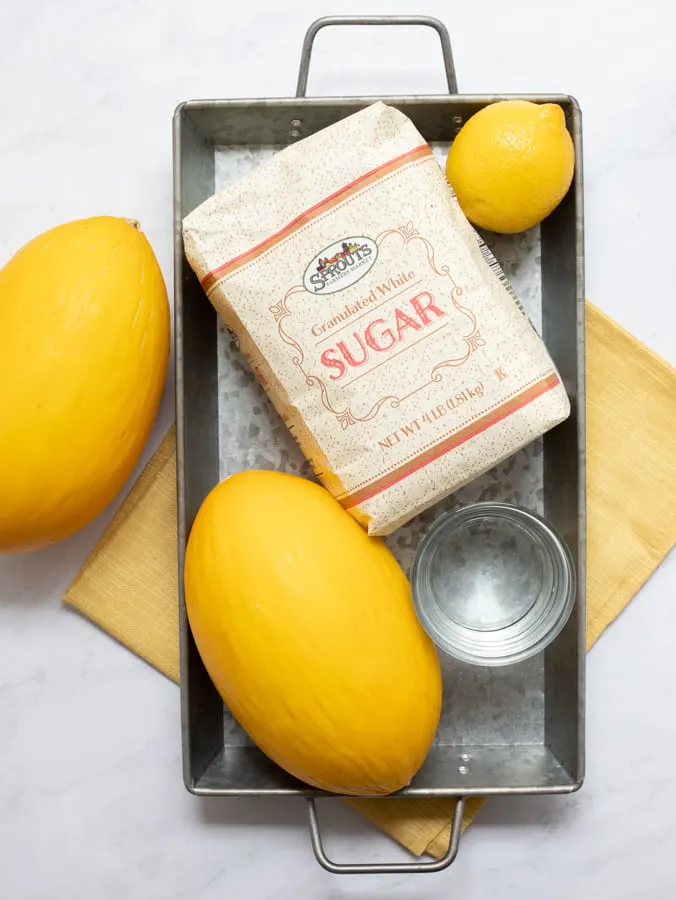 Melon: Try unique types of melons like Canary, Galia, Hami, Lemon Drop, or Orange Honeydew. Traditional cantaloupe or watermelon also are good choices.
Sugar: Granulated sugar adds the sweetness. Taste your melons first to determine how much sweetener to add. Ripe melons may not need any added sugar at all. Alternatively you can use honey or maple syrup to sweeten the flavors.
Water: You have two options in adding the water. First, you can simply add it cold to the mixture before blending. Alternatively you can make a simple syrup which is a fancy way of saying that you first dissolve the sugar in hot water.
Citrus: Zest and fresh citrus juice have the ability to brighten the flavor of the melons. Try lemons, limes, or oranges.
Optional: herbs such as basil or mint
Steps:
Add the cubed fruit, sugar, water, and citrus zest and juice to the blender.
Puree.
Pour into a 9 by 13 pan and freeze for about an hour.
Scrape the semi-frozen mixture into icy crystals then put back into the freezer.
Check every 30 minutes and scrape again each time until completely frozen.
Cover tightly and freeze overnight or up to 14 days.
Before serving fluff up the icy crystals then spoon into bowls.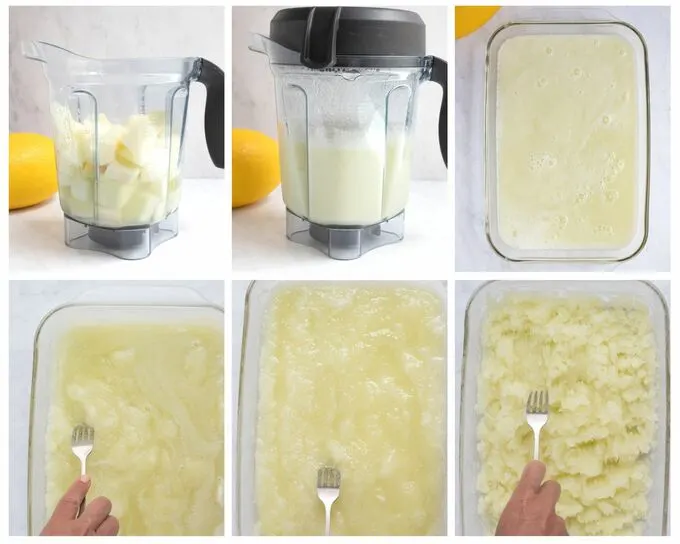 Do I have to scrape the mixture so frequently? I tried two methods for making granita– this canary melon granita in which I babysat my mixture as it froze. Every thirty minutes I used a fork to rake over the semi-frozen granita so that I created icy crystals.
The second method was letting the pureed mixture freeze completely overnight then roughing up the surface right before serving. This method worked well too and I think is especially handy if you only want to enjoy one serving at a time.
The main difference was the size of the ice crystals. Disturbing the mixture as it froze (method 1) gave a fluffier texture to the granita. Scraping the granita after the puree was completely frozen created smaller, icy granules.
The verdict: both methods produced a refreshing, cool, summertime dessert. You can't go wrong!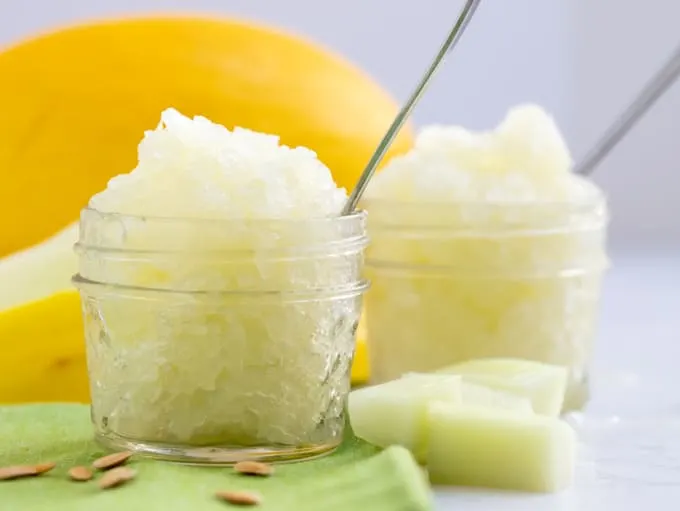 I think frozen desserts are essential summertime food. If you love this granita I know you'll enjoy these Cherry Cheesecake Popsicles, Blueberry Gelato, Lemon Frozen Yogurt, Mango Gelato, and Blueberry Popsicles.
Variations:
Honeydew Melon Granita: Honeydew, sugar, water, and lemons
Watermelon Granita: watermelon, sugar, water, limes and mint
Cantaloupe Granita: cantaloupe, water, sugar, basil, and limes
Difference between granita and sorbet:
The difference between granita and sorbet is the texture. Granita has a shaved texture created by raking a fork across the mixture as it freezes. Sorbet is smoother and scooped from a mixture that is often churned in an ice cream machine. You can easily make sorbet with the granita ingredients.
If you have an ice cream maker, churn the chilled, pureed mixture according to the manufacturer's directions. Freeze for at least 2 more hours then scoop out an enjoy!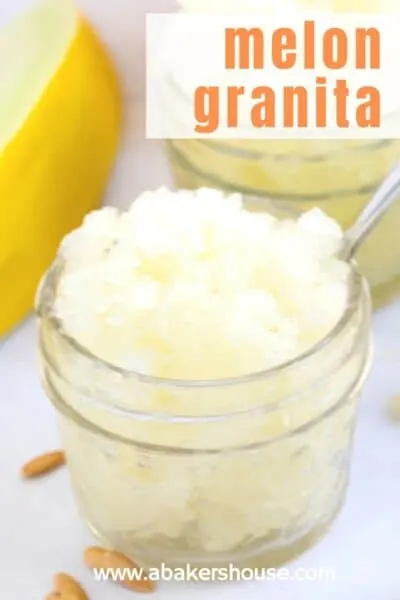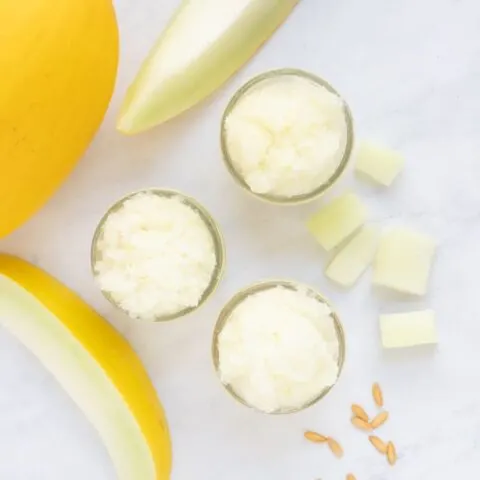 Granita is a frozen dessert that is similar to water ice, sorbet, or even Hawaiian shave ice.
Total Time
3 hours
15 minutes
Ingredients
4 cups melon cut into cubes (try Canary Melon or Cantaloupe)
½ cup Sprouts granulated sugar
1 cup water
1 lemon, zest and juice
Instructions
1. Slice and cut the melon into large cubes. You'll need 2 small melons or one large melon to make 4 cups of cubed melon.
2. Add the 4 cups of melon, ½ cup Sprouts granulated sugar, 1 cup water, and the zest and juice of 1 lemon into a blender. Puree until smooth.
3. Pour the mixture into a 9 by 13 pan. Cover with foil and freeze for 1
hour.
4. Use a fork to scrape the semi-frozen mixture such that you create chunky ice crystals.
5. Freeze again and scrape every 30 minutes until completely frozen. Cover tightly and keep frozen until ready to serve.
Notes
Granita is essentially a frozen smoothie that is scraped into a water ice like texture. Try this with all types of melons, berries, or even citrus.
You may use different types of sweeteners in granitas. Honey is a great option too.
Citrus really brightens the flavor of the fruit it is paired with. Try lemon, lime or orange.
Some fruits will be sweet enough without an additional sweetener. Taste your fruit first before adjusting the level of sweetness.
Nutrition Information:
Yield:
12
Serving Size:
1
Amount Per Serving:
Calories:

31
Total Fat:

0g
Saturated Fat:

0g
Trans Fat:

0g
Unsaturated Fat:

0g
Cholesterol:

0mg
Sodium:

22mg
Carbohydrates:

7g
Fiber:

1g
Sugar:

7g
Protein:

1g
This data is provided by Nutritionix and is an estimate only.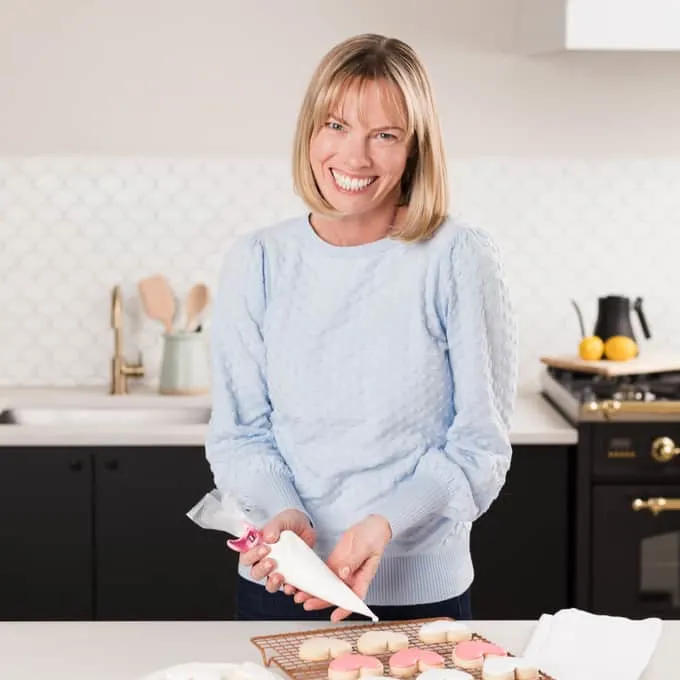 Holly Baker started the food blog, A Baker's House, in 2011. She is the writer, recipe creator, and photographer for the site. Holly loves to bake and shares recipes for gluten free food, canning recipes, as well as traditional desserts too. Her recipes and food photography have been highlighted by BuzzFeed, Reader's Digest, and She Knows.