Creamsicles are a classic summertime treat. This blueberry popsicle version of creamsicles is filled with fresh blueberries and vanilla Greek yogurt! Homemade popsicles delight all ages and your family will enjoy this frozen dessert as a cool relief from the heat.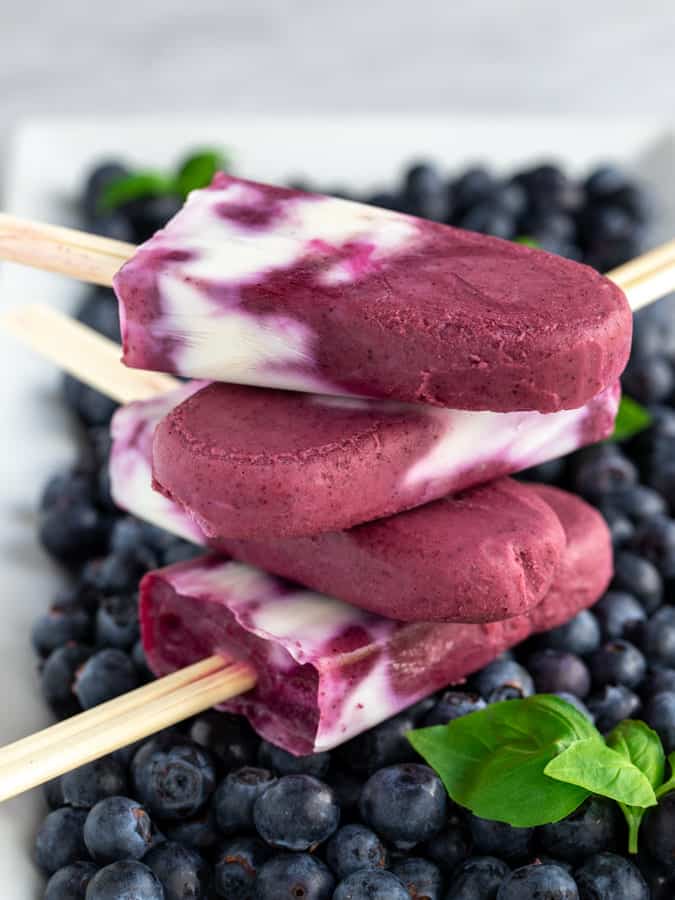 This post is sponsored by Sprouts Farmers Market. I appreciate the opportunity to share recipes made with ingredients from brands I trust and support. All opinions are my own and do not necessarily reflect those of Sprouts Farmers Market. #sponsored

Hearing the music of an ice cream truck takes me right back to summer on the beach and the joy of a creamsicle or ice cream sandwich. This blueberry and basil popsicle elevates the traditional orange creamsicle. I think you'll love it!
Ingredients:
Blueberries
Vanilla Greek yogurt
Small bit of sugar or other sweetener
A few leaves of basil
Juice of one lemon
How to make creamsicle popsicles
Making creamsicles at home is simple:.
Puree fresh fruit and any other ingredients with a creamy element like Greek yogurt, ice cream, frozen yogurt, fresh whipping cream, or coconutmilk.
Freeze the mixture in popsicle molds.
If you'd like to see layers of yogurt and fruit puree, set a small amount of yogurt aside before pureeing the ingredients. Then alternate layers of yogurt and fruit mixture in the popsicle molds. Swirl with a knife before freezing.
Depending on the type of fruit you use for these fruit pops, the method of making a fruit puree varies. For soft fruits like mango, peaches, bananas, and plums you can puree the fresh fruits in a blender along with your creamy element.
Freshly squeezed citrus packs a punch of flavor in these chilly treats too! Make sure to zest the citrus before squeezing the juice out.
Berries may need an extra step of cooking the fruit with a small amount of sweetener to create a jam like consistency before adding to the blender. Alternatively add a bit of sugar to your fruit and let it macerate, or break down, before you add it to the blender. The berries will soften and sweeten as their juices mix with the sugar.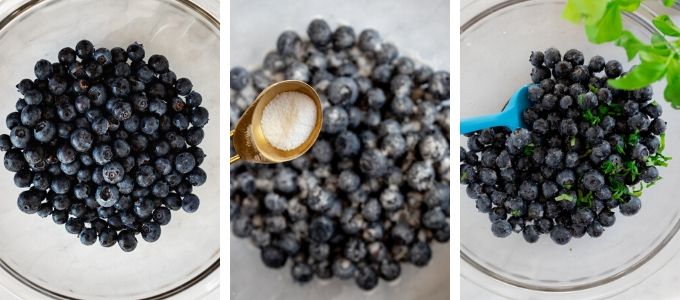 There are so many options and you truly can't go wrong which makes popsicles the best summer treat!
Fresh produce from Sprouts Farmers Market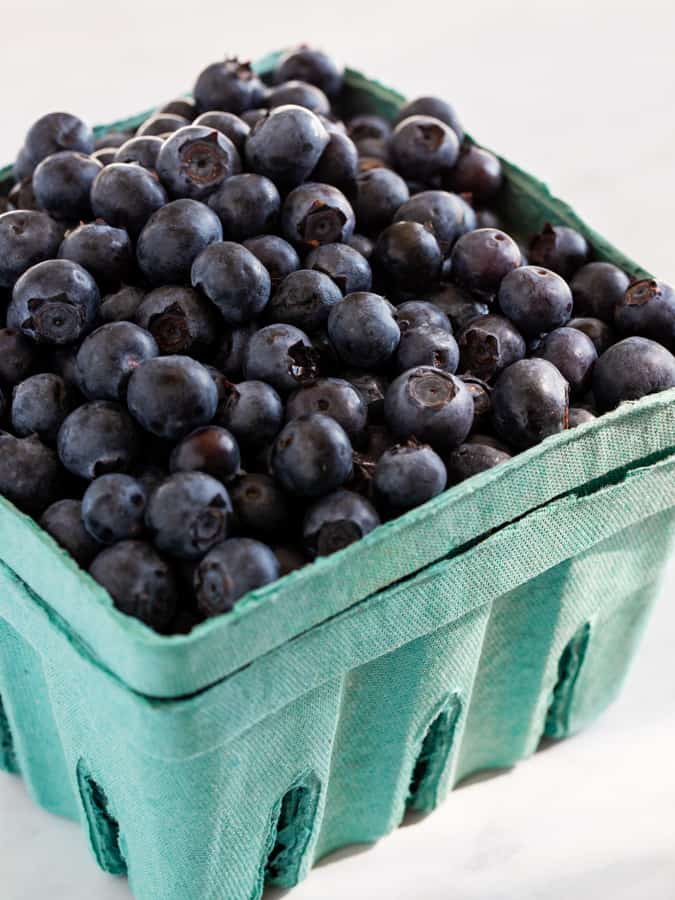 Today's popsicle recipe starts with fresh produce from Sprouts. Blueberries are readily available right now and make a great choice for popsicles. They are an excellent source of fiber and vitamin C. Eat these berries by the handful!
I love using the online grocery shopping option at Sprouts. They partner with Instagram to give their patrons the option for delivery or pick up of online orders. The process is simple and their shoppers take care to fill the orders.
Sprouts has a great selection of farm-fresh produce at very reasonable prices. From oranges to lemons, berries to stone fruits, you'll find the best of what is in season when you shop at Sprouts.
Another key to these blueberry creamsicles is Greek Yogurt. I chose Sprouts Vanilla Greek Yogurt. It is smooth and creamy and blends so well with the fruit puree.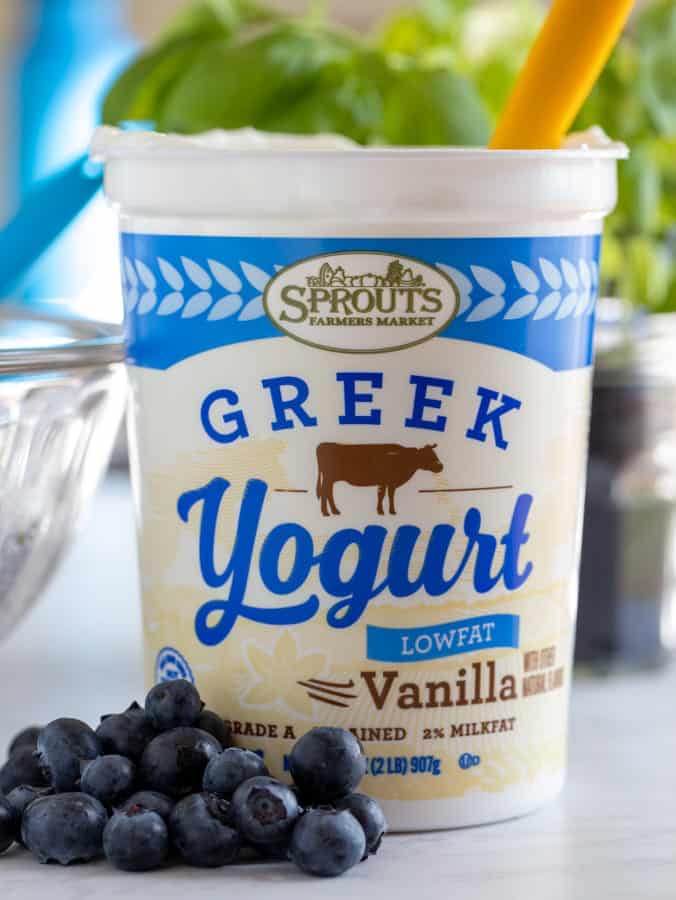 "Cooking" with kids— a no bake treat!
Kids love to get involved and may be able to create this frozen dessert on their own. Because this is an easy no bake recipe, popsicles are a great option for letting your kids develop creative flavors combinations. Add herbs from your garden, zest from fruit, or add-ins like cookie crumbles!
A high speed blender purees the blueberries and vanilla Greek yogurt with ease. Add some fresh lemon juice to heighten the berry flavor in these blueberry popsicles.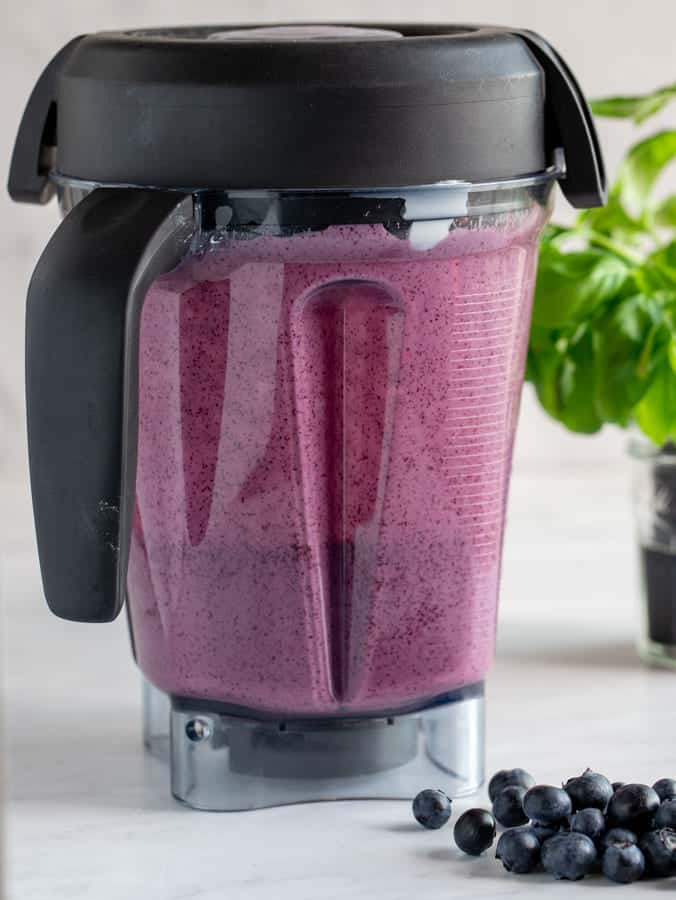 Basil pairs with blueberries so nicely. (If your kids find that combination too mature for their tastes, just leave the basil out.) Are you growing herbs at home? Get creative and add other herbs to your popsicles.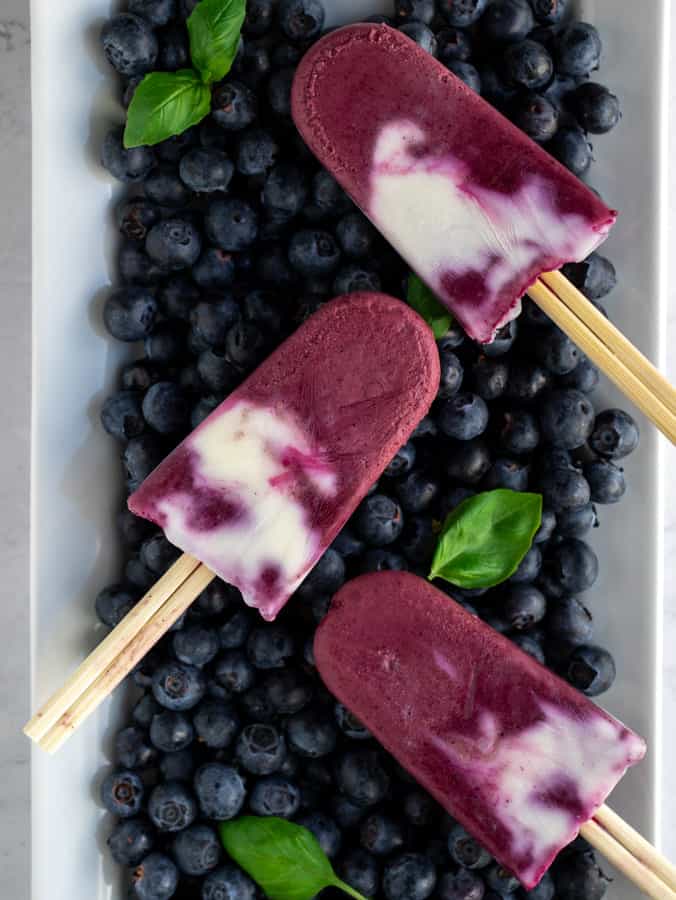 The hardest part of making popsicles is choosing your favorite flavor! Need more ideas? We love these cherry cheesecake popsicles made with layers of fresh cherries, cream cheese with yogurt, and a graham cracker crust.
Creamsicle flavor suggestions:
Peaches and cream
Strawberries and cream
Blood orange creamsicle
Cookies and cream
Vanilla chai
Can you use frozen fruit to make popsicles?
Of course! If you don't have fresh produce please use frozen blueberries.
How long does it take for popsicles to freeze?
Popsicles need at least 4-6 hours to freeze. Overnight is a good plan too.
My popsicles are stuck. What can I do?
To loosen the popsicles from the mold run water over the molds, taking care not to let water seep into the molds.
Another option is to fill a large container with warm water a few inches deep then place the popsicle mold into the water for 30 seconds.
Sometimes the simple act of wrapping a paper towel around each popsicle mold and holding tightly will warm the popsicle just enough that it slides out of the mold.
Be patient– if the popsicles warm just by sitting at room temperature for 5 minutes they will come out of the molds more easily but still be plenty frozen to enjoy.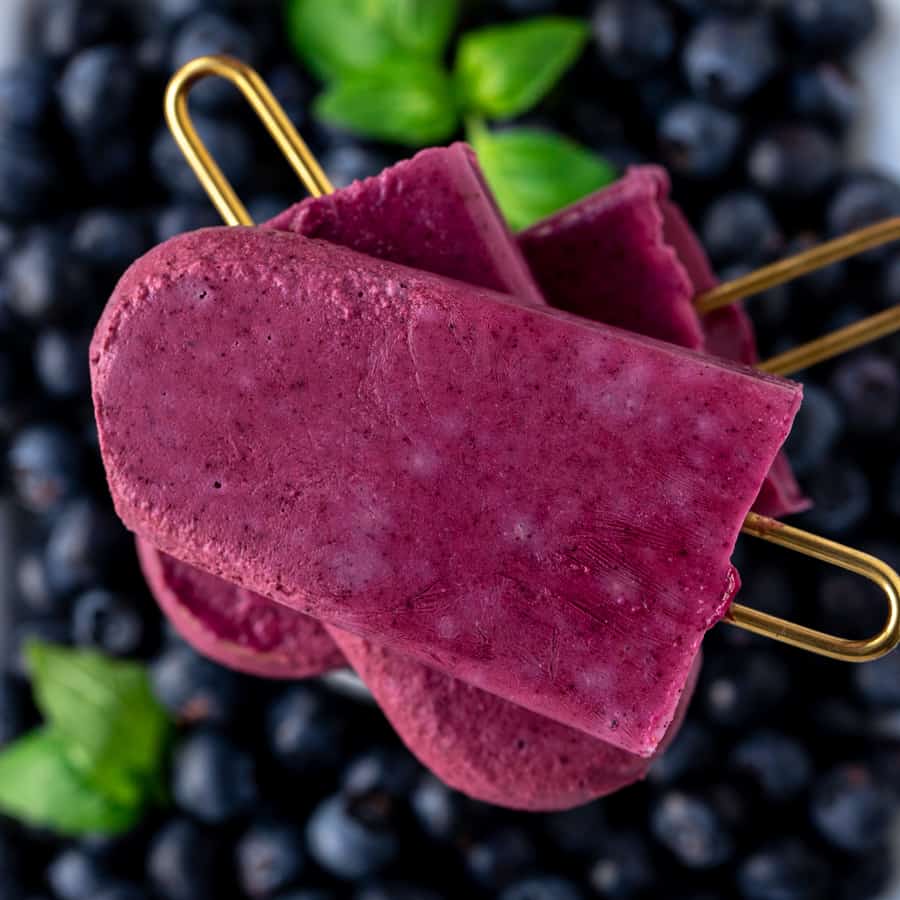 What can I use instead of popsicle sticks?
Food grade popsicle craft sticks are recommended. You can buy some here online. Or, if you don't have any popsicle sticks available, you can use other food-safe items that you have at home.
Chopsticks are a fun idea whether they are the reusable plastic type or the wooden type.
Get creative and use a long pretzel stick. The salt from a pretzel is surprisingly tasty with a creamsicle.
Small spoons like the measuring spoons I used make a good substitution for popsicle sticks too!
By the way, sometimes it helps to let your puree freeze for about 15 minutes before inserting the popsicle stick. This gives the mixture time to set slightly and develop enough structure that the stick will remain in place rather than sloping to a side.
Check out the difference in the look of the popsicles between the layered version on the left and the completely pureed version on the right. Same ingredients with a slightly different process. Both are delicious!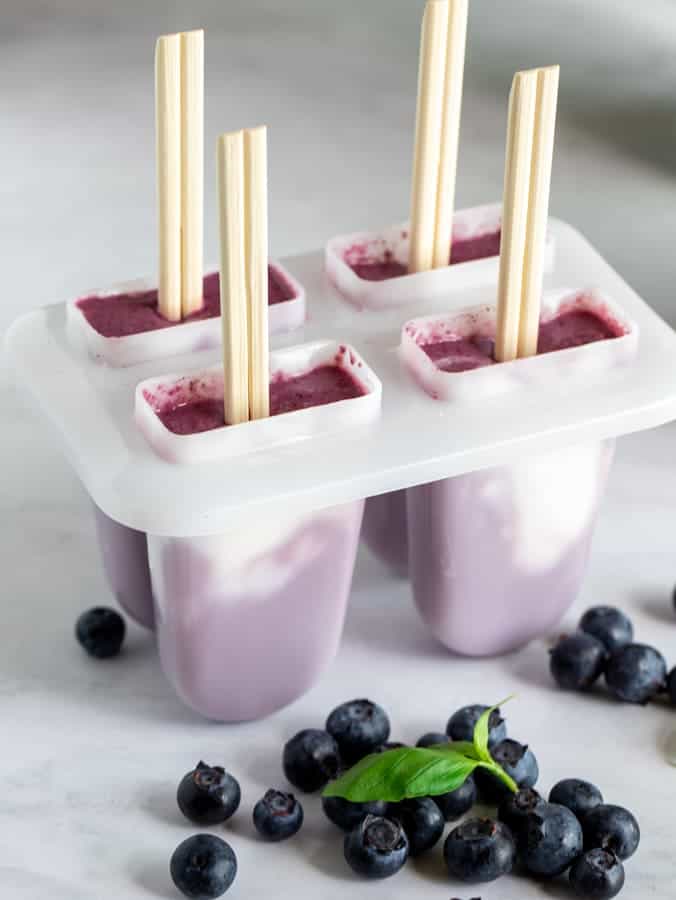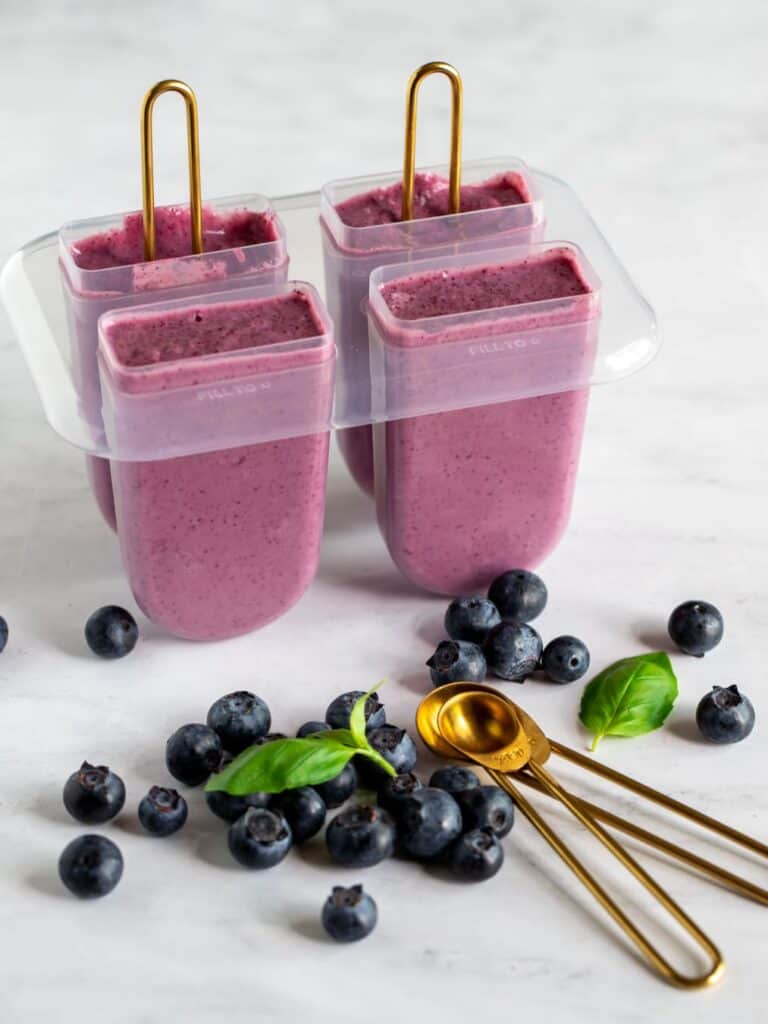 Use supplies that you have at home. Recycling familiar things like chopsticks or spoon might be exactly what you need to make popsicles today!
How to make popsicles without a mold?
Don't get stuck thinking that the only way to make homemade popsicles is to use a popsicle mold. You can use muffin tins, small plastic disposable cups, ice cube trays, recycled yogurt containers, or mini resealable plastic bags.
Dietary concerns
Gluten free: Creamsicles are an easy dessert to make gluten free. Fruit is naturally gluten free. Make sure to check that your yogurt, non-dairy milk beverage, ice cream or other creamy additions are also labeled certified gluten free.
Dairy free: There are many dairy-free options to add a creamy and smooth addition to your creamsicles. Try products from So Delicious such as their non-dairy yogurts and beverages.
Vegan: Yes, popsicles are easy to make vegan! Fruits are vegan and there are plenty of creamy vegan products like Silk's plant-based beverages.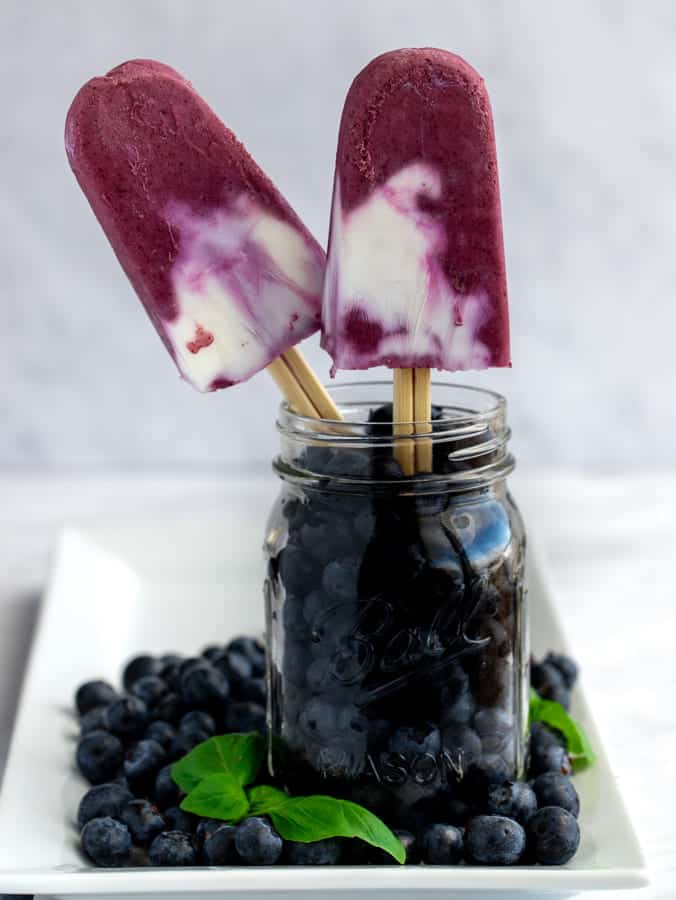 More summer treats
As the temperatures rise, it is nice to have chilly desserts ready to go in your freezer. Try homemade frozen desserts like this roasted strawberry ice cream, mango gelato, melon granita, and blueberry gelato.

Yield: 8
Blueberry Popsicles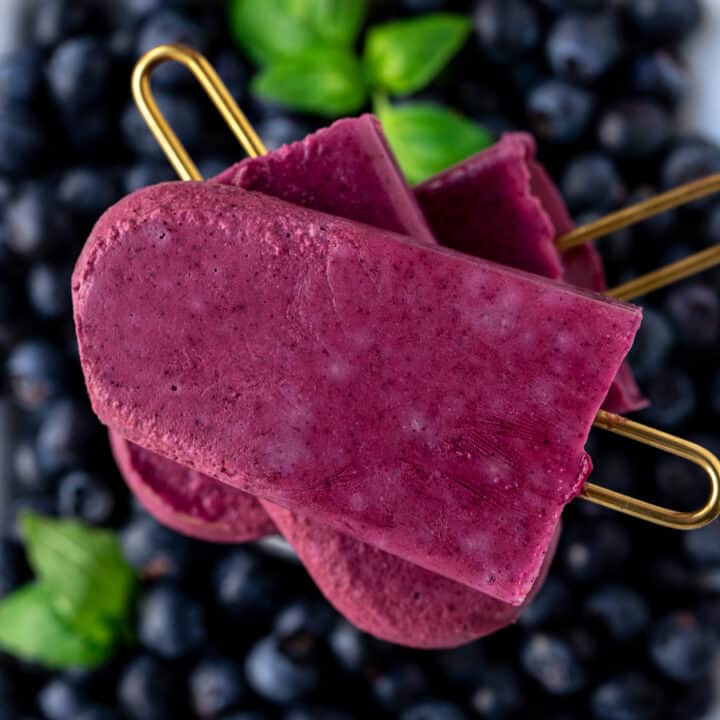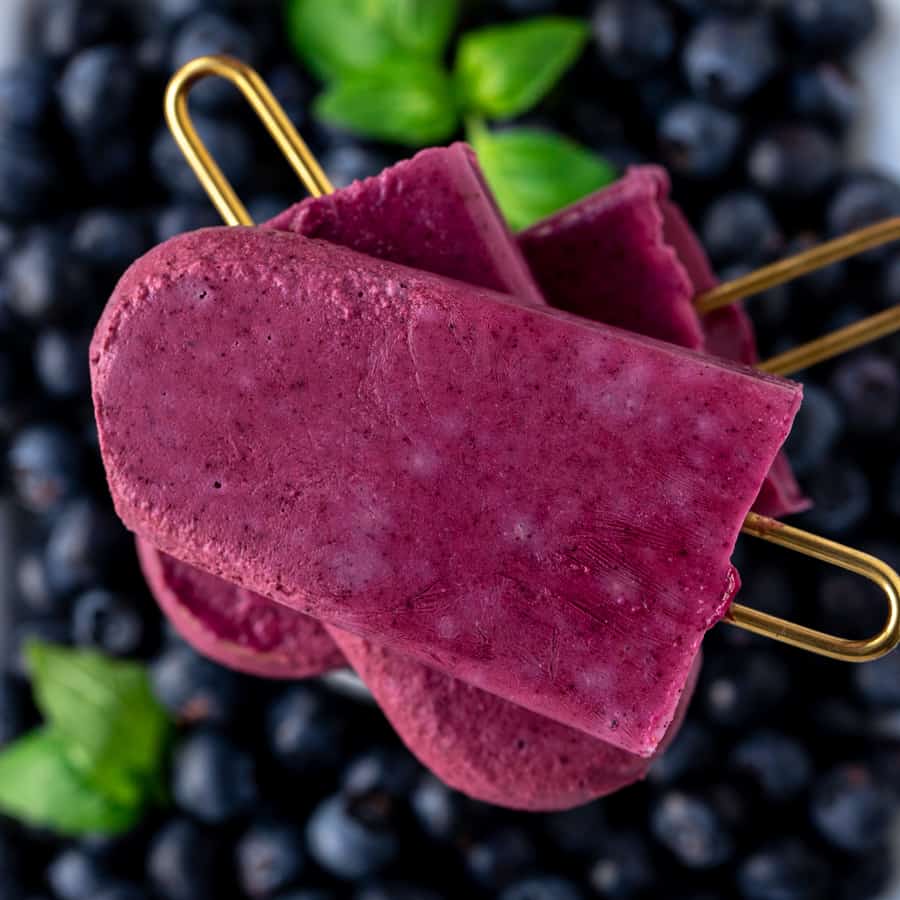 Creamy, fresh blueberry popsicles are the perfect summertime treat!
Total Time
6 hours
15 minutes
Ingredients
2 cups blueberries
1 Tbsp sugar
8-10 basil leaves, thinly cut
1 lemon
2 cups Sprouts Vanilla Greek Yogurt
Instructions
Wash the blueberries then dry on paper towels. Toss the blueberries with 1 Tbsp sugar and the basil and let them sit in a bowl for about 10 minutes, stirring after 5 minutes.
Add this mixture, the juice of one lemon, and 2 cups of Sprouts Vanilla Greek Yogurt to a high speed blender. Puree until smooth.
Pour into popsicle molds. Insert popsicle sticks then freeze for 4-6 hours or overnight.
Remove the popsicles from the molds and enjoy!
Notes
If you'd like a layered version of these creamy popsicles, only use 1 ½ cups Greek Yogurt in the blender, reserving ½ cup. Layer dollops of the remaining ½ cup Greek yogurt with the pureed fruit & yogurt mixture then swirl with a knife before freezing.
You can omit the basil if you want pure blueberry pops.
The lemon juice brings a brightness to the berry flavor. I recommend including it but these creamsicles will taste good without it as well.
Are your popsicles stuck in the mold? Try this: To loosen the popsicles from the mold run water over the molds, taking care not to let water seep into the molds.
Nutrition Information:
Yield:
8
Serving Size:
1
Amount Per Serving:
Calories:

47
Total Fat:

0g
Saturated Fat:

0g
Trans Fat:

0g
Unsaturated Fat:

0g
Cholesterol:

1mg
Sodium:

8mg
Carbohydrates:

10g
Fiber:

1g
Sugar:

7g
Protein:

2g
This data is provided by Nutritionix and is an estimate only.
Pin with me!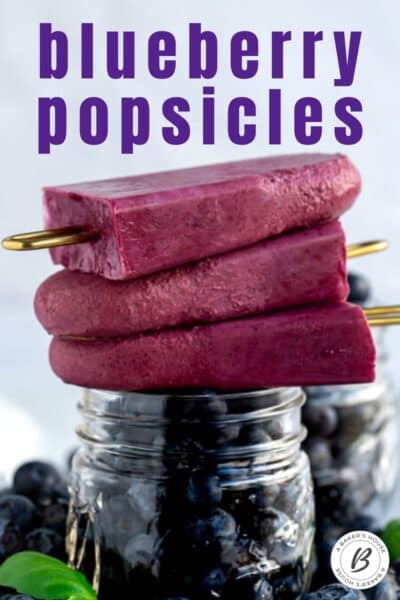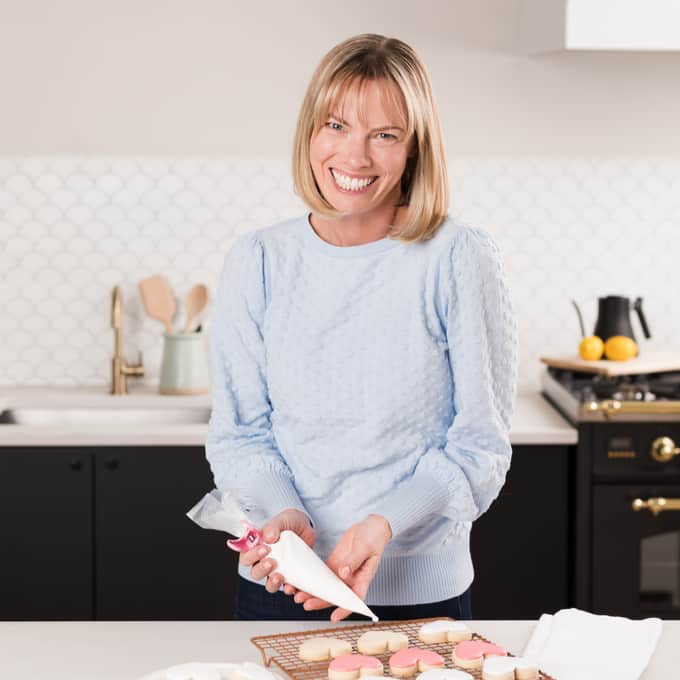 Holly Baker started the food blog, A Baker's House, in 2011. She is the writer, recipe creator, and photographer for the site. Holly loves to bake and shares recipes for gluten free food, canning recipes, as well as traditional desserts too. Her recipes and food photography have been highlighted by BuzzFeed, Reader's Digest, and She Knows.