Mocha truffles are a decadent homemade treat. Rich, creamy chocolate accented with coffee creates a dreamy, sweet dessert. These gluten free truffles can be dipped in white chocolate, coated with holiday colored sugar, or left plain—they are perfect in every way!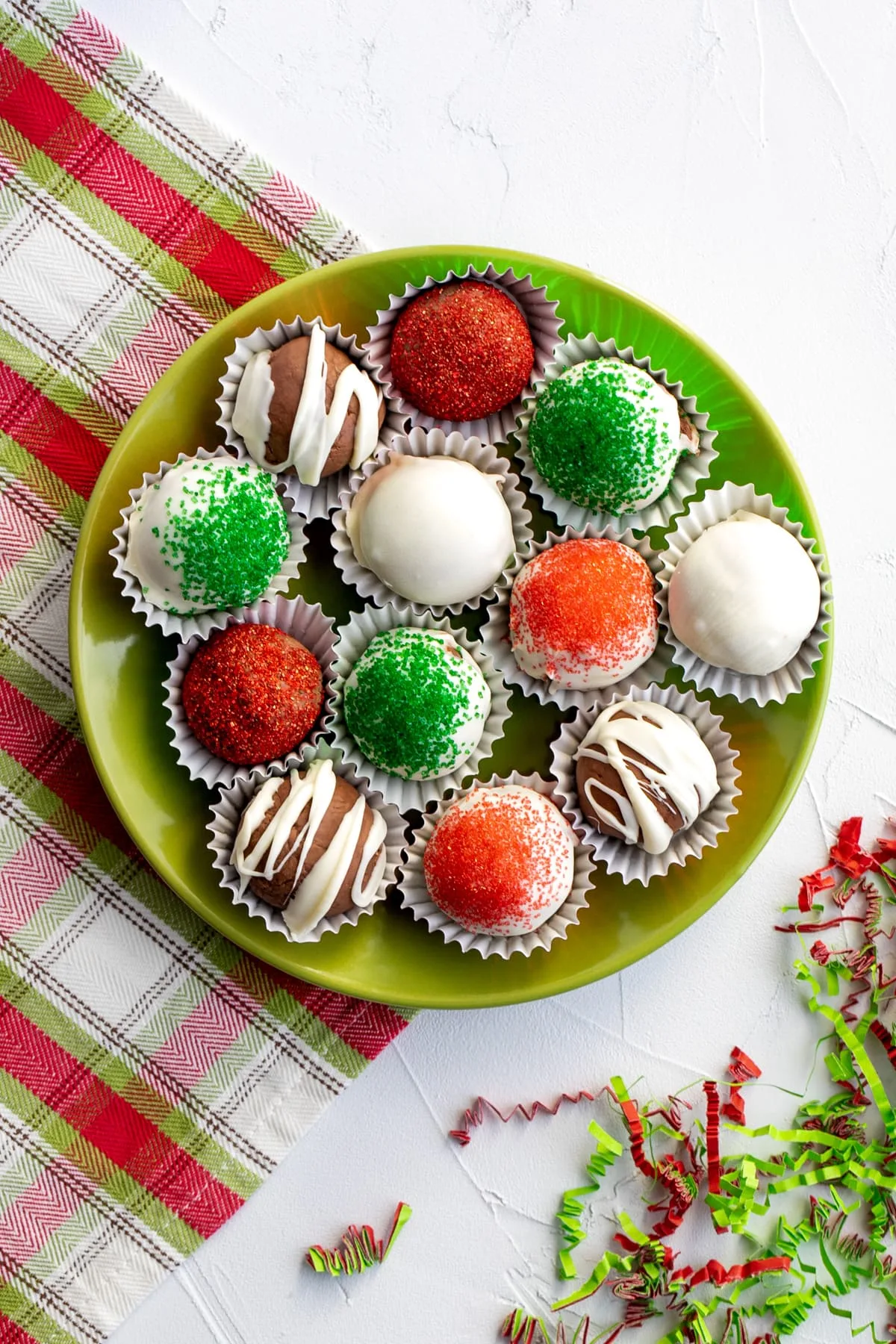 This post is sponsored by Sprouts Farmers Market. I appreciate the opportunity to share recipes made with ingredients from brands I trust and support. All opinions are my own and do not necessarily reflect those of Sprouts Farmers Market. #sponsored
Why this recipe works:
This recipe is quick, easy, and creates an impressive and scrumptious dessert.
Mocha chocolate truffles are little balls of joy! This easy truffles recipe needs only a few ingredients and lets the microwave do the work in this nearly no bake dessert. (Microwaves don't count as cooking, right?)
Instant coffee contributes to the flavor of this mocha truffle and makes this mini dessert something special. Somehow the coffee and vanilla make the chocolate even more chocolatey! You've got to try these little beauties and savor every bite.
If you are looking for a gluten free dessert for the holidays (or honestly any day of the year), you'll love these condensed milk truffles. I shopped at Sprouts Farmers Market for all of my ingredients. Every time I go there I find more gluten free options. They have become my one-stop shopping place for all my GF favorites!
You can shop in the store or online. I really like the option to order groceries online and then pick up the groceries. You simply park in the designated parking spot and the groceries are delivered to the car. Everyone is always friendly and helpful and I am grateful to have Sprouts close by.
Recipe Ingredients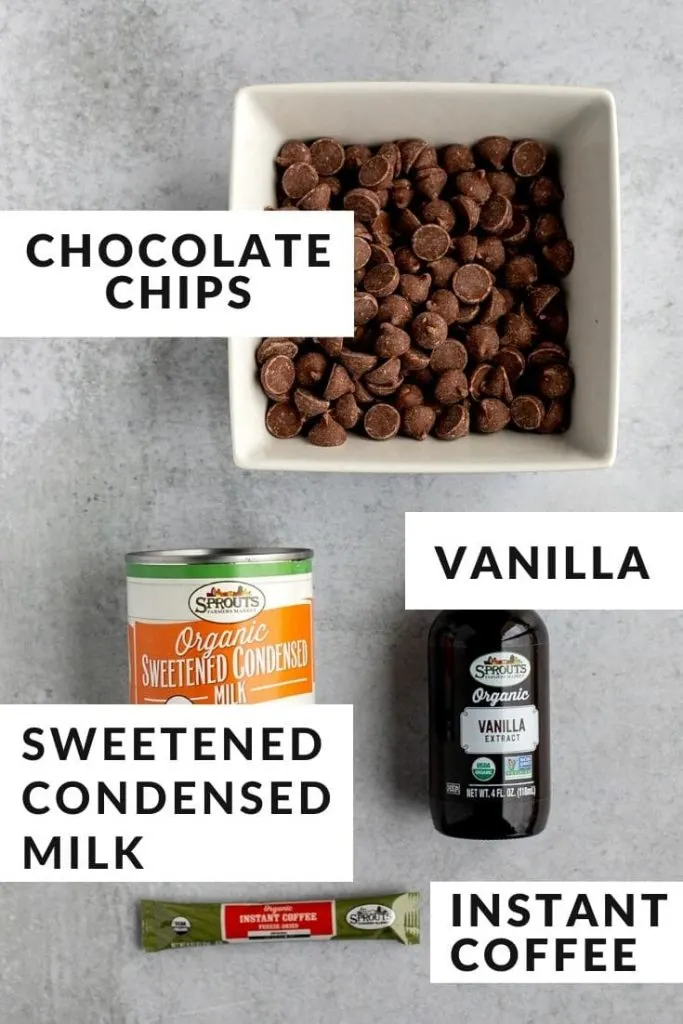 Chocolate Chips: Use high quality chocolate chips in this recipe to make the best chocolate truffles. I love milk chocolate but you could choose dark chocolate or semi-sweet chips too. A combination of all three would work as well!
Sweetened Condensed Milk: The shortcut in this easy recipe relies on the sweetened condensed milk. You won't need butter or cream to make a ganache as you would in traditional truffles. Instead, this ingredient adds the sweet creaminess to the chocolate. The chocolate melts into it easily in the microwave– you won't believe how little time it takes to make these! I love using sweetened condensed milk in shortcut fudge recipes too. Try this peanut butter and chocolate fudge or this white chocolate fudge.
Vanilla Extract: Vanilla is often a great partner when it comes to flavor profiles because it plays in the background while boosting the other ingredients.
Instant Coffee: And here it is– the source of our mocha flavor! Sprouts offers this instant coffee in a small box with individually wrapped sticks of instant coffee. Each one is .07 ounces.
How to make Coffee Truffles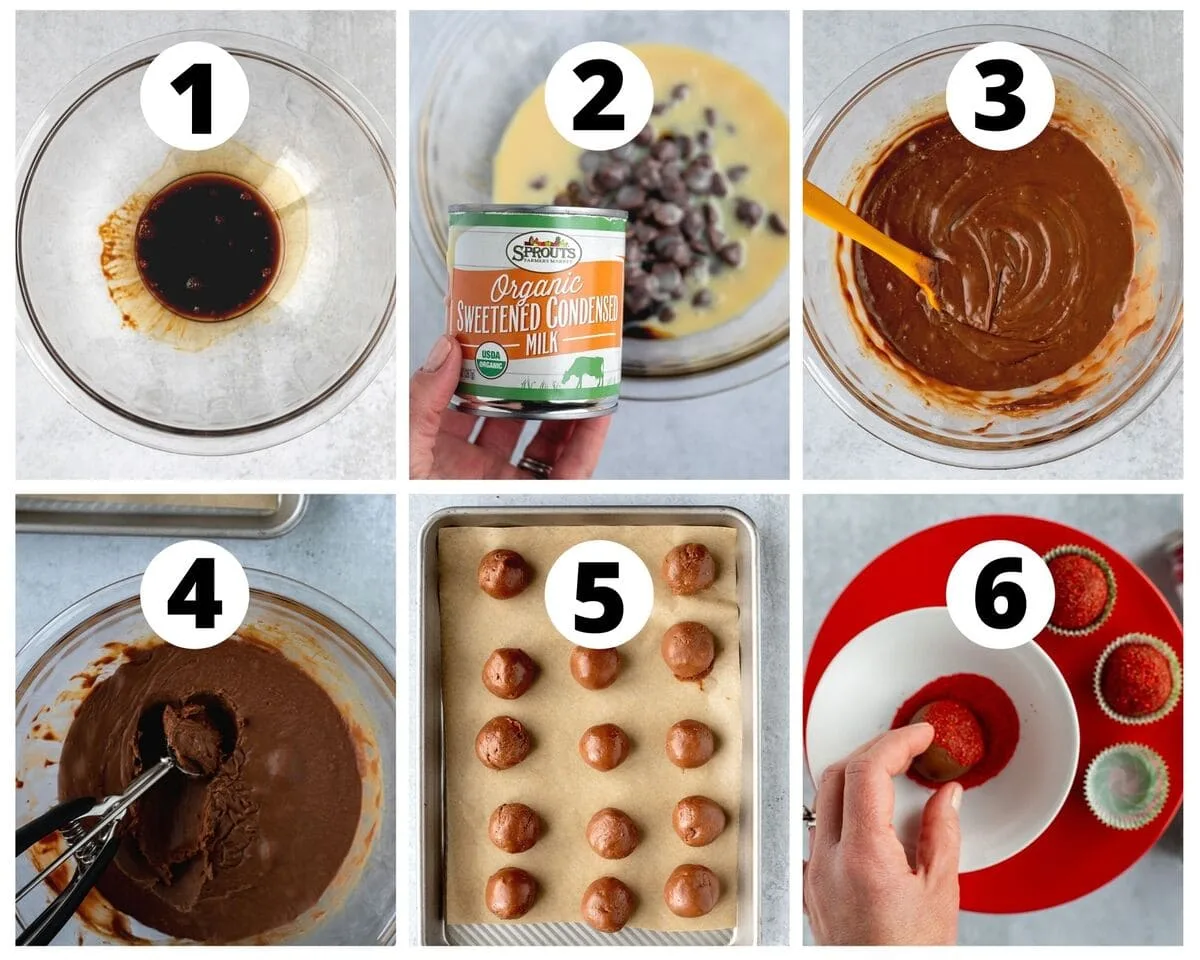 Mix the instant coffee with the vanilla to dissolve the coffee granules. Use a microwave safe bowl that is large enough to contain all the ingredients.
Add the chocolate chips and the sweetened condensed milk to the bowl.
Microwave then stir until smooth. Cover and refrigerate for a short time.
Scoop 1 tablespoon at a time of the mixture with a melon baller or with two spoons.
Form into balls. If your mixture is not holding its shape then refrigerate it for 30 minutes before coating.
Coat with colorful sugar, cocoa powder, or dip in melted white chocolate.
What is the best coating for truffles?
Of course, this is a matter of opinion and I am happy to share mine! You can happily eat these mocha truffles without any coating. They are delicious.
Most often, though, I opt to add a coating. You can decorate them according to the season or occasion with sprinkles or sugars. I love the red, green and multicolored sugars that I bought from Sprouts. Their naturally colored sugars bring instant cheer to any recipe!
Cocoa powder and powdered sugar are other good options for a simple dusting of color and flavor.
A white chocolate coating makes these balls look like they are from a bakery and turns them into great gifts for neighbors and friends. I think the chocolate coating also makes these party-ready when you finish them with the colorful sugars too!
How to dip truffles in chocolate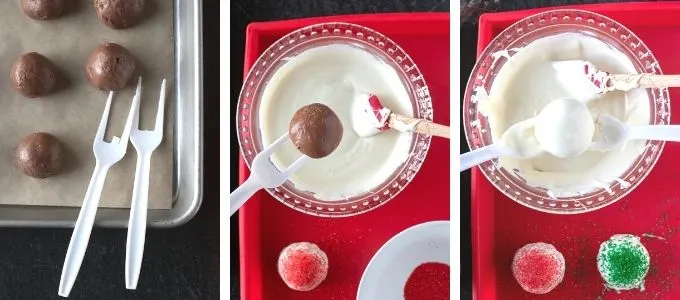 Get your tools ready. You can use spoons, forks, or try this trick I learned a while back– snap off the middle two tines of a plastic fork. It creates the perfect space on which to rest your chocolate balls.
Melt 10-12 ounces of white chocolate in the microwave in 30 second increments. Stir well until the chips are fully melted. Lower the truffle into the melted chocolate. Coat completely.
Raise the truffle and jiggle or tap the forks on the side of the bowl to remove any excess melted chocolate. Place the coated truffle on a parchment lined baking sheet or a silicone tray. Dust with sugars if desired then store in the refrigerator.
Another alternative is to drizzle melted chocolate over the formed truffles instead of coating them completely. You really can't go wrong!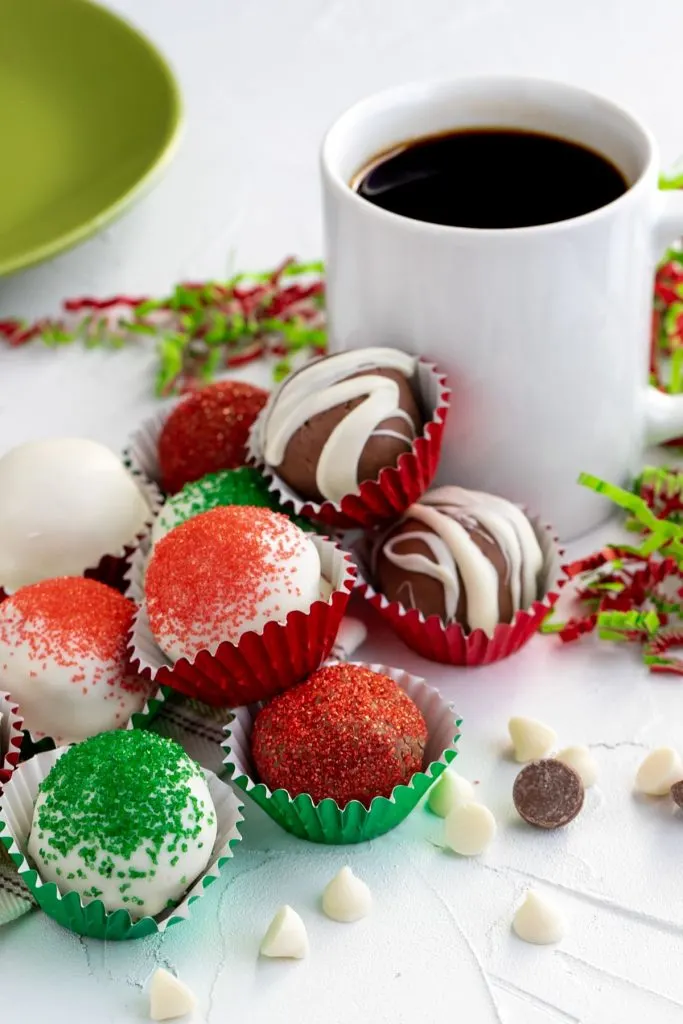 Tips and Tricks for Success:
What is mocha?
Mocha can be two separate things. First, it is a specific type of coffee bean. Secondly it is the type of drink that we typically refer to as a combination of chocolate plus coffee. The latter is what we are creating here– a dessert that is richly flavored with coffee and chocolate.
Can I make gluten free truffles?
Yes! Check your ingredients carefully to make sure each one is gluten free. The ingredients listed of instant coffee, vanilla, chocolate, and sweetened condensed milk are all available in gluten free products. Toppings sometimes are not certified GF so be sure to check and double check to make sure you are comfortable with each ingredient.
What kind of chocolate is best?
Use the type of chocolate you enjoy eating! High quality ingredients will produce the best truffles so buy the best product available.
How much coffee is in each packet?
Note that you are note brewing the coffee. You simply add the granules in each .07 oz packet to the bowl. If you have a large container of instant coffee and don't have a scale to measure .07 oz, scoop a generous teaspoon for the mocha truffles.
Can I make espresso chocolate truffles?
Yes, powdered espresso is often available in the baking aisle. Use it instead of instant coffee for an extra boost of coffee flavor.
How do I store homemade truffles?
Truffles made with condensed milk or cream and other dairy products should be stored in the refrigerator. You can eat the truffles chilled or give them 15-30 minutes to rest on the countertop to come to a warmer temperature. Truffles last about two weeks in the fridge, although you will likely eat them sooner than that!
Can I freeze truffles?
Yes, chocolate truffles freeze really well. Place in an air-tight container and freeze for 3 to 6 months. Defrost in the refrigerator or at room temperature.
Yield: 24 truffles
Mocha Truffles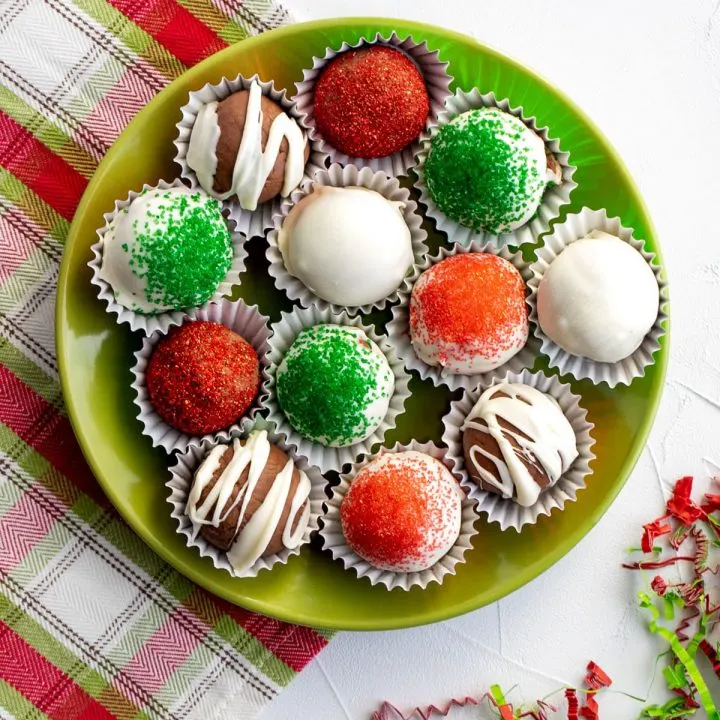 Coffee and chocolate come together to create a rich and creamy mocha truffle.
Additional Time
1 hour
30 minutes
Total Time
1 hour
40 minutes
Ingredients
12 oz of chocolate chips (1 bag of milk chocolate or your choice)
14 oz Sprouts organic sweetened condensed milk
1 packet (.07 oz) Sprouts instant coffee granules
1 Tbsp Sprouts vanilla extract
Optional: 1 bag (approximately 10-12 oz) white chocolate chips), decorative sugars or sprinkles
Instructions
1. Use a large glass bowl (or other microwave-safe bowl). Dissolve the packet of instant coffee granules into the vanilla by mixing well.
2. Add the chocolate chips and the sweetened condensed milk into the glass bowl with the dissolved coffee granules and vanilla. Microwave on high for one minute then remove and stir. If the mixture isn't completely smooth, microwave for an additional 30 seconds and stir again.
3. Cover with plastic wrap and refrigerate for 30 minutes.
4. Use a spoon or melon baller to scoop 1 Tbsp of the mixture and form into balls.
5. Coat the balls with colorful sugar, sprinkles, cocoa, or dip into melted white chocolate then place on parchment paper in the refrigerator until the chocolate sets. Note: to melt white chocolate place chips in a microwave safe container and melt at 50% power for 30 seconds at a time. Stir until smooth. Dip each truffle into the melted chocolate then tap off excess melted chocolate. Place on parchment or silicone then refrigerate to set.
6. Store in the refrigerator. Enjoy directly from the refrigerator or let the truffles come to room temperature for 15-20 minutes before serving.
Notes
Use the kind of chocolate chips that you love- milk chocolate, semi-sweet, or dark chocolate (or a combination!)
Bags of chocolate chips come in different sizes. Use any bag between 10-12 oz.
Note that you are not brewing the coffee, just stir the granules of the .07 oz packet with the vanilla.
If you don't have individual packets of instant coffee, use one generous teaspoon of instant coffee. (or weigh .07 oz)
If you require a gluten free recipe, double check that ALL of your ingredients are labeled "gluten free". Sometimes decorative items such as sprinkles may not be certified GF.
Mocha truffles keep well in the refrigerator for two weeks.
If you need to store your truffles for a longer period of time, place them in an air-tight container and freeze for 3-6 months. Remove and leave at room temperature for an hour before eating.
Nutrition Information:
Yield:
12
Serving Size:
2
Amount Per Serving:
Calories:

162
Total Fat:

9g
Saturated Fat:

5g
Trans Fat:

0g
Unsaturated Fat:

3g
Cholesterol:

1mg
Sodium:

10mg
Carbohydrates:

22g
Fiber:

2g
Sugar:

18g
Protein:

3g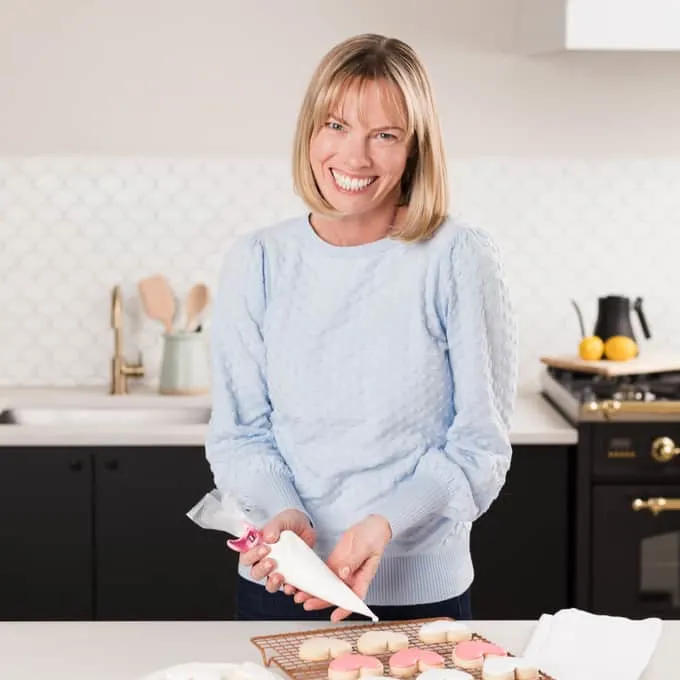 Holly Baker started the food blog, A Baker's House, in 2011. She is the writer, recipe creator, and photographer for the site. Holly loves to bake and shares recipes for gluten free food, canning recipes, as well as traditional desserts too. Her recipes and food photography have been highlighted by BuzzFeed, Reader's Digest, and She Knows.