Gluten Free Blueberry Blintzes with a Greek yogurt and cream cheese filling are perfect for breakfast, dessert, or even a breakfast for dinner option for these busy back to school nights! Take a few short cuts with frozen food options from Sprouts Farmers Market to make these quick and easy blintzes topped with a blueberry sauce. This gluten free breakfast or gluten free dessert option comes together in twenty minutes or less.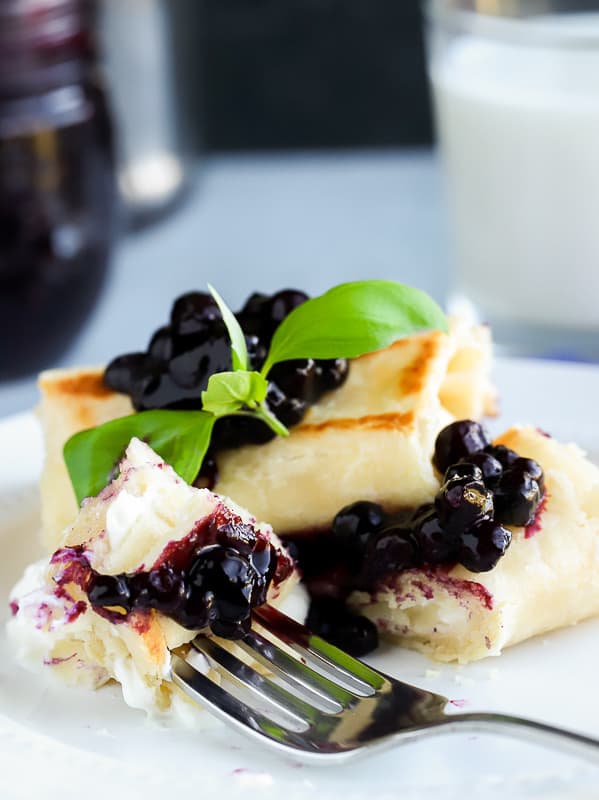 What are Blintzes?
Traditionally a blintz is a thin pancake filled with a sweet cheese filling which is folded then baked or fried. The dish is of Russian origin and it can be served with sour cream or fruit.
Blintzes vs. Crepes
If you think a blintz sounds very similar to a crepe, you would be correct! A crepe is a French dish and it is a very thin pancake that ususally has a filling then is folded before it is served. Fillings might be nutella, chocolate, berries, sweet cheese, or savory options abound as well.
Making a blintz or a crepe from scratch involves crafting a thin pancake. You'll learn that it takes some practice to the get thickness of the pancake just right. Once you have your pancakes, you'll add a few tablespoons of filling, then carefully wrap the pancake up and around the filling. Baking or frying the formed blintzes is the next step.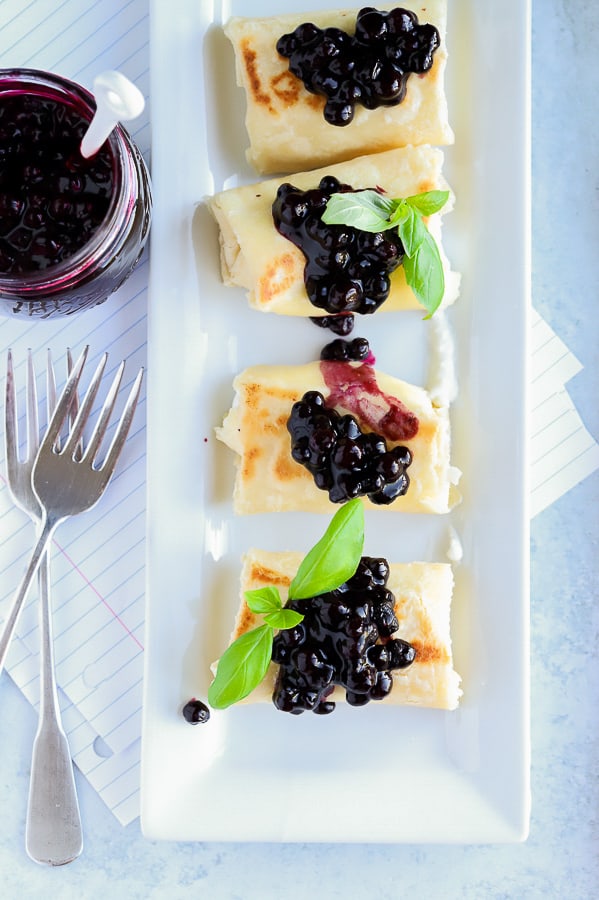 Almond Flour tortillas from Siete Family Foods
In this version of gluten free blintzes, let's take a short cut that avoids the hassle of making the pancake. An almond flour tortilla is the pancake. Siete Family Foods makes grain free tortillas, tacos, and chips and this grain free tortilla has become a frozen food star at my house. I love that the almond flour tortillas are gluten free, grain free, non- GMO, vegan, and dairy free.
I found Siete almond flour tortillas at my local Sprouts store and look forward to trying other versions made with cassava flour and chickpea flour. One of the many reasons I shop at Sprouts is because of their many options for gluten free foods. It's a treat when I try something new for me and stumble upon a gluten free staple that I can use in breakfast, lunch and dinner!
Quick shopping tip: you'll find these tortillas in the frozen bread section of your Sprouts store. This area is right next to the fresh breads. At first I looked in the regular frozen food area near the frozen burritos and other meals, but the frozen tortillas are found next to the breads.
Because the almond flour tortillas are thin but not as thin as a traditional blintz pancake, they hold up well when filled and are not as likely to break apart. Perfect for making blintzes!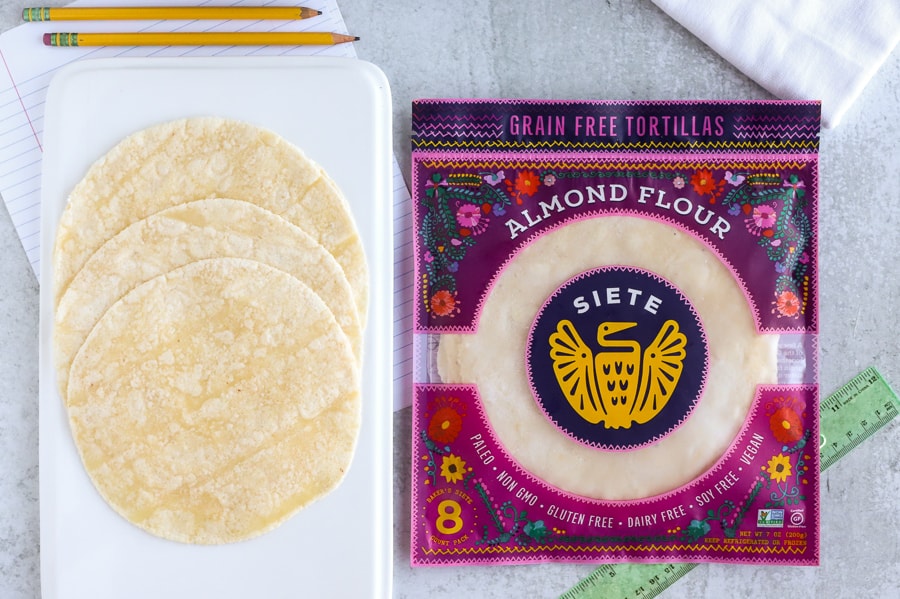 How do you make a blintz?
You'll need an almond flour tortilla and the filling to make a blintz. Once the blintz is formed a quick sauté browns the blintz and the blueberry sauce is a beautiful topping to finish it off.
Here are the steps to make a blintz:
Prepare the filling and prepare the blueberry sauce.
Add a small amount of the filling to the bottom half of the tortilla.
Fold in the sides then roll the tortilla away from you creating a little bundle for your blintz.
Brush the blintz with melted butter then sauté it for a few minutes per side.
Top with the blueberry sauce and serve.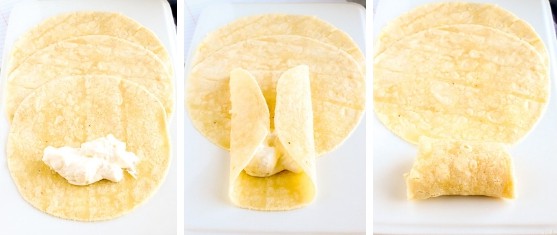 Blintz Filling
A blintz filling is often a sweet cheese filling. To make these blintzes a healthier breakfast option (or a great dessert or breakfast-for-dinner choice), the filling is a combination of vanilla Greek yogurt and cream cheese. Greek yogurt lends a creaminess and the addition of protein to what is usually a sugary filling.
Find these ingredients at Sprouts Famers Market: Lowfat Vanilla Greek Yogurt and Organic Cream Cheese.
Blend the filling together with a hand held mixer. Only three tablespoons are needed for each blintz (a serving is two blintzes). Be careful not to over-fill the blintzes or the filling will ooze out.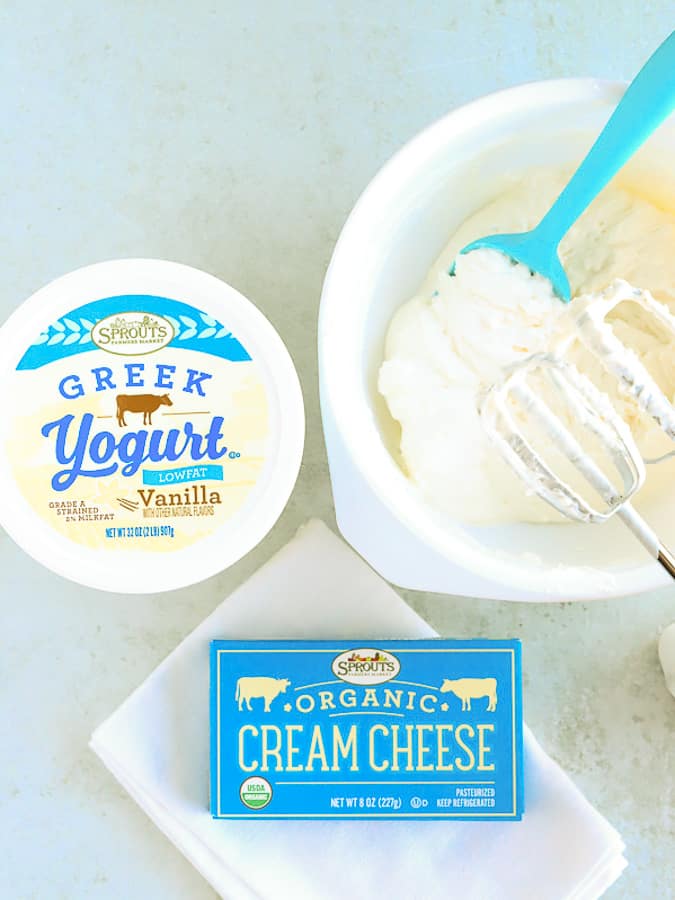 Blueberry Blintz Frozen Blueberry Sauce
You'll find many ways to use this frozen blueberry sauce– a topping for your blintzes, pancakes, waffles, ice cream, yogurt, granola, and even an addition to a cheese plate, on top of baked brie…the list goes on.
The blueberry sauce is made with frozen wild blueberries, a touch of sugar and cornstarch and a lemon. Make the sauce ahead of time as it will thicken as it cools. You can serve the sauce warm, at room temperature or cooled.
Find Wyman's of Maine Fresh Frozen Wild Blueberries at Sprouts Farmers Market. I love having frozen blueberries in the freezer ready for recipes for sauces, smoothies, pies, and more.
How to make a blueberry sauce
Combine 3 cups of frozen blueberries, 1 tablespoon sugar, 2 teaspoons cornstarch and the zest and juice from ½ lemon in a medium saucepan. Stir.
Bring to a boil and stir constantly for 3 minutes then take the sauce off the heat. The sauce will thicken as it cools.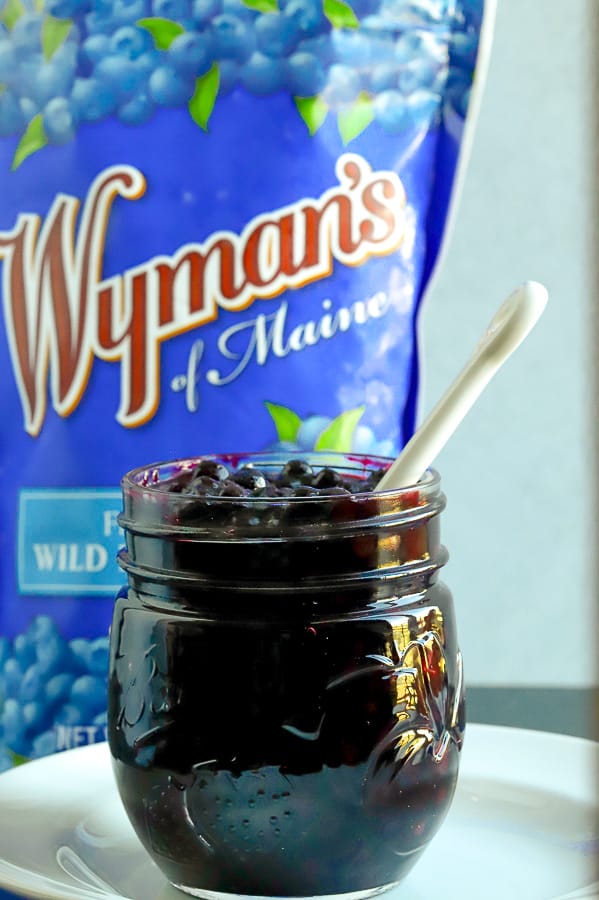 Yield: 4 servings
Gluten Free Blueberry Blintzes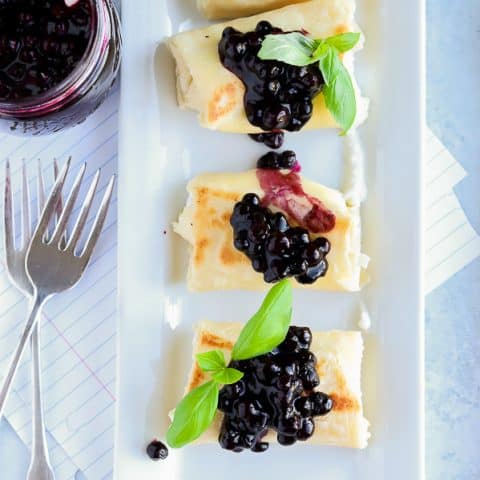 Quick and easy these gluten free blueberry blintzes are made in 20 minutes or less!
Ingredients
1 package Wyman's of Maine Fresh Frozen Wild Blueberries (about 3 cups)
1 tablespoon granulated sugar
2 teaspoons cornstarch (gluten free)
Zest and juice from ½ lemon
1 cup Sprouts Greek Yogurt Lowfat Vanilla
4 ounces Sprouts organic cream cheese, at room temperature
1 package frozen Siete Almond Flour Tortillas (8 tortillas)
1 tablespoon butter, melted
Instructions
1. Prepare the blueberry sauce: Combine 3 cups of frozen blueberries, 1 tablespoon sugar, 2 teaspoons cornstarch and
the zest and juice from ½ lemon in a medium saucepan. Stir. Bring to a boil and stir constantly for 3 minutes then take the sauce off the heat. The sauce will thicken as it cools.

2. Let the Siete Almond Flour Tortillas come to room temperature for 5 minutes while you work on the filling.

3. Prepare the filling: Use an electric mixer to beat the 1 cup lowfat Vanilla Greek Yogurt and the 4 ounces cream cheese until smooth.

4. Place three tablespoons of the filling on the bottom half of a tortilla. Fold the sides in to the middle then roll the tortilla away from you, finishing with the seam on the bottom. Repeat
with all the tortillas.

5. Heat a sauté pan on medium high heat. Brush the pan with melted butter then set the tortilla bundles seam side
down. Brush the tops of the bundles with melted butter. Cook for 3-4 minutes then turn once and cook for an additional 3-4 minutes or until lightly browned.

6. Top each blintz with about ¼ cup blueberry sauce.




Nutrition Information:
Yield:
4
Serving Size:
1
Amount Per Serving:
Calories:

189
Total Fat:

7g
Saturated Fat:

4g
Trans Fat:

0g
Unsaturated Fat:

2g
Cholesterol:

17mg
Sodium:

159mg
Carbohydrates:

25g
Fiber:

2g
Sugar:

12g
Protein:

8g
This data is provided by Nutritionix and is an estimate only.
Breakfast for Dinner
If you are like me, the option of breakfast for dinner is one I would take any day of the week! Shop at Sprouts Frozen Frenzy sale and find great frozen options that can be transformed into a quick dinner on busy nights. With the start of school quickly approaching it helps to have dinner prepared in less than 20 minutes and these blueberry blintzes are perfect!
If you love making breakfast recipes try this French Toast Bake!
Pin with me!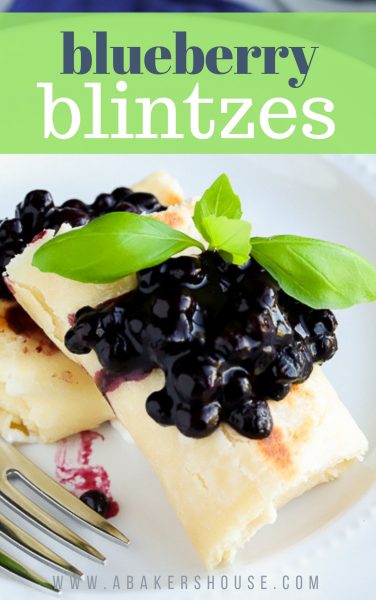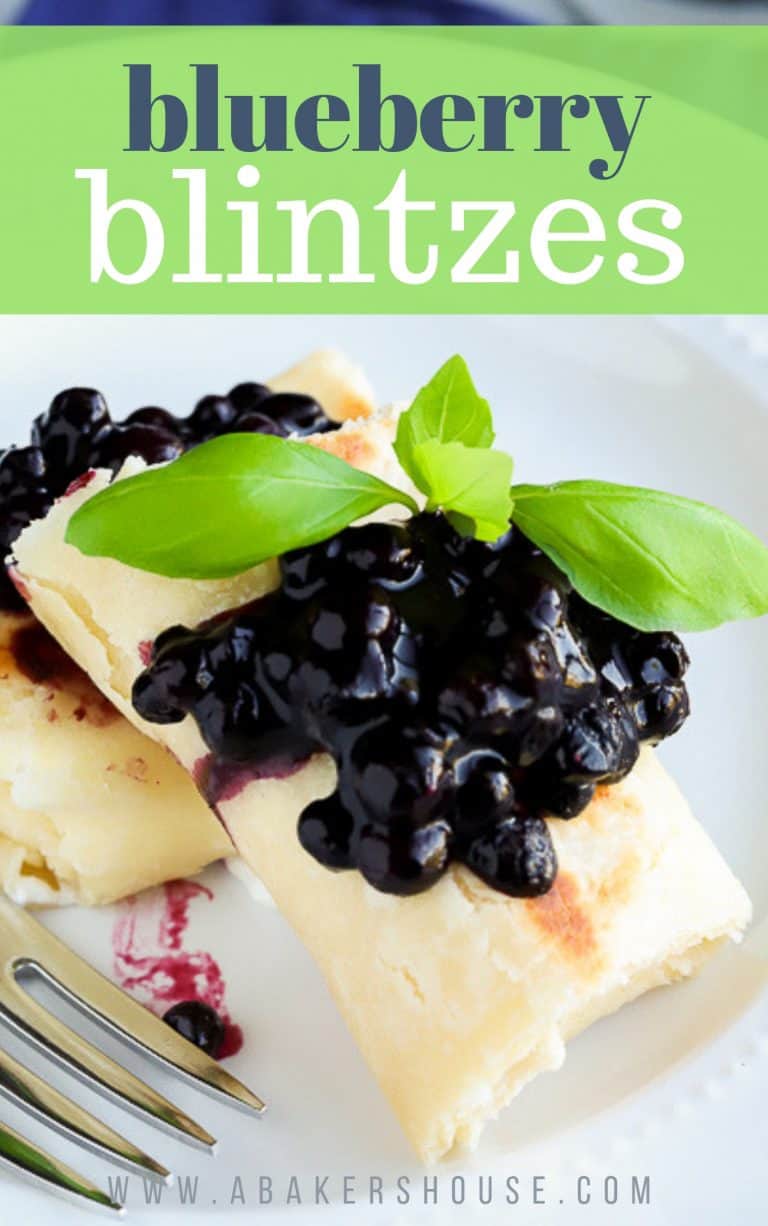 More blueberry recipes
Looking for more blueberry recipes? Try these!
This post is sponsored by Sprouts Farmers Market. I appreciate the opportunity to share recipes made with ingredients from brands I trust and support. All opinions are my own and do not necessarily reflect those of Sprouts Farmers Market. #sponsored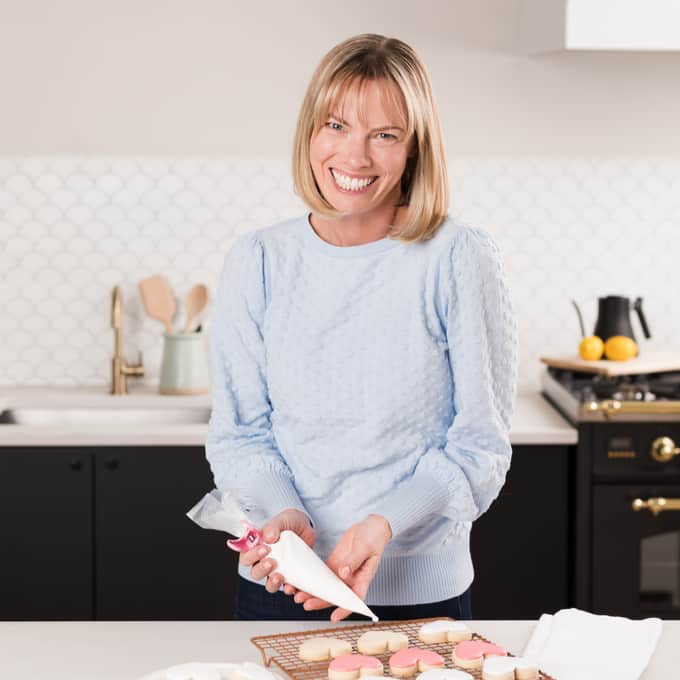 Holly Baker started the food blog, A Baker's House, in 2011. She is the writer, recipe creator, and photographer for the site. Holly loves to bake and shares recipes for gluten free food, canning recipes, as well as traditional desserts too. Her recipes and food photography have been highlighted by BuzzFeed, Reader's Digest, and She Knows.