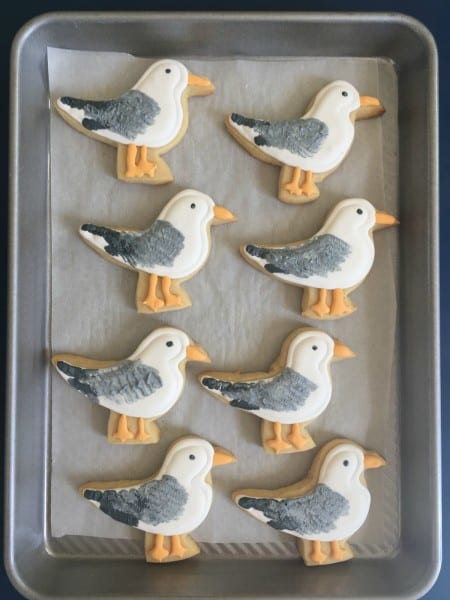 Summer beach vacations are a favorite family tradition; I have so many happy childhood memories from sunny, salty days in Ocean City, New Jersey. The Jersey shore is a short drive from the suburbs of Philadelphia where I grew up. Memorial Day to Labor Day is the traditional beach season but any time of year the beach can be a magical place. And no matter the season that you find yourself there, you will always have sand, sea…and SEAGULLS. These sweet cookie seagulls are worlds more fun that the sandwich-stealing seagulls you'll find at the beach. I made these cookies to share with my grandmother whose love of the beach is second to none. The carefully packed cookies were shipped and arrived intact, and I was told they disappeared quickly. A success! Bake some beach cookies with the #CreativeCookieExchange this month. Whether you bake up a quick batch while on vacation or decide to bring the dough with you ready-made, we've got a great list for you to choose from!
I continue to use my favorite, reliable cookie recipe from Bridget Edwards of the blog Bake at 350. I decorated the cookies in white with her royal icing recipe too, adding the gray and black accents with a small, flat, food-safe decorating brush. So easy and simple but with an overall effect that I thought turned out well.
Check out the list of cookies our bakers have dreamed up with this beach theme:
You can also use us as a great resource for cookie recipes. Be sure to check out our Pinterest Board and our monthly posts (you can find all of them here at The Spiced Life). You will be able to find them the first Tuesday after the 15th of each month! If you are a blogger and want to join in the fun, contact Laura at thespicedlife@gmail.com and she will get you added to our Facebook group, where we discuss our cookies and share links. Thanks to Felice at All That's Left are the Crumbs for hosting this month.