Apparently a girl has to have a collection of shoes and purses to make any outfit complete. Really? That thought might apply to many but not to me. I would prefer to be in jeans and t-shirts year round. No accessories and one pocketbook big enough to hold snacks, juice boxes, a wallet, a phone, band aids, tissues, and probably a hot wheels race car or two. I am just not a frills sort of a person. Boring, yes, you might say so!
But…when it comes to cookies, I think you can't have anything too cute, too over-the-top, too this or too that. Just bake and eat what you love. So with that in mind I am sharing these very pink and girly cookies that I made for an accessory swap which was a fundraiser at our elementary school. What's an accessory swap? So glad you asked!
Are you on Pinterest? I am! I love collecting great recipes and ideas. Join me and save this pin!
An accessory swap was the idea of the very creative and generous women who hosted this event. You could do this with a group of girlfriends or hold a fundraiser like this event. Each woman bought a ticket to attend with the money going to our PTO and, in the week leading up to the party, each dropped off items from home like necklaces, pocketbooks, scarves, shoes, earrings, and the like, with which she was ready and willing to part.
Every donated item equaled one treasure that could be picked out at the accessory swap. The hosts organized the event beautifully, with all of our donated (and used) items transformed into a display that rivaled any shop you might frequent.
We took turns, picking out items in rounds so that everyone had a turn to shop and choose something special. It was a fantastic night. Lots of laughter, plenty of time to visit with old and new friends, and we all went home with something to add to our own closets.
The hosts spent so much time and effort to make this a special evening. Many thanks!! I was happy to share these cookies. The colors of the event were black, white and pink. I found a cookie cutter fairly easily for the shoes but for the purse had to be a bit more creative.
Start with a bell-shaped cookie cutter, cut a small circle out for the space under the handle, then cut off the bottom of the bell to make the edge straight. Much easier than that sentence made the process sound!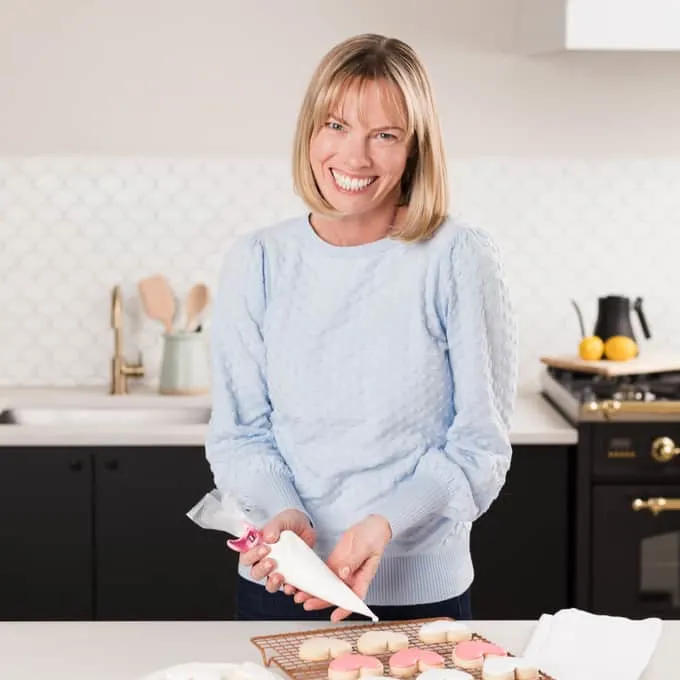 Holly Baker started the food blog, A Baker's House, in 2011. She is the writer, recipe creator, and photographer for the site. Holly loves to bake and shares recipes for gluten free food, canning recipes, as well as traditional desserts too. Her recipes and food photography have been highlighted by BuzzFeed, Reader's Digest, and She Knows.