Pepparkakor is a Swedish ginger cookie like a ginger snap often made for Christmas cookies. This cookie is featured in the book, Pippi Longstocking. You can also skip the recipe and buy a store-bought batch at Ikea!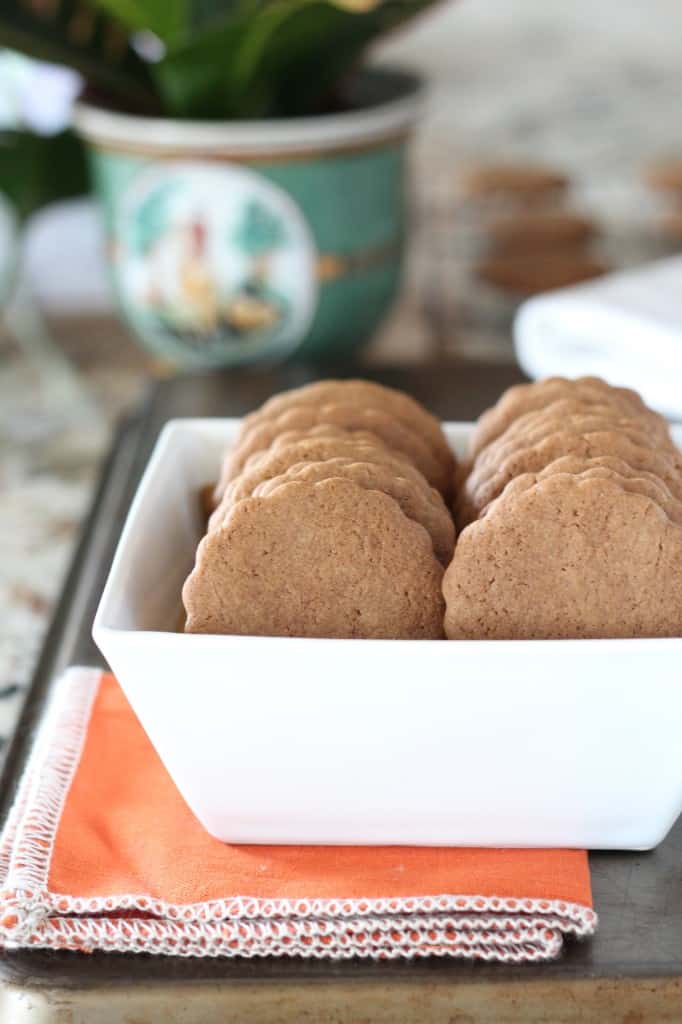 What is a pepparkakor?
This Swedish ginger cookie is called Pepparkakor. It is a kind of ginger snap cookie. The addition of molasses in these cookies gives them a slight chewy feel in the middle which I love.
This cookie recipe is excellent for cookie tins, neighbor gifts, teacher gifts, and for baking ahead of time because the ginger cookies last for at least two weeks without needing refrigeration.
What ingredients are in pepparkakor?
butter
sugar
molasses
eggs
flour
baking soda
spices such as ginger, cinnamon, and cloves
a pinch of salt
Does Pippi Longstocking bake Pepparkakor? Yes!
I learned that it is often made for Christmas but I first came across it while reading the book Pippi Longstocking with my son.
His fourth grade class read it earlier this year and then had a Pippi Longstocking party in the classroom. In the book Pippi bakes these ginger cookies for a party– she even rolls out the dough on her kitchen floor!
While I didn't feel the need to be quite that authentic, I did find a recipe shared by Cottage in the Oaks who baked this pepparkakor recipe with Pippi Longstocking in mind.
How can I make gingersnaps?
Mix the dry ingredients of flour, baking soda, salt, and spices together and set aside.
Beat the butter and sugar together then add the egg and add the molasses.
Combine the wet and dry ingredients then refrigerate the dough.
Place rounds of cookie dough on prepared baking sheets covered with parchment paper.
Bake in a 350 degree F oven then cool completely before serving.
Do I have to make cut out cookies?
The scalloped edge you see on my cookies are a result of rolling out the dough and using a cookie cutter. I like that method because all of your cookies will be uniform. If you are putting cookies in a tin or on a cookie platter, it really helps if all the cookies are the same size.
As always when making cut out cookies, make sure to refrigerate the dough before rolling it out. I like to take the added step of refrigerating the cut dough before baking as well.
If you don't want the extra time it takes to roll out the cookies, you can make these ginger cookies as drop and bake cookies. That means you scoop a small ball of cookie dough that you place on your baking tray.
Your cookies won't remain the same shape but they will be delicious either way.
Where can I buy pepparkakor?
And if you don't feel inspired to make these at home but still want to give the flavors a try? Well I saw that Ikea sells them too. I am confident that this version tastes better but I'll leave it up to you to decide.
Cookies seem to take a more prominent role as the holidays approach and it is fun to have more reasons to bake and share goodies!
More Holiday Recipes
Ginger cookies make a great homemade gift from your kitchen. Here are other recipes that fit the bill too. Giving a gift that you've baked yourself is a special way to show you care!
What kitchen items do I need to bake cookies?
We are a participant in the Amazon Services LLC Associates Program, an affiliate advertising program designed to provide a means for us to earn fees by linking to Amazon.com and affiliated sites.