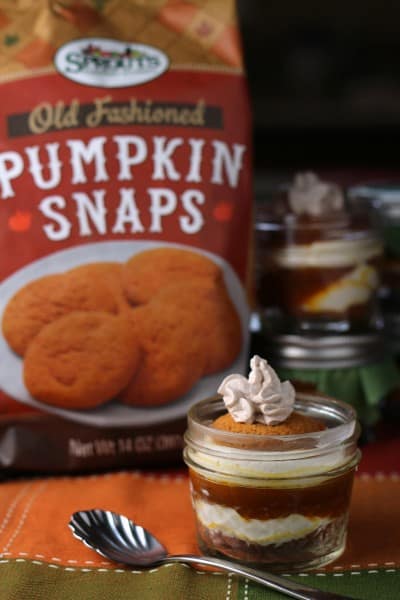 The love of all things pumpkin continues at A Baker's House– today I am using products provided by Sprouts Farmers Market to create this oh-so-simple dessert of a Pumpkin Snap Mason Jar Icebox Cake.
An icebox cake is a dessert that is made ahead of time often using layers of textures that meld together to create a cake-like creation. In this case the icebox cake starts with the base flavor of Sprouts pumpkin snaps (think ginger snap with the addition of pumpkin), adds creaminess with a Greek yogurt and mascarpone mixture, then gets a touch of sweetness with Sprouts maple pumpkin butter.
Mason jars are the perfect vessel for this sweet treat; after an overnight rest in the refrigerator these little beauties are ready to be served. Think of a cheesecake, a trifle, a pudding and a cookie all mixed into one bite and you'll have your go-to autumn pumpkin dessert in these pumpkin snap mason jar icebox cakes.
You can find more pumpkin inspired recipes at the Sprouts Brand website here.
Many thanks to Sprouts for sponsoring this post. All opinions are my own.