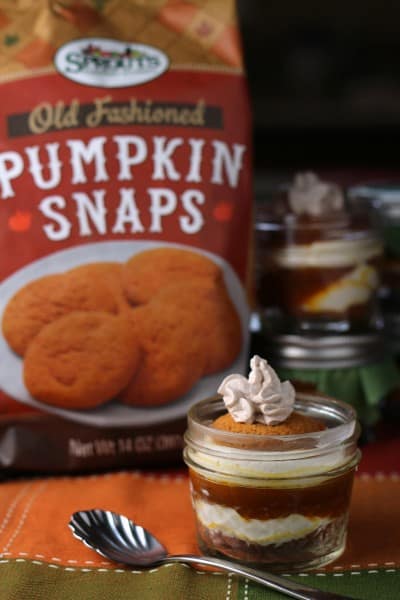 The love of all things pumpkin continues at A Baker's House– today I am using products provided by Sprouts Farmers Market to create this oh-so-simple dessert of a Pumpkin Snap Mason Jar Icebox Cake. An icebox cake is a dessert that is made ahead of time often using layers of textures that meld together to create a cake-like creation. In this case the icebox cake starts with the base flavor of Sprouts pumpkin snaps (think ginger snap with the addition of pumpkin), adds creaminess with a Greek yogurt and mascarpone mixture, then gets a touch of sweetness with Sprouts maple pumpkin butter. Mason jars are the perfect vessel for this sweet treat; after an overnight rest in the refrigerator these little beauties are ready to be served. Think of a cheesecake, a trifle, a pudding and a cookie all mixed into one bite and you'll have your go-to autumn pumpkin dessert in these pumpkin snap mason jar icebox cakes.
Print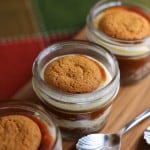 Pumpkin Snap Mason Jar Icebox Cakes with #Sprouts
---
Ingredients
24 Sprouts Old Fashioned Pumpkin Snaps
10 oz jar Sprouts Maple Pumpkin Butter
8 oz mascarpone (may substitute cream cheese if you wish)
5-6 oz of organic whole milk plain Greek Yogurt (Stonyfield offers a 5.3 oz portion)
Optional: ½ cup heavy whipping cream, 1 teaspoon sugar, 1 teaspoon Sprouts pumpkin spice
---
Instructions
Set out 8 (4 oz) mason jars
Blend the mascarpone cheese and the Greek yogurt with a hand-held mixer. Scoop this mixture into a sturdy Zip-loc bag. Set aside.
Transfer all of the pumpkin butter from the jar into a second sturdy Zip-Loc bag.
Layer the ingredients into the mason jars. First place a pumpkin snap into each of the 8 jars. Next, snip a small corner off of each of the two Zip-loc bags. Pipe a layer of the mascarpone-yogurt mixture on top of the cookie. Follow that with the pumpkin butter. Repeat: pumpkin snap, mascarpone-yogurt, pumpkin butter. Finish with a pumpkin snap on top.
Put the lids on the mason jars and place all of the jars into the refrigerator overnight.
Serve as is or add a spiced whipped cream on top. To make the spiced whipped cream whip the heavy cream until soft peaks just start to form. Add the sugar and the pumpkin spice. Continue to whip until the spiced cream holds stiff peaks. Pipe a small dollop on top of each icebox cake. Serve chilled.
Recipe Card powered by
You can find more pumpkin inspired recipes at the Sprouts Brand website here.
Many thanks to Sprouts for sponsoring this post. All opinions are my own.