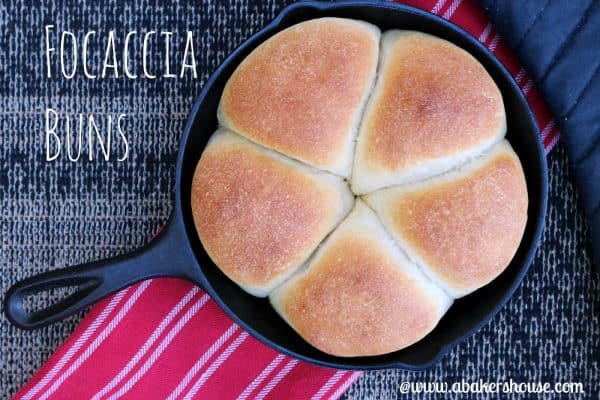 Focaccia buns fit right into the theme of summer buns with the #Twelve Loaves baking group. From breakfast to supper to meals in between, summer buns describe a variety of breads. Rolls such as hamburger buns and hoagie rolls seem to be at every picnic as the summer months go by. I chose to make a variation on a picnic roll in these focaccia rolls.
Focaccia is an easy homemade bread recipe to make at home. I shared this basic focaccia recipe last month and a cherry tomato focaccia last summer. Today's recipe combines aspects I liked of each of those previous doughs and comes together in this summer bun.
By the way, I think it depends on where you live whether you call this particular bread a "roll" or a "bun". Who out there says "hamburger roll" and who says "hamburger bun"? I am torn in between the two. I grew up calling them hamburger rolls on the East Coast of the US but now (in Colorado) I think I lean towards saying hamburger buns more often. Or we could split it down the middle and say hamburger buns and hot dog rolls. That would keep everyone happy. Back to the focaccia buns…or maybe the focaccia rolls…
I am still experimenting with breadmaking techniques and have a lot to learn. One way to get more familiar with how dough behaves is to treat it like a science experiment– change one specific characteristic or step in your process then learn from the results.
Today I focused on shaping the dough. I wanted to figure out how to make pretty little focaccia buns like these which I found in the June issue of Cooking Light. The focaccia rolls were part of a grilled chicken sandwich and were listed in the ingredient list as rolls– just another item to buy at the bakery.
Cooking Light's focaccia rolls were golden brown, round and ready for a bite. I had trouble getting my rolls to keep that perfect shape when I simply let the rounds of dough bake on a baking stone. It may be that I handled the dough too much after the second rise as I transferred the risen dough balls to the stone. The result was a flat bun– not bad to eat, just not what I had envisioned.
Second try for focaccia buns (same dough, same rising times) included a cast iron skillet. I like the way dinner rolls have baked in the skillet in previous attempts and thought that eliminating the action of touching the dough to move it to the baking surface would be a plus. The dough rises and bakes in the same skillet. Did this work? Yes, I think so. The buns did not have the round-like-a-ball shape that I noticed in the magazine but they were golden on top and soft in the middle.
I will continue to work on this dough and on shaping breads. It's amazing to see how changing one step can produce such different results. Good news is that I would eat and enjoy either one of these focaccia buns!
Print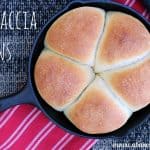 Focaccia Buns for #TwelveLoaves June
---
Ingredients
Ingredients:
4 cups bread flour
1 TB sugar
1 packet of active dry yeast
1 teaspoon Kosher salt
1 1/2 cups water
1 TB olive oil for making dough plus 1/4 cup olive oil to coat dough
baking spray
---
Instructions
Mix all ingredients in a stand mixer with the dough hook on low until dough comes together in a ball. Then continue to use dough hook on medium low speed to knead the dough for 3-5 minutes. Dough will be slightly tacky.
Spray a glass bowl with baking spray. Turn dough ball a few times in the bowl to coat it with the spray then cover the bowl with plastic wrap that has been sprayed with the baking spray. Let rise for an hour or until doubled in size.
After the first rise, separate the dough into balls. My dough made 9 dough balls each about 3.8-4.0ounces in weight. Coat the dough balls in olive oil using the 1/4 oil listed in the ingredients then set either on a baking pan or arrange in an iron skillet. Cover and let rise again for an hour.
Lightly brush again with olive oil. Bake at 450 degrees F for 15-18 minutes.
Recipe Card powered by
Here is this month's inspiration from our #TwelveLoaves group of bakers:
Raspberry Cream Cheese Brioche Pockets from That Skinny Chick Can Bake
Sweet Hawaiian Slider Buns from Try Anything Once
Vienna Hoagie Buns from Magnolia Days
Blackberry Buns from Cake Duchess
Hamburger Buns from Ma Che Ti Sei Mangiato
Spaccatini from Karen´s Kitchen Stories
Focaccia Buns from A Baker´s House
Homemade Pretzel Rolls from A Handful of Everything
Macadamia Coconut Buns from Paula at Vintage Kitchen Notes