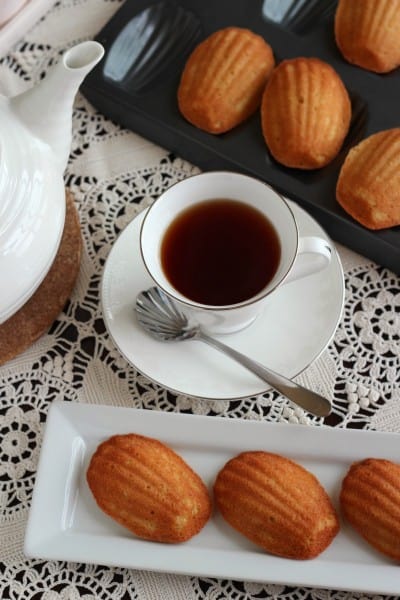 Honey and Vanilla Madeleines are a perfect choice to have with a cup of tea. Light and fluffy, they are a mix between a cookie and a cake. Honey and vanilla madeleines make any occasion a special one. The #CreativeCookieExchange offers a theme this month that I enjoy nearly every day: cookies that are enjoyed best with a cup of tea. If your afternoon (or morning) snack has coffee as the star rather than tea, you'll find some sweets in our recipe list that are right up your alley. This group is not fussy and neither are these madeleines: they fit in with coffee, tea, and milk or any variation thereof.
Since we are talking about foods for teatime I had to go my ever-reliable favorite website for British baking: BBC Good Food. Yes, madeleines may have originated in France but the British have perfected tea to an art form. This recipe takes the madeleine's standard sponge cake and accents it with honey and vanilla. I doubled the amounts of both honey and vanilla so that their delicate flavors didn't get lost in the finished product. You'll see that the madeleines brown to a golden color very nicely. The side you see in the photos is actually the underside (the part touching the pan when baking). The tops are still a lighter shade of yellow. They are soft and bounce back to the touch. I like the contrast of the two sides and the baking pan moulds give these little sponge cakes a particular elegance that makes them perfect for teatime.
You'll find the original recipe here on BBC Good Food.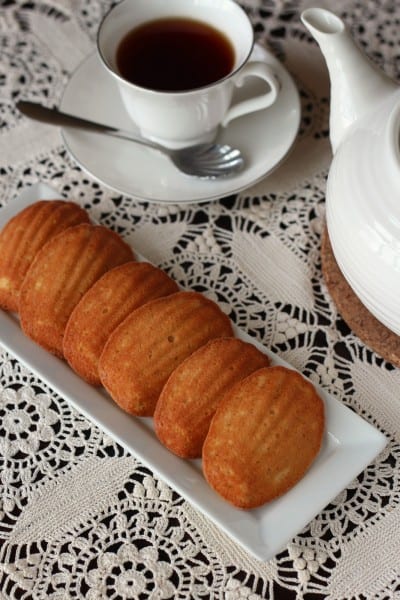 Cookies in the afternoon at "teatime" are a long held tradition, whether served with tea, coffee or even milk for an after school snack. No matter what you serve with your cookies, we've got a great list for you to choose from!
You can also use us as a great resource for cookie recipes.
Be sure to check out our Pinterest Board and our monthly posts (you can find all of them here at The Spiced Life). You will be able to find them the first Tuesday after the 15th of each month! Also, if you are looking for inspiration to get in the kitchen and start baking, check out what all of the hosting bloggers have made: