Bowling themed cookies bring a festive flair to your bowling party as treats for your guests or party favors. A printable tag is included to let your guests know that "You had a BALL" with them at the bowling alley.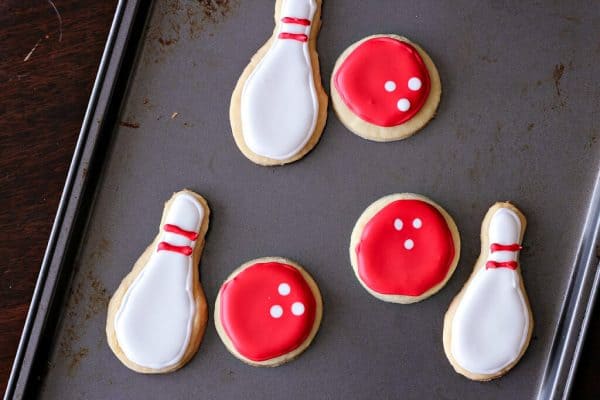 Bowling pin and bowling ball cookies are a must-have for a bowling themed party!   Aren't these fun? The bowling pin and bowling ball cookies made an easy favor to give the kids as they left the bowling alley. They had little toys from the games they played in the arcade so I didn't want to send them home with more
junk
stuff, instead I went with my favorite treat—more sugar!
If I had planned ahead I would have ordered a bowling pin cookie cutter online, but as I didn't I was forced to get creative and it worked out really well. The bowling pins started out as snowmen; the snowmen cookie shapes had their hats trimmed off and also had their middles thinned down a bit to transform them into bowling pins. You'll have to try this method with shapes at your house because it is so satisfying to create a new form out of a completely different cookie cutter.  Snowmen to Bowling Pins, who would have known it could be so easy? The bowling balls needed no extra thought—a basic circle with a few dots included for the holes.
I have learned a lot about cookie decorating from Bridget Edward's blog, Bake at 350, and her book, Decorating Cookies.  Her recipe for cut-out cookies is the best I've come across. The cookie dough hardly changes shape while in the oven and the taste and texture of the cookies keeps you reaching for more. Use Bridget's sugar cookie recipe and her royal icing recipe too.  You'll be making beautiful cookies in no time if you follow her advice!
Download the free Party Favor Print Out
I tied these cookies in a bag with red ribbon and included a label that said "Thanks for coming to my party, I hope you had a ball!" These could be modified for so many sports. Click here if you want the bowling version to download and print at home. This file is formatted to 2 inch circle stickers from Avery product 22817.