Who knew that butterscotch blondies could rival the rich, deep taste of a chocolate brownie? I admit that I did not. Oh, you didn't think so either? Try these soft and chewy bars once and you'll learn like I did that you could eat a half dozen of these and STILL want one more. Yes, I speak from experience. These blondie bars are THAT good.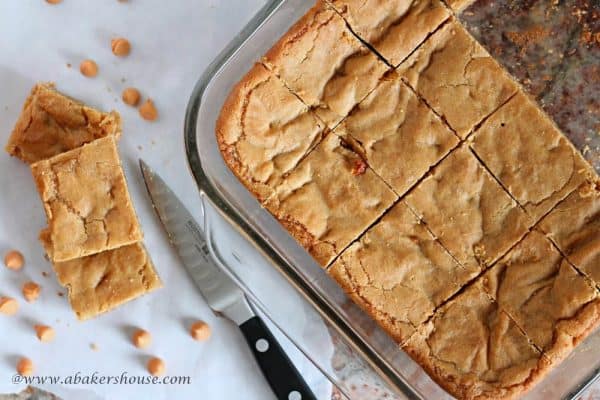 I followed a Cooking Light recipe for these butterscotch blondies bars.  My only addition was to include a generous handful of butterscotch chips for a bit of texture. I loved the chips but if you don't have any at home, make these anyway because the sweet, chewy bites of these blondies is not to be missed.  The butterscotch flavor comes from the butter along with the brown sugar.  Let the butter brown slightly then incorporate the other ingredients. Yes, it is a lot of sugar—even more sugar than flour—but go with it. And don't skimp on the butter either!
My batch of butterscotch blondies is gone but I may make them again for a school function this week. The parents and kids alike will love this dessert! This recipe for Butterscotch Blondies will become one of your most requested treats. Made in a 9 x 13 pan, these blondies can be cut into squares or bars and will feed a crowd.
Print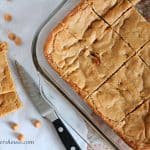 Butterscotch Blondies
---
Description
Find the original recipe from Cooking Light magazine.
---
Ingredients
2 cups all purpose flour
2 1/2 cups brown sugar
2 teaspoon baking powder
1/2 teaspoon salt
10 TB butter
3 eggs
3/4 cups butterscotch chips (optional)
---
Instructions
Combine the dry ingredients: flour, brown sugar, baking powder, and salt. Whisk together and set aside.
Melt the butter in a small saucepan on medium low heat. Cook for 5 minutes, stirring a few times, until the butter has a nutty smell and turns a golden brown. Take off heat and let it cool for 10 minutes.
Add the eggs to the butter then mix in the dry ingredients until just incorporated.  Mix in the chips.
Use cooking spray to grease a 9 x 13 pan. Preheat the oven to 350 degrees F. Pour the batter into the pan and smooth to the edges. Bake for 30 minutes.