Every bowling party needs cute cupcake toppers and these bowling cupcakes fit the occasion. Use store bought fondant to make adorable bowling pins and balls to turn your bowling cupcakes into a themed party!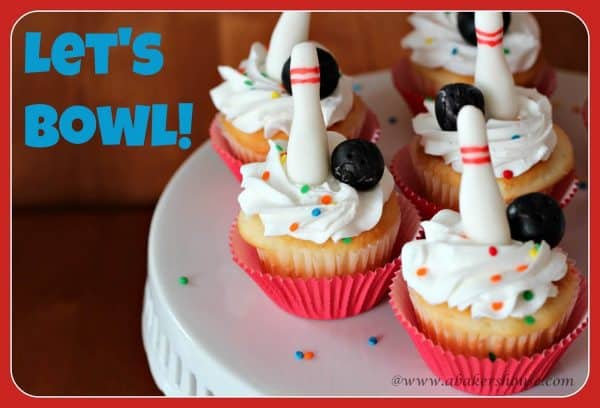 It's birthday time at our house this weekend so here come the bowling cupcakes! My son wants to celebrate at the bowling alley.
Bowling themed parties are great because they appeal to people of all ages. The whole family can get involved.
Now let's make some bowling party cupcakes to get this party started!
Bowling cupcake toppers
Here's a quick look at some cupcake toppers that I made to fit the bowling theme. Let me state the obvious– I am a novice with fondant and I am sharing these not because they are bakery-perfect but because if I can do this– you can do this!
Adding a themed cupcake topper to a store-bought cupcake is one of the easiest ways to add personality to your birthday treats.
Did I mention this bowling pin decoration is easy? It is.
You can find prepared fondant in small boxes at craft stores like Michael's. Working with fondant for these small projects is like playing with play-doh. You knead the fondant to make it pliable and smooth, then shape it as you wish.
Choose pure white fondant (Click here to buy white fondant on Amazon) for the bowling pins and add the red lines with Wilton's edible color markers.
As an Amazon Associate I earn from qualifying purchases.
Curious about fondant and wondering what is fondant? Fondant is a thick paste made with sugar and water. If you've seen a cake covered in a smooth sheet of icing then you've likely come across fondant. Yes, fondant is edible!
You can make homemade fondant (try this recipe for homemade marshmallow fondant) or you can buy it online or at the store. Here we'll use white fondant for the bowling pins then color it with food coloring for the balls. Alternatively, you could purchased colored fondant for the bowling balls.
This is how to make fondant bowling pins. Pinch off a small bit of white fondant and roll it into a log. Pinch the "neck" of the bowling pin to narrow it slightly. Round the top and bottom of the bowling pin decoration using your fingers.
To make the bowling ball cupcake toppers take the same white fondant and tint it with whatever color you choose. Essentially we are making edible bowling pins for cupcakes.
Wear food safe gloves while using the dyes. Are you making these bowling decorations with children? Try these child sized gloves to protect their hands from becoming stained.
Add a small bit of color to the fondant and work the color through. Knead it like dough; fold it in half then again as you smooth the color throughout the fondant.
I liked the look of a swirled bowling ball so I did stopped short of changing the white fondant to black and instead left it with patterns.
Pinch off a small bit of fondant and roll into a ball. You can make the three holes with a toothpick.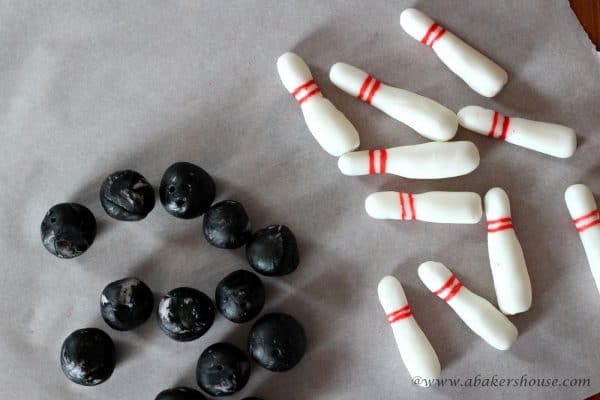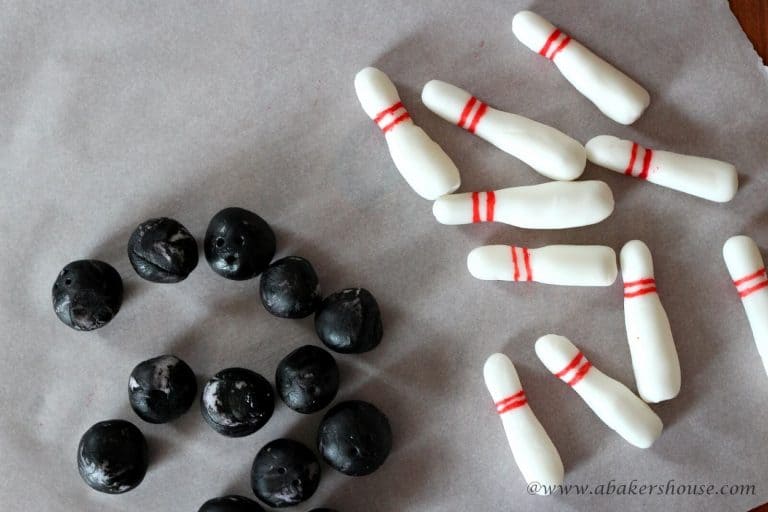 I've mentioned before that I'd like to take a class in cake decorating. If I lived closer to my mother-in-law or my husband's aunt then I would watch them and learn, but in the mean time I am going to look for a class to take closer to home.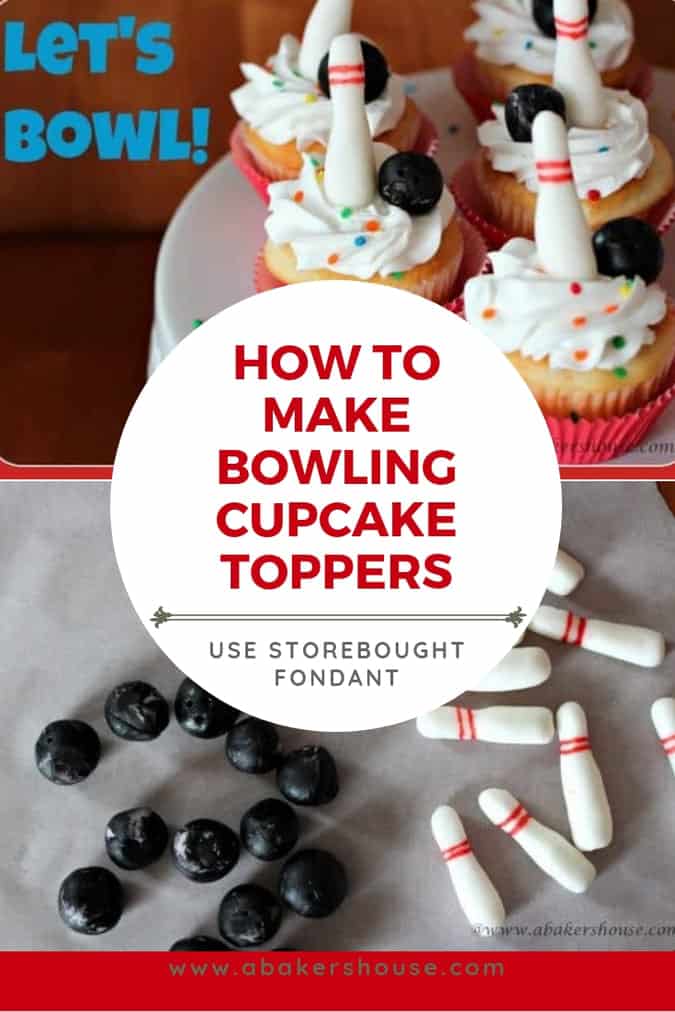 Are you planning on adding more bowling treats to your celebration? These cookies are such fun!
Find the recipe here.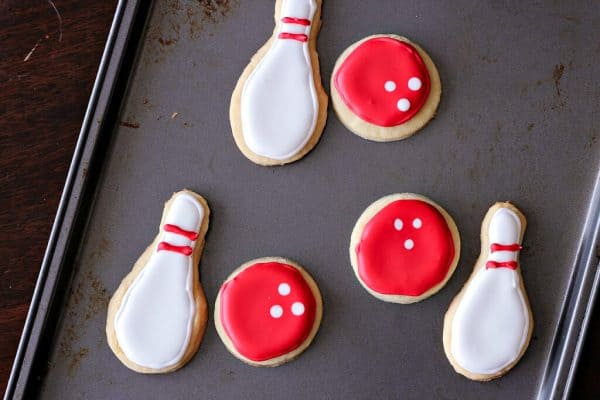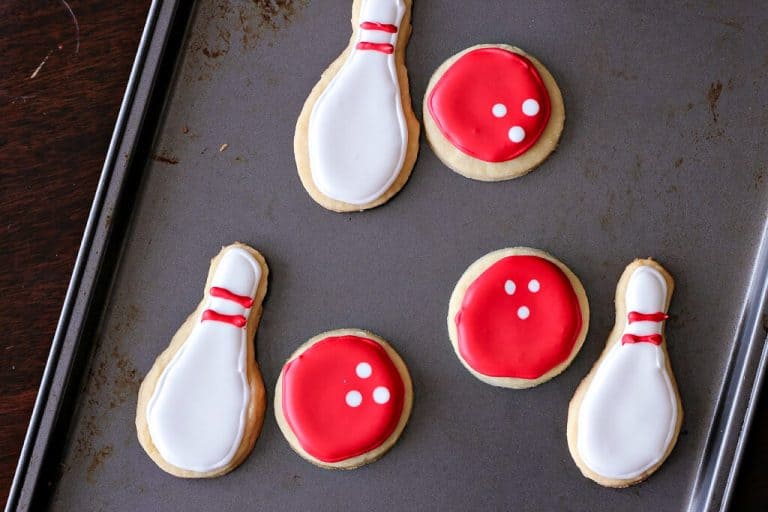 Have you baked for themed birthday parties? We celebrated with a Lego theme one year but bowling seems to repeat itself every few years. It's a lot of fun to have any age group at the bowling alley!
Yield: 2 dozen
How to make Bowling Cupcake Toppers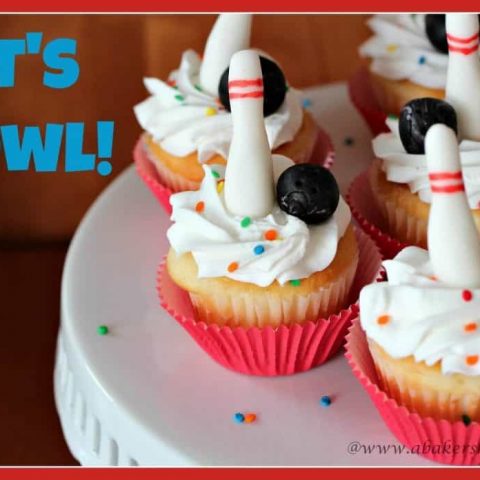 Make cupcake toppers for your bowling party using fondant and food safe markers
Materials
White fondant
food gel coloring
Tools
FoodWriter Pen from Wilton or other brand
Instructions
Pinch off a piece of white fondant and roll into a log. Squeeze gently to make a narrow neck of the bowling pin. Round the top and bottom of the bowling pin with your fingers. Draw the red stripes with a food safe marker
To make the bowling balls roll a small piece of fondant in your hands.
Use a toothpick to press three holes into the ball to simulate the grip of the bowling ball.
Notes
Use store bought fondant or make your own.
We are a participant in the Amazon Services LLC Associates Program, an affiliate advertising program designed to provide a means for us to earn fees by linking to Amazon.com and affiliated sites.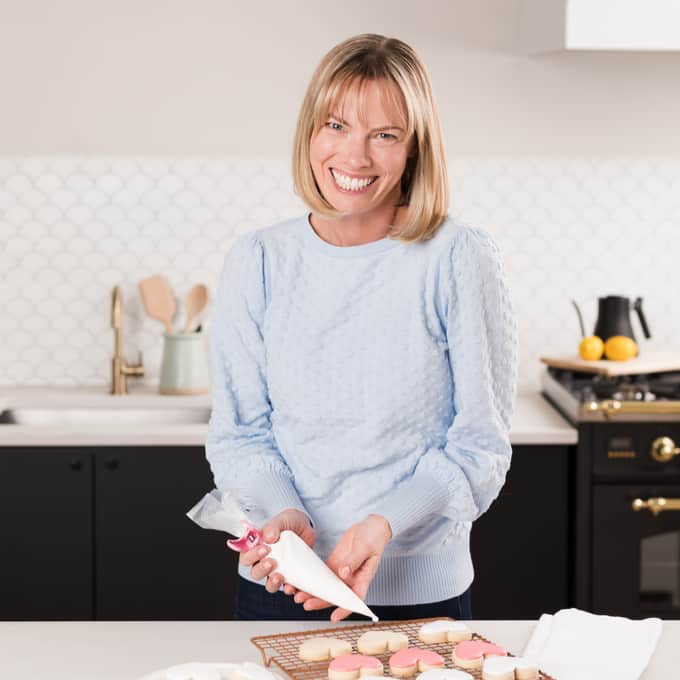 Holly Baker started the food blog, A Baker's House, in 2011. She is the writer, recipe creator, and photographer for the site. Holly loves to bake and shares recipes for gluten free food, canning recipes, as well as traditional desserts too. Her recipes and food photography have been highlighted by BuzzFeed, Reader's Digest, and She Knows.