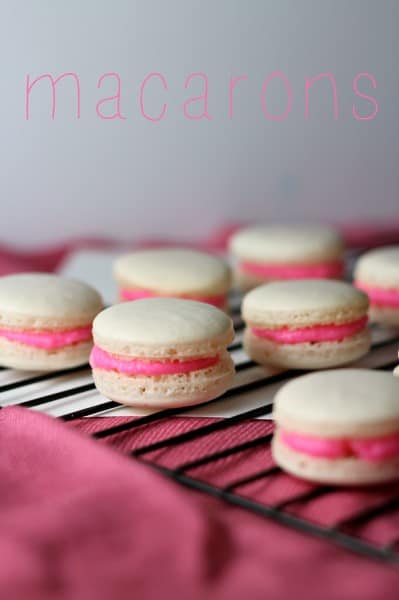 Ahh, the lovely macarons. Such a simple idea: two meringue cookies sandwiched with a creamy filling. I associate macarons with French baking but I've learned that the cookie may have an Italian history. This European delight has grown in popularity in the United States and it can be found in many bakeries yet most Americans don't whip up a batch of macarons in the way we might do so with chocolate chip cookies. Why not? Well, there is much to be said about the process of making macarons and so many questions create doubt for the home baker. I am THAT home baker– the one wondering if I have half a chance at macaron success. I am also the home baker who would like to master macarons. I plan to try a few different techniques and recipes then I'll share what works and what doesn't. Won't you bake along with me?
A macaron has few ingredients: ground almonds, confectioners' sugar, egg whites and granulated sugar. The process of making macarons is not difficult but it takes a period of trial and error to grow your confidence and ability. My boys are taking ice skating lessons and the instructor told the kids (loud enough for the parents to get the message too) that you must not be afraid to fall down. It is part of learning. Baking is the same– there will be batches of burnt cookies, lopsided cakes and cracked macarons on your way to kitchen confidence but keep going! I made macarons about a year ago without much trouble. Beginners' luck for sure. When I recently thought I'd repeat that performance I was greeted by batch of macarons that spread over the entire baking sheet into one, sad-looking blob. I turned to Google to see what might help my next attempt.
Here's what I found:
History: there are many websites with macaron history but I like this one a lot on the Mr. Macaron site
Many chefs have their own ideas about macarons. Stella, author of the blog BraveTart, has an excellent collection of tips, myths, and recipe.
Pinterest: Pinterest has a nearly endless supply of macaron photos, recipes, ideas, colors, and flavors. If you would like to join my Pinterest board for all things macaron send me a request and I'll add you. I'd love to have a place where we can share ideas and our latest creations! Here is the link to the new board.
The macarons pictured were made with Stella's recipe. I felt much better about these sweet macarons than I did about the blob of disaster above and these tips can help you grow in the same confidence. Let's start with just a few tips so we are not overwhelmed: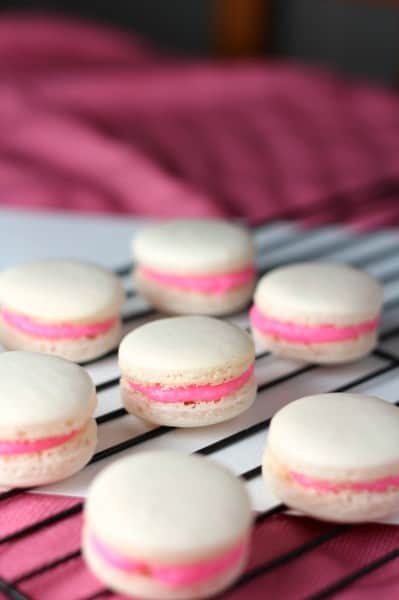 use a kitchen scale to weigh your ingredients
I was severely under-whipping the egg whites. Don't be afraid to make a very stiff and dry meringue. This can take more than 10 minutes with a stand mixer
for beginners like me, it helps to use a macaron baking sheet. These silicon sheets provide a consistent size and also give a touch of stability to your meringues that parchment paper cannot. Look at the difference between the SAME batter which was piped and baked — one on parchment and one on the macaron baking sheet. I had over mixed the batter but the baking sheet gave me a better chance of success.
double your baking trays (stack them to create a double thickness) to help the macarons bake more slowly on the bottom.
Ok, let's get baking! I hope you'll share you macaron success stories with me. You can do it!