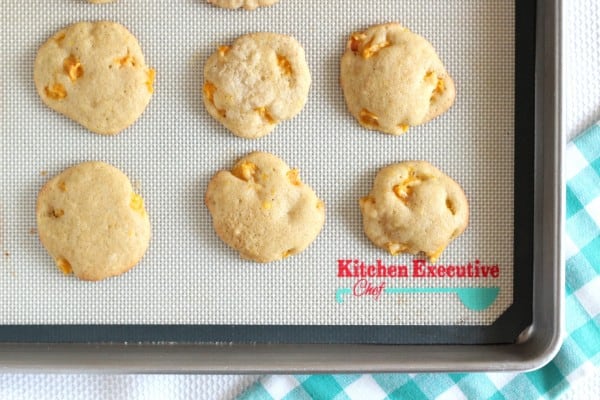 Here's a recipe for peach drop cookies from Martha Stewart which I baked on my new baking mats from Kitchen Executive Chef. Any stone fruit would work well; I used nectarines.
The dough is a somewhat sticky consistency– diced nectarines combined with jam along with the usual cookie ingredients of flour, salt, butter, eggs and more create a dough best dropped onto a baking sheet with spoons or a small melon baller.
The end result is a soft, pillow-like cookie that I found best enjoyed on the first day. Due to the moisture in the diced fruit, the texture of these cookies changed after a day or so in a covered container (and not in a good way).
I will make these again with other stone fruits and might even combine a few in the same cookie to see how that goes– I am sure it would be a wonderful way to enjoy summer's bounty!
Baking with nectarines is a highlight of summer. Try these blueberry nectarine muffins or this summer fruit parfait.
Does anyone else think that adding fruit to a cookie must make it a health food? Or even just a little closer to being a healthy choice? …no? Oh well, I can only wish that the nectarines in these delightful cookies did just that because this recipe is a great way to bake with fruit this month. The August theme for #CreativeCookieExchange is Summer Bounty and stone fruits came to my mind right away–peaches, nectarines and plums were in my kitchen.
Yield: 30
Nectarine Drop Cookies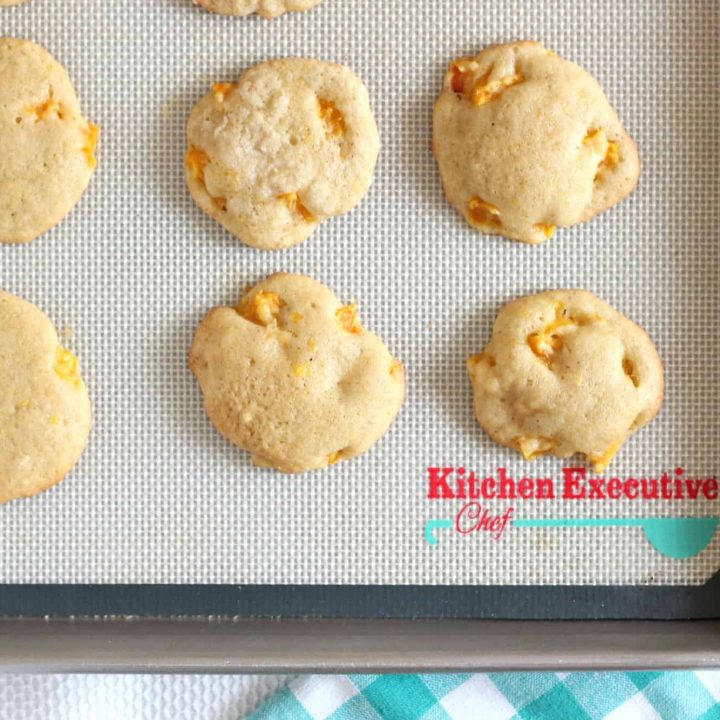 Baking with fresh fruit or preserves makes for a fruity bite in these cookies

Prep Time 10 minutes

Cook Time 12 minutes

Total Time 22 minutes
Ingredients
2 cups all-purpose flour, plus 2 tablespoons
3/4 teaspoon salt
1/2 teaspoon baking soda
1 stick (8 tablespoons) unsalted butter, room temperature
1 cup granulated sugar
1 large egg
1/2 teaspoon pure vanilla extract
3-4 ripe nectarines, peeled, pitted, and cut into 1/4-inch dice (about 1 3/4 cups)
1/3 cup nectarine or peach jam (or preserves)
2 tablespoons fine sanding sugar
1/8 teaspoon ground cinnamon
Instructions
Please click through to this site for the original recipe directions. As noted, I used nectarines rather than peaches.
Notes
This recipe was found on Martha Stewart's site and was originally for PEACH drop cookies. My only change is the type of fruit. I think plums would work well too, perhaps with ginger rather than cinnamon for a change.
Nutrition Information:
Yield:
30
Serving Size:
1

Amount Per Serving:

Calories: 101 Total Fat: 3g Saturated Fat: 2g Trans Fat: 0g Unsaturated Fat: 1g Cholesterol: 14mg Sodium: 77mg Carbohydrates: 17g Fiber: 1g Sugar: 10g Protein: 1g

This data is provided by Nutritionix and is an estimate only.

Check out what my #CreativeCookieExchange friends have baked this month. If you are a blogger and want to join in the fun, contact Laura at [email protected] and she will get you added to our Facebook group, where we discuss our cookies and share links. You can also just use us as a great resource for cookie recipes–be sure to check out our Pinterest Board and our monthly posts. You will be able to find them the first Tuesday after the 15th of each month.
The baking mats from Kitchen Executive Chef were a welcome new addition to my baking supplies. The company provided them free of charge in return for an honest review on amazon. (I did not receive any compensation and all opinions are my own. The amazon link is NOT an affiliate link. Please also note that at the time of publishing this post the silicone mats were out of stock.) The three piece set includes three sizes of baking mats– a small, medium and large– which fit my variety of baking sheets well. The largest was used in the photo above and is ideal for a half baking sheet pan. I've used the baking mats for baked goods, roasting vegetables, for my son's chicken nuggets and fries, and for a mat placed below pies to catch any overflow. In every of those situations the mats have performed very well. The mats are thicker than previous silicone mats I've used and not only do they bake well, they also clean very well. I cleaned them by hand each time and let them air-dry. The packaging even states that these mats are dishwasher-safe, although I have not tried that method of cleaning yet. To store them I roll and slide them into an empty paper towel cardboard tube. I find this keeps the mats organized (write on the tube which size is which) and uses minimal space.