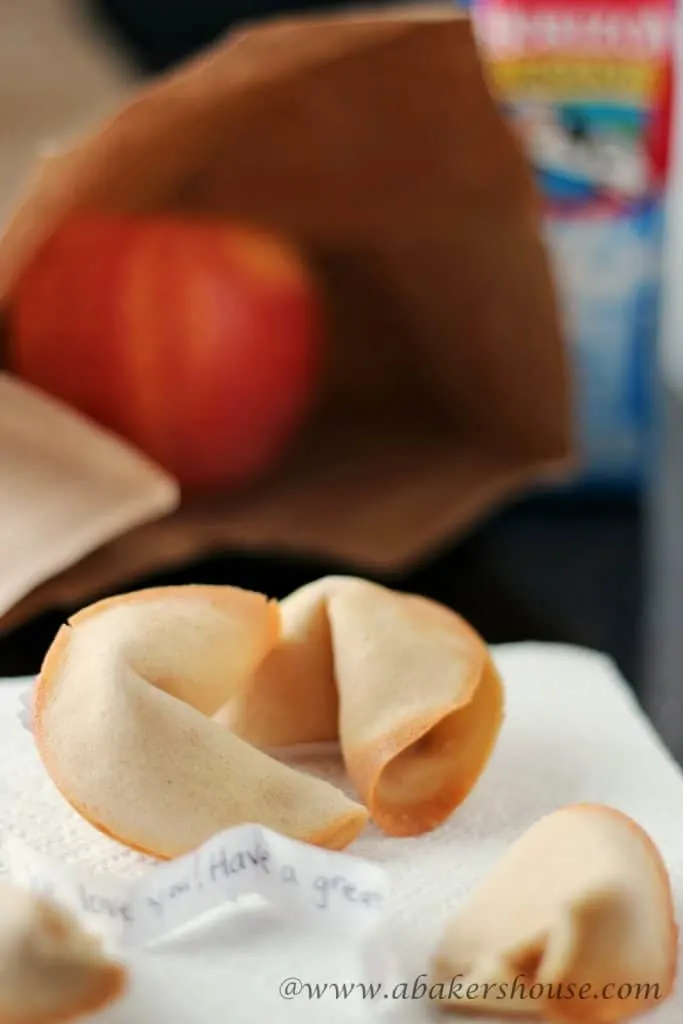 The back-to-school theme prompted me to think of a fun way to use a cookie for your child's lunch that shows you are thinking of your son or daughter and wishing him or her the BEST day each and every day at school.
These fun fortune cookies do just that.
I like to write messages for my boys in their lunch boxes– notes as simple as "Hi!" for my preschooler and longer messages for my 3rd grader.
And, yes, we all know that there comes a point that writing "Mommy loves you!!!" with lots of hearts and XOXOXO just might not be as sweet and caring to your older school-aged child as moms wish it would be.
So, I've moved on to sending jokes, riddles and little brainteasers.
My son approves.
Fortune cookies allow that same message-sending fun to be done inside the cookie. Write a joke, a note, a math problem– whatever you'd like– and package it in this tasty cookie as a surprise.
This was my first attempt at fortune cookies and it didn't go as smoothly as I'd hoped, but once I got the batter the right consistency and the folding method perfected for the shape, it was really fun to assemble these treats.
I think the same idea would work well for many occasions– birthday wishes, teachers' gifts, thank you notes, even hostess gifts. How will you share your fortune cookies? I'd love to hear your ideas!
Recipe adapted from Crazy about Cookies by Krystina Castella, page 195-196
Please note that I did not make substantial changes to the ingredient list of the original recipe except to add more liquid.
The change that made a BIG difference in my experience was increasing the oven temperature and decreasing the baking time. I went from throwing out batches to being very pleased with the results.
The lower temperature did not create enough heat for the cookies to fold easily after baking and without the added liquid the batter was too thick. Experiment and see what works best for you.
Yield: 18
Fortune Cookies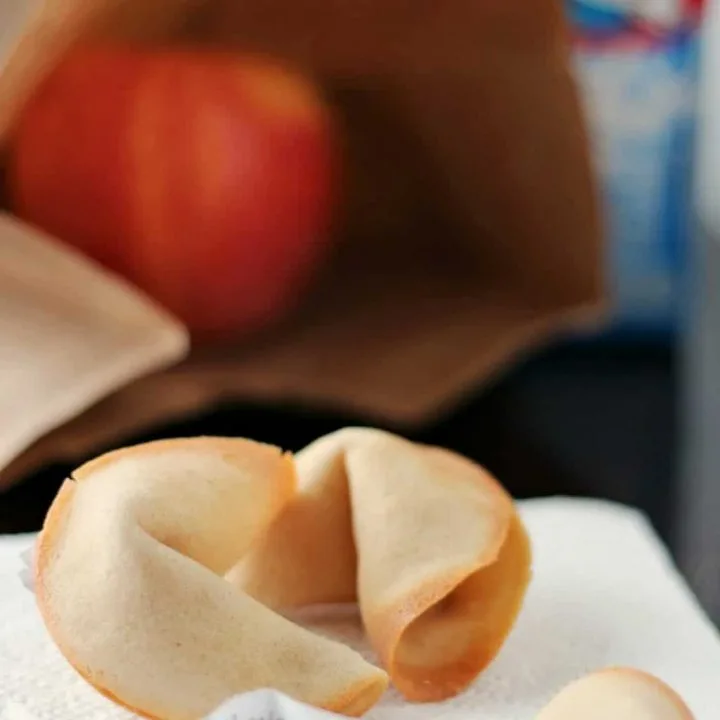 Adding a special note inside these fortune cookies is a great idea for school lunches, Valentine's Day, or even a proposal!
Ingredients
Ingredients:
1 cup all purpose flour
1 cup confectioners' sugar
1/4 teaspoon salt
4 large egg whites
5 tablespoons butter, melted
3 tablespoons heavy cream
2 tablespoons water
1 teaspoon vanilla extract
paper cut approximately 3-4 inches by 1/2 inches
Instructions
Write your messages on the papers then fold in half lengthwise.
Preheat oven to 325 degrees F
Mix together the flour, confectioners' sugar, and salt; set aside.
In a separate bowl beat the eggs whites until slightly foamy then add the melted butter, cream, water and vanilla.
Combine the wet and dry ingredients and stir until well blended. The batter will be slightly thicker than pancake batter but not as thick as something like chocolate chip cookie dough.
Spoon about one tablespoon of batter onto a cookie sheet covered with parchment. Use the back of a spoon to quickly spread out the batter into a circle about 3-4 inches wide. The batter will be thin but should not have gaps within the circle. Make 4-6 circles per cookie sheet.
Bake for 14-15 minutes or until edges just start to brown.
Remove cookies from oven and very quickly work on forming the shape of your fortune cookie. Take your papers and fold the circles in half over the papers. Immediately fold the ends of your semicircle together (bending the cookie over the side of a mug helps this step) then place the folded cookie in a muffin tin. Remember the cookies will be HOT so be careful that your fingertips don't burn.
Notes
What are you celebrating? Send special messages in these cookies for teacher appreciation presents (have each child write a note), birthdays, anniversaries and other special occasions.
Nutrition Information:
Yield:
18
Serving Size:
1
Amount Per Serving:
Calories:

90
Total Fat:

4g
Saturated Fat:

3g
Trans Fat:

0g
Unsaturated Fat:

1g
Cholesterol:

11mg
Sodium:

68mg
Carbohydrates:

12g
Fiber:

0g
Sugar:

6g
Protein:

2g
This data is provided by Nutritionix and is an estimate only.
The muffin tin trick worked wonders for me– I found that tip and others on this site.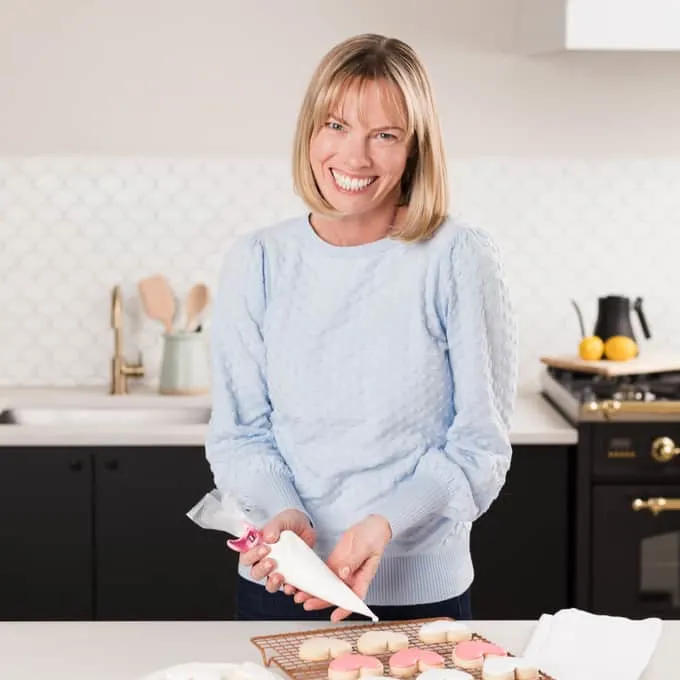 Holly Baker started the food blog, A Baker's House, in 2011. She is the writer, recipe creator, and photographer for the site. Holly loves to bake and shares recipes for gluten free food, canning recipes, as well as traditional desserts too. Her recipes and food photography have been highlighted by BuzzFeed, Reader's Digest, and She Knows.