The Creative Cookie Exchange is thinking ahead to holiday baking this month and we'd love for you to join us! What's your go-to recipe for make-ahead dough? Shortbread, chocolate chip, oatmeal-raisin? If you haven't tried this method before you'll be happy to start. Making dough when you have time– even a spare 20 minutes will do– then freezing it until you are ready to bake it is an easy way to take the stress out of holiday cookie baking. Use your prepared, frozen dough for last minute guests, cookie exchanges, and as gifts for neighbors. Start now before time really gets short in the coming weeks. Happy Baking!
Today I'm sharing a festive cookie as well as the technique of making this cookie– pinwheels or swirls. Call it what you like, choose two flavors then roll the dough together into a log. Freeze the dough until you are ready to use it then slice and bake– EASY! I started with Williams-Sonoma's recipe for Black and White Cookies, adapted the ingredients slightly, and added espresso to the mix to create these little beauties.
Ingredients:
2 cups all purpose flour
1/2 cup sugar
pinch of salt
16 TB cold butter, cut into pieces
2 eggs, divided (use one at a time)
1 teaspoon vanilla
3 oz chocolate chips
1 teaspoon espresso powder
1 Tablespoon cocoa powder
1 TB water (optional)
flour, for dusting work surface
Directions:
In a food processor combine the flour, sugar and salt. Pulse a few times then add the butter pieces, pulsing until the mixture has pea-sized pieces. Add one egg and vanilla; pulse until the dough comes together.If your dough looks dry this is where you add an additional TB of water. Pulse until combined. Separate the dough in half. Wrap one half tightly in plastic wrap and refrigerate for at least 30 minutes.
Separately melt the chocolate chips in a microwave-safe bowl on half power in 30 second increments or until melted. Stir in the cocoa powder and espresso powder. Let the chocolate mixture cook slightly then knead into the remaining half of dough until well combined. Wrap tightly in plastic wrap and refrigerate for at least 30 minutes.
On a flour work surface, roll the two doughs into 8 x 12 rectangles. In a small bowl beat the remaining egg. Brush the beaten egg onto the top surface of each of the rectangles. Layer the vanilla dough on top of the espresso dough. Press gently but firmly. Now begin with the long side and roll the two doughs together into the pinwheel pattern. Wrap the dough log in plastic wrap and store in freezer paper or a freezer zip loc bag. Refrigerate for at least an hour before moving on or freeze (my preferred method).
Remove the dough from the freezer and slice 1/4 pieces off the log. You may need to trim the edges if your doughs were not exactly the same size.
Preheat the oven to 350 degrees F. Line pans with parchment paper. Place 12 cookies on each sheet and bake for 12-14 minutes. Cool on a wire rack. Makes about 4 dozen cookies.
To join in the fun, here are some ways to get involved:
1. Write a blog post with recipe and original photo. The theme this month is make ahead freezer cookies for the holidays. The post should describe how to freeze the dough and also how to bake the dough when you are ready. We would like the recipe to be one you're making for the first time, and photos must be original.
2. Post the Cookie Exchange badge somewhere on your blog so others can join in the fun.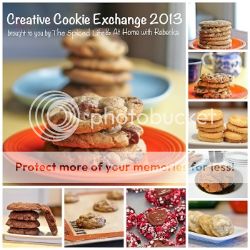 3. Make a good faith effort to visit and comment on the other cookies in the Linky party. We all love cookies so that should be easy!
6. LINK your blog post below using the Linky tool
You can also just use us as a great resource for cookie recipes–be sure to check out our
Facebook page
, our
Pinterest Board
, and our monthly posts. You will be able to find them the first Tuesday after the 15th of each month! Also, if you are looking for inspiration for this month's theme, check out what all of the hosting bloggers have made so far:
Pumpkin Cranberry Cookie Drops from KarenTrina Childress
Espresso Pinwheel Cookies from A Baker's House
Cherry Pistachio Ice Box Cookies from Noshing With The Nolands
Chai Spice Girls from All That's Left Are The Crumbs
Scottish Shortbread from Made With Love
Chocolate Mint Chocolate Chip Cookies from Food Lust People Love
Chocolate Mint Cookies from At Home With Rebecka
Neapolitan Striped Crisps from Karen's Kitchen Stories
Coffee? Tea? from Ninja Baking
Christmas Linzer Cookies from It's Yummi!
Chewy Pumpkin Ginger Cookies from If I Ever Owned A Bakery
Best Ever Sugar Cookies from Liv Life