Note: all links for Stupid Simple SEO are my affiliate links.
What is SEO?
SEO stands for Search Engine Optimization. This is the process by which you let search engines know that you have a website that you'd like to show up in their search results.
Why would you be interested? Do you want to rank on Google? Well, as a website owner you want to increase your organic traffic and visitors to your site. Appearing on Google search results drives traffic to your site through organic traffic.
What's organic traffic? Organic traffic occurs when someone does a search online, sees your link in the search results, AND then they click on that link and land on your site.
You can learn a lot about SEO online, some sources are more reliable than others. I spent hours reading up on the latest SEO research trying to learn how to grow my organic traffic to A Baker's House.
I made progress and learned about SEO through this process but it turns out that you can learn SO MUCH more by taking an SEO course designed for bloggers. In a span of weeks, I was able to gain ALL of the valuable information and research on this topic that was presented in an SEO Course.
The Best SEO Course
I've taken a few SEO courses, both free and paid, and this course, Stupid Simple SEO, is the BEST course BY FAR.
The amount of information, actionable advice, and tested strategies that are presented by the course creator, Mike, is beyond compare in my opinion.
My organic traffic pageviews are up 290% from 2018 to 2019.
Read that again– my organic traffic has nearly tripled!
I invested in this course in February 2018 continue to be excited about the results.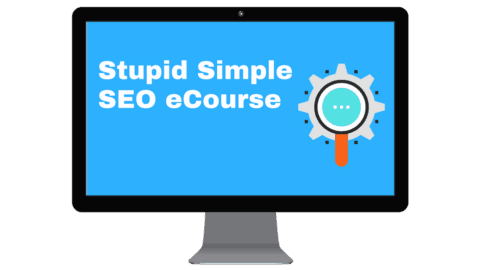 Here's what Mike says you'll master in Stupid Simple SEO:
This all-video, over-the-shoulder course covers 55+ lessons with 11+ hours of video on the following topics and includes a private Facebook group:
How to set up your blog for SEO success

Why user intent & blog relevance is so important

How to do proper keyword research

How to create and optimize content that ranks

How to do SEO for affiliate marketing

Link building 101

How to do guest posting for backlinks

How to do a "blogger roundup" to get links

How to do blogger outreach

How to use Help A Reporter Out to get links
Is this a quick and easy process?
Short answer: NO.
I want you to know what you are getting into. Learning and implementing what you learn in Stupid Simple SEO is NOT a quick fix. You will need to put hours of effort into setting your blog up, doing keyword research, creating excellent content, doing blogger outreach, and updating older content.
But, if you are willing to learn and to put the time in, you should find that your efforts are worth it.
Check out the graph below that shows my site's growth in organic pageviews. I am 100% sure you'll be able to see the year in which I took this course and implemented changes on my site!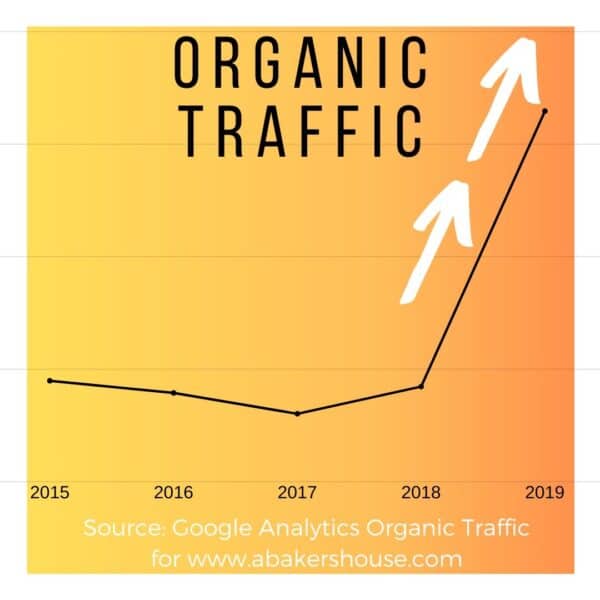 Course review
Here are a few reasons that I recommend Stupid Simple SEO and how I work through the course.
I've been working through this course for nearly a year. I dove into the modules when I first bought the course and then took a few months off (summertime with my family) and then started up again.
Be prepared. There is a lot of information and it is not easy to take it all in at once. The beauty of this course is that you don't have to do ALL THE THINGS at once. Pick and choose what works best for you.
The best method for me is to work through segments a few at a time. I watch the video or group of videos on a particular topic, implement what I learned, then move on to the next topic.
Some areas of information are easier to digest than others, and this will depend on what your knowledge base of SEO is before you begin the course.
Give your self A LOT of time to work through keyword research. This course teaches you how to figure out what keywords you have a good chance of ranking for and how to go about finding this valuable information.
Other positive aspects about the course:
plenty of videos that walk you through each topic
Checklists and downloads that keep you on track and teach you best SEO practices
Mike's Private Facebook Group is an excellent place to ask questions AND get answers
lifetime updates included and there is no time limit on access to the course
topics are covered in depth and the info goes far beyond what I had learned from other SEO courses
this stuff works! Mike started a new niche site in 2019 and shares data on how he is growing that site with the strategies he is teaching.
Reasons not to take this course:
TIME. Let me be upfront about this topic. This course demands a big time commitment in order to see results. You will need to invest your time to learn and to put ideas into action. The good news is that you can spread that time out over the course of weeks, months or years because you have lifetime access to the course.
Note: this course is only available for new members a few times a year. Next membership window is early February 2020.
Do you have questions? Email me at [email protected] to ask more.
Please note that one person's success with organic traffic growth is not indicative of another person's growth. I cannot guarantee you growth, but I am confident that you that you will learn a lot and my wish for you is that you meet your goals of improving your SEO and organic traffic.