Whole wheat raisin bread– does it compare to my son's favorite? I think it comes pretty close, if I do say so myself. My son loves Pepperidge Farm raisin bread. I do too. I don't like, though, that I can't pronounce some of the ingredients listed on the package. I know that there is more added to commercial bread than the basics of yeast, salt, and flour. It may be necessary to add enhancers to the bread on our grocery shelves but at home you have the privilege of baking with ingredients you recognize. This is not to say that raisin bread is a health food, but I like the idea of showing my little guy how bread is made and teaching him that all food doesn't have to come from a factory.
I found this recipe for raisin bread with the addition of whole wheat on the Food Network site. While I don't think my dough rose quite as much as it could have, this recipe produced two beautiful loaves of raisin bread. And the smell of freshly-baked bread at home is worth the effort. Next time I'll add more raisins and I will perfect the technique of tightly rolling the dough when forming the loaves.
Whole Wheat Raisin Bread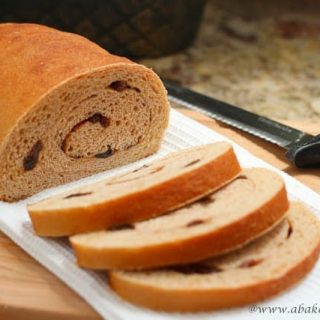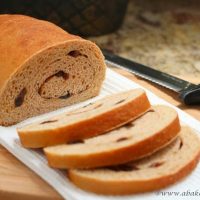 Ingredients
2 cups bread flour, plus more for dusting
2 cups whole-wheat flour
1/4 cup nonfat dry milk
1 large egg
2 tablespoons canola oil, plus more for brushing
3 tablespoons honey
2 teaspoons salt
1 1/2 teaspoons instant dry yeast
Cooking spray
2/3 cup raisins
1 tablespoon plus 1 teaspoon ground cinnamon
1/3 cup packed dark brown sugar
Nutrition Information:
Amount Per Serving:
Calories:

0
Total Fat:

0g
This data is provided by Nutritionix and is an estimate only.
Click through for the full directions from Food Network.