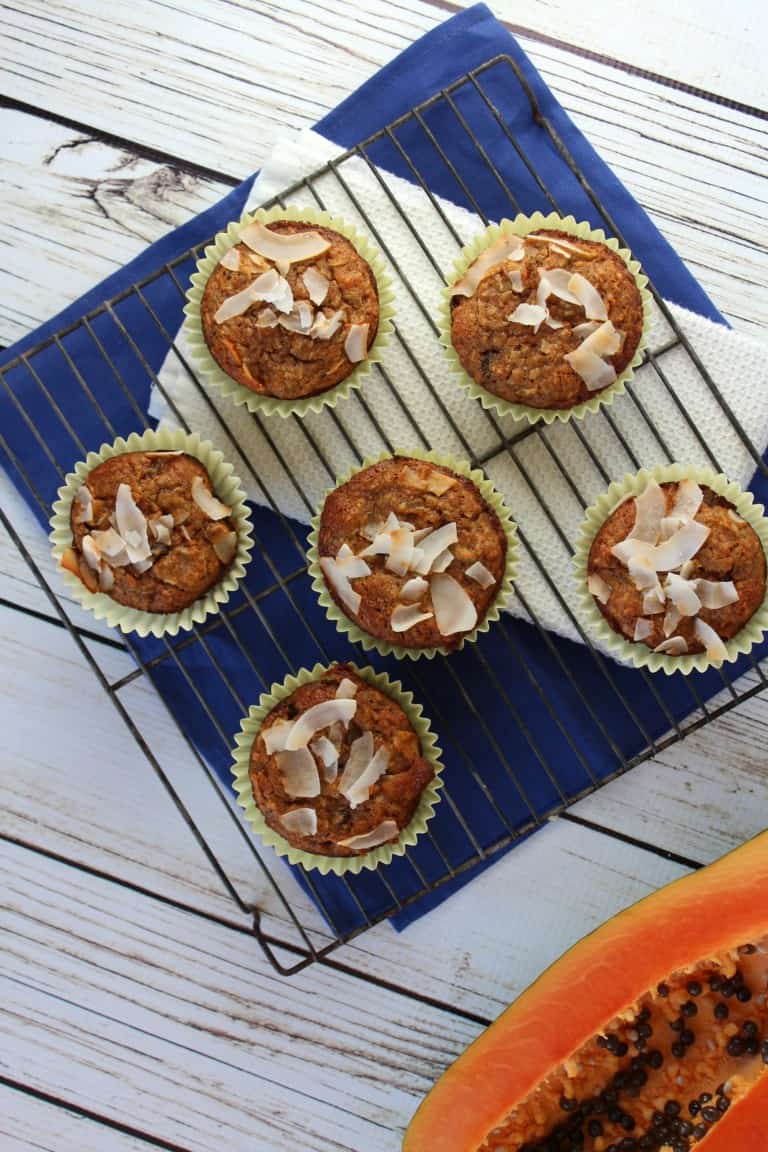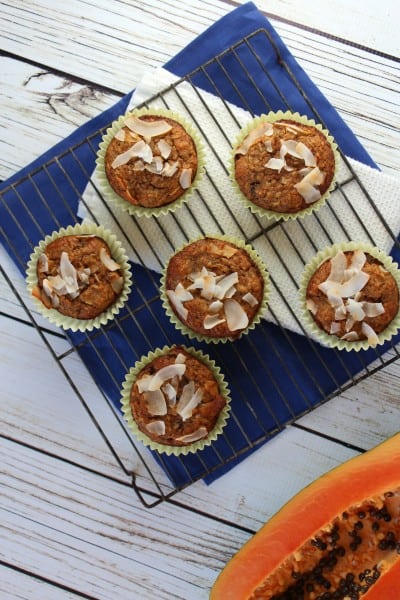 This post is sponsored by Sprouts Farmers Market. I am grateful for their partnership. This month the baking assignment was to explore papaya. My first thought was back to the paw-paw tree we had in our backyard when we lived in Bermuda. (Paw-paw is another name for papaya.) The tree was around the back side of the house, out of sight. Back then I looked at the tree curiously but never  knew what a treasure was just around the corner. I do hope that whoever lives in that small, bright green, island home is taking good care of the tree and enjoying its fruit!
Papaya is a very healthy fruit. It is high in vitamin C and offers a host of other beneficial nutrients. When I shopped at Sprouts recently I was glad that the woman who helped me in the checkout line asked me what my plans were for the papayas I had in my basket. She told me that in her native India papayas are eaten year-round. She informed me that papayas are known for benefits aiding in digestion, heart-health, diabetes prevention and more. She taught me to push gently on the papaya to test for ripeness. The fruit should yield slightly but not feel mushy. Following more of her advice I took home the green papayas, placed then in brown paper bags along with a banana (an apple would have helped too) and let them ripen until the skin was more yellow than green before I cut into the large fruit.
I was excited to bake with papayas and combined some island flavors to get me though a cold winter's day. Papaya, bananas, dried pineapple, and coconut come together in this muffin to give you a tropical feeling to the start of your day. Make the full batch of 18 and freeze half for later in the month, if you can wait that long!
Yield: 18 muffns
Tropical Muffins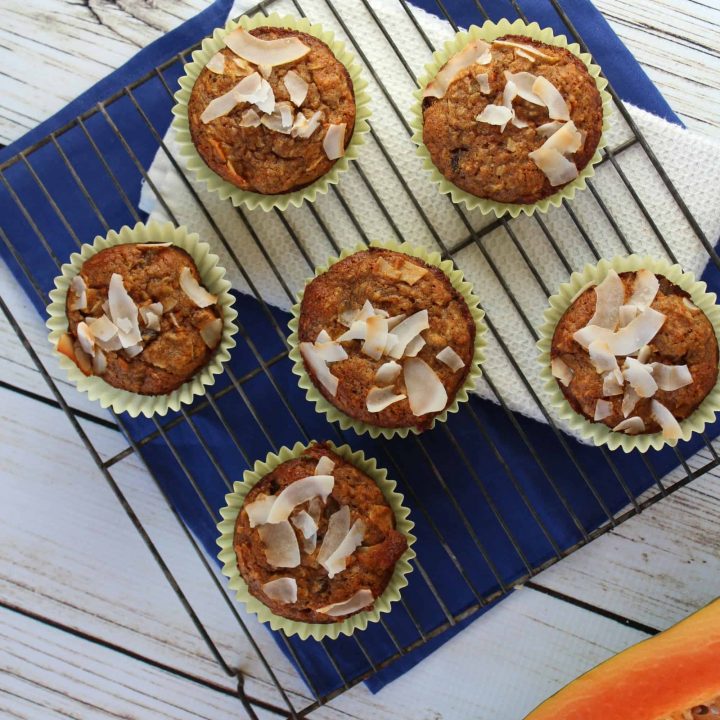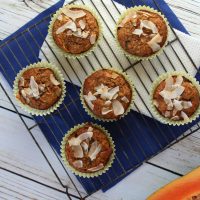 Papaya, bananas, dried pineapple, and coconut come together in this muffin to give you a tropical feeling to the start of your day.
Ingredients
1 ½ cups Sprouts Whole Wheat Flour
½ cup Sprouts Organic Coconut Shredded (100% Pure Desiccated Coconut)
2 tsp baking soda
½ tsp salt
1 stick Sprouts Unsalted Butter, melted and cooled
½ cup Sprouts Dark Brown Sugar
2 Sprouts Cage Free Farm Fresh Eggs
3 bananas
1 papaya
½ cup Sprouts Organic Coconut Chips plus 3 Tbsp extra for topping (optional)
½ cup raisins
½ cup dried pineapple bits
Instructions
Preheat the oven to 350 degrees F
In a small bowl combine the dry ingredients: whole wheat, coconut shredded, baking soda and salt.
Mash the bananas and set aside. Cut the papaya in half, discard the seeds, scoop out the flesh of the fruit. Mash if very ripe and soft or puree in a small food processor until smooth. You should have about one cup of papaya mash or puree. Set aside.
In a large bowl combine the melted butter, the dark brown sugar, and the eggs. Add the mashed bananas, papaya, and the dry ingredients. Mix well. Fold in ½ cup coconut chips, raisins and dried pineapple bits.
Fill 2 muffin pans with 18 baking cups or coat the tins with baking spray. The batter will make 18 muffins. Fill the muffin cups with batter. If desired, top each with a few coconut chips.
Bake for 18-22 minutes or until the top is golden brown. Cool before eating.
Notes
Make a batch and free half for on the go breakfasts for busy mornings!
Nutrition Information:
Yield:
18
Serving Size:
1 muffin
Amount Per Serving:
Calories:

110
Total Fat:

3g
Saturated Fat:

2g
Trans Fat:

0g
Unsaturated Fat:

1g
Cholesterol:

12mg
Sodium:

234mg
Carbohydrates:

20g
Fiber:

2g
Sugar:

11g
Protein:

2g
This data is provided by Nutritionix and is an estimate only.