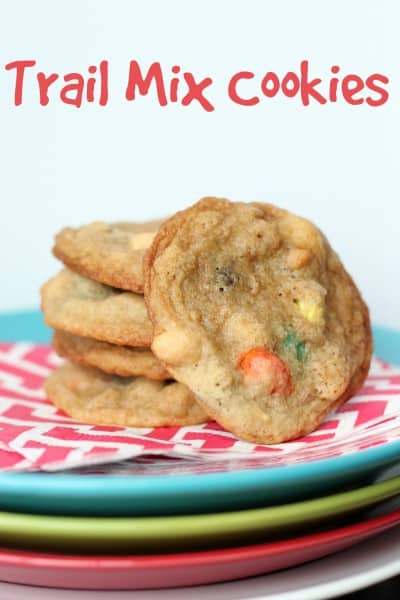 Trail mix cookies are a dressed up version of chocolate chip cookies with additions like nuts, candies and raisins. The #CreativeCookieExchange has a treat for you today: cookies with all sorts of chips, chunks and bits. We have lemon, oatmeal, chocolate, coffee, peanut butter and more. So many flavors that I am sure you'll find one you'll want to bake at home. I started with the no-fail, standard Toll House recipe for chocolate chip cookies and I added trail mix to the ingredient list. We've been throwing little bags of trail mix into our backpacks this summer as we hit the hiking trails and the golf course too. Feel free to made your own trail mix or buy it ready-made– mine had a combination of chocolate chips, peanut butter chips, peanuts, cashews, m&m's, and raisins. I added granola to round out the mix.
These were good for a change but it is hard to beat the simplicity of a chocolate chip cookie. While it was fun to switch up the expected flavors in my Toll House recipe, I think next time around I'll stick to the basics. I have my eye on a few recipes in the list below that I know I'll love to bake and to share. What cookie will you bake next?
Yield: 36 cookies
Trail Mix Cookies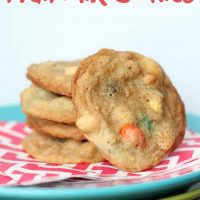 Ingredients
2 1/4 cups all-purpose flour
1 teaspoon baking soda
1 teaspoon salt
1 cup (2 sticks) butter, softened
3/4 cup granulated sugar
3/4 cup packed brown sugar
1 teaspoon vanilla extract
2 large eggs
2 cups Trail Mix (suggestions include raisins, chocolate chips, nuts, dried fruit)
Nutrition Information:
Amount Per Serving:
Calories:

0
Total Fat:

0g
If you are a blogger and want to join in the fun, contact Laura at [email protected] and she will get you added to our Facebook group, where we discuss our cookies and share links. You can also just use us as a great resource for cookie recipes–be sure to check out our Pinterest Board and our monthly posts (you can find all of them at The Spiced Life). You will be able to find them the first Tuesday after the 15th of each month. Many thanks to Tara of Noshing with the Nolands who led our group this month!