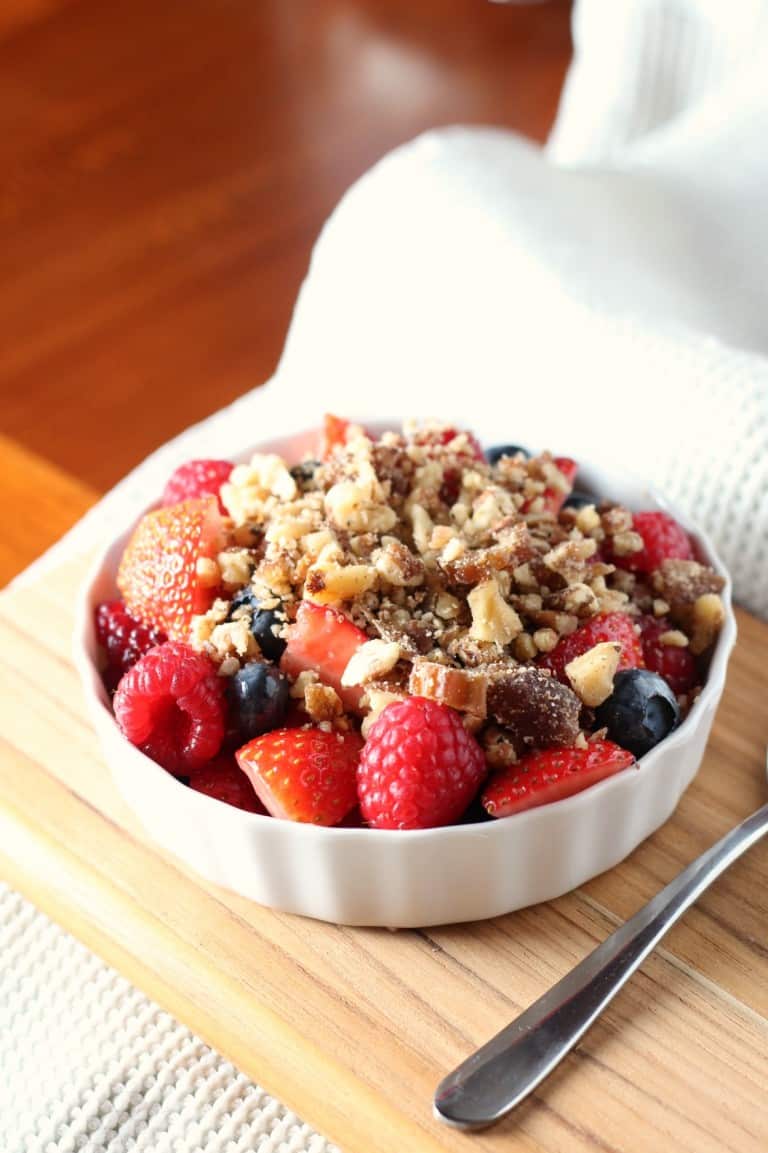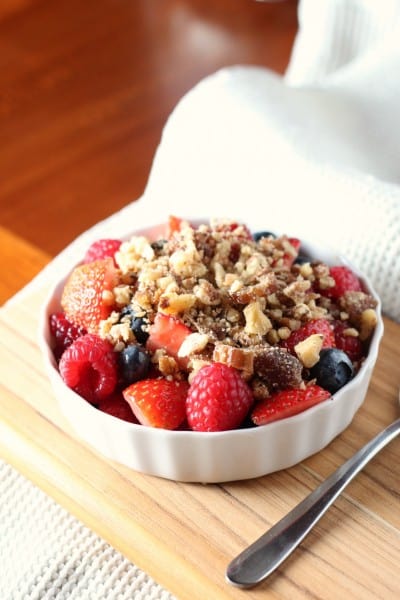 A Raw Berry Crisp is a refreshing change to our heavy, sugar-laden desserts. Use fresh fruit, top with nuts, spice, and a touch of maple syrup and you have a satisfying dessert without loads of added sugar. We are nearing the end of January…how are those New Year's resolutions holding up? We all like to think of making a healthy start in the new year but sometimes that is easier said than done.
I find it is more successful to make a series of small changes rather than attempting to stick to one huge change. For example, I am trying to drink more water, eat fruit before reaching for a cookie, and trying to be more aware of my food choices rather than snacking without thought. All of these baby steps are instead of trying a completely new way of eating such as gluten free or sugar free. It is possible to take little steps towards healthier eating and this dessert does just that.
This Whole Foods recipe introduced me to the concept of a Raw Food Diet. Eating along these guidelines is fairly straightforward– food is not cooked so you are eating unprocessed food. (I think there is a caveat that explains you can cook the food but only to a certain (low) temperature but for the sake of simplicity, let's think of the Raw diet as "uncooked".) Before you decide that this means you'll be eating like a rabbit, have an open mind and look at this dessert!
A touch of maple syrup is added to fresh fruit and the crisp topping contains an assortment of nuts and dates. That's it. Simply pulse the topping in a food processor a few times, sprinkle it over the fruit and eat. I will be the first to admit that I really liked this raw crisp. The trick was that I didn't feel like I was missing anything. In fact, next time I'll leave the syrup out as the berries had plenty of natural sweetness. The crunch of the nuts and the chewiness of the dates combined to make a very pleasant dessert. I surprised myself and made this a couple of times last week. No sugary cookies in sight! Just fruit and nuts. Maybe I could get used to this way of eating after all.
Need another tasty fruit based dessert? I love dried peach chews or this grapefruit brulee.
Yield: 8 servings
Raw Berry Crisp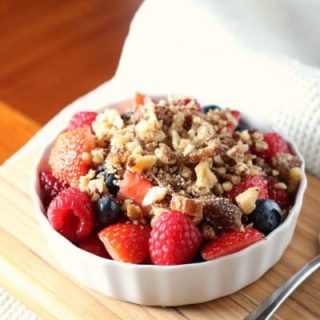 A Raw Berry Crisp is a refreshing change to our heavy, sugar-laden desserts.

Prep Time 5 minutes

Total Time 5 minutes
Ingredients
6 cups mixed berries, such as blackberries, blueberries, raspberries and sliced strawberries
1 tablespoon pure maple syrup, more or less to taste depending on sweetness of berries
1 cup raw pecans
1/2 cup raw walnuts
1/2 cup pitted dates, roughly chopped
1/2 teaspoon ground cinnamon
Instructions
In a (7- x 11-inch) dish, toss berries with maple syrup. Put pecans, walnuts, dates and cinnamon into a food processor and pulse until coarsely ground. Scatter nut mixture over berries and serve immediately, or chill until ready to serve.
*Note: you may also make individual servings in ramekins or small dishes. This recipe makes eight servings.
Nutrition Information:
Yield:
8
Serving Size:
1 bowl

Amount Per Serving:

Calories: 0 Total Fat: 0g

This data is provided by Nutritionix and is an estimate only.

I'd love to hear how you are trying to eat healthy as we start this new year. Are you eating more vegetables in soups, making berry smoothies, cutting out the sugar in your tea? Whole Foods is the place to go to help keep to your healthy eating goals. If you'd like a chance to win a $25 gift card to Whole Foods Market, please enter the Rafflecopter below. The giveaway has ended. Please note that I participate in the Whole Foods Ambassador Program. The food for this post was provided to me at no charge and all opinions are my own.