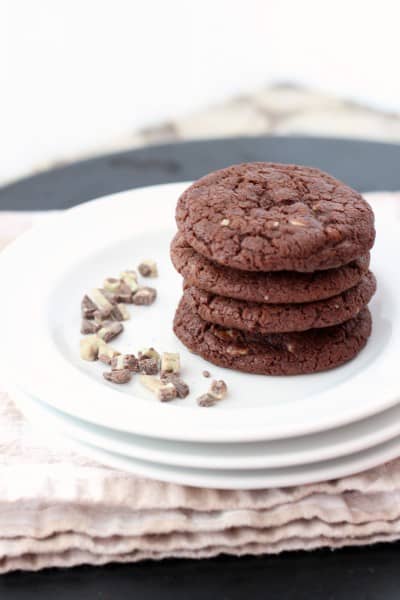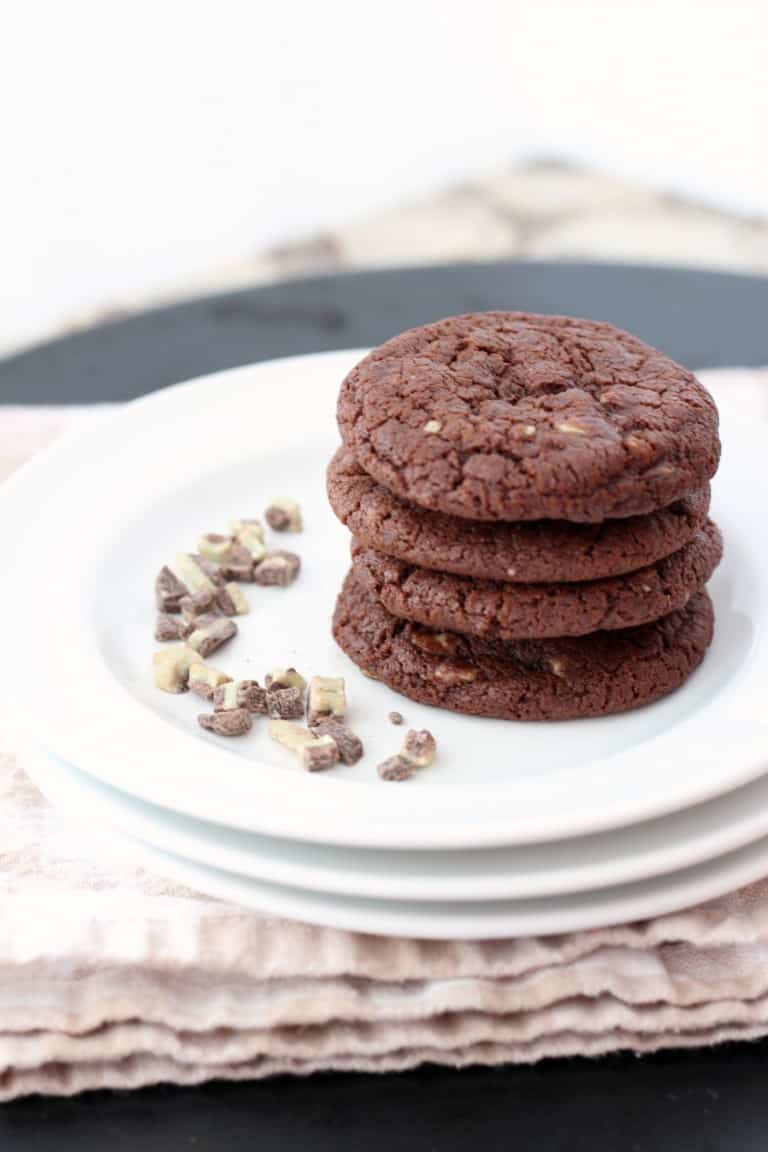 Mint Chip Chocolate Cookies are the first recipe I think of when I see the seasonal Andes crème de methe baking chips in the store. Chocolate and mint, what's not to like? Mother's Day is just around the corner…time to start planning gifts and food to share with your family. The #CreativeCookieExchange is baking cookies with mothers in mind. Whether it is a cookie you bake for your mom or with your mom in mind, we'd love to hear what you are baking this month. Mother's Day is most often thought of as a happy day but we keep close to our hearts friends and loved ones who find Mother's Day to be a difficult day to get through for any number of reasons and want you to know that you are on our minds as well.
The first food that comes to mind when I think of my mom's favorites would have to be mint chocolate chip ice cream. The bright green kind. The green that you know is not natural flavoring but you eat it anyway kind of mint chocolate chip ice cream. I wanted to put those flavors  of mint and chocolate into a cookie for my mom and made these mint chip chocolate cookies with a recipe from Hershey's. Hershey's recipe called for mint chips (which they conveniently make but I could not find in my local store) so I used Andes crème de methe baking chips to bring out that minty flavor. These cookie lack that green color but the mint flavor is a nice combination with the chocolate cookie and chocolate chips. I'll have to make these again the next time my mom comes to visit and I think they'd be even better converted into an ice cream sandwich with bright green mint chocolate chip ice cream in the middle!
Check out Hershey's recipe here.  I used regular chocolate chips then added a full cup of the Andes crème de menthe chips.
Print
Mint Chip Chocolate Cookies #CreativeCookieExchange
---
Ingredients
2/3 cup butter or margarine , softened
1 cup sugar
1 egg
1 teaspoon vanilla extract
1 cup all-purpose flour
1/2 cup HERSHEY'S Cocoa
1/2 teaspoon baking soda
1/4 teaspoon salt
1-2/3 cups HERSHEY'S Mint Chocolate Chips (10-oz. pkg.)
1 cup Andes creme de mint chips
---
Instructions
Please check the original recipe and instructions here.
You can also use us as a great resource for cookie recipes. Be sure to check out our Pinterest Board and our monthly posts (you can find all of them here at The Spiced Life). You will be able to find them the first Tuesday after the 15th of each month! Also, if you are looking for inspiration to get in the kitchen and start baking, check out what all of the hosting bloggers have made: