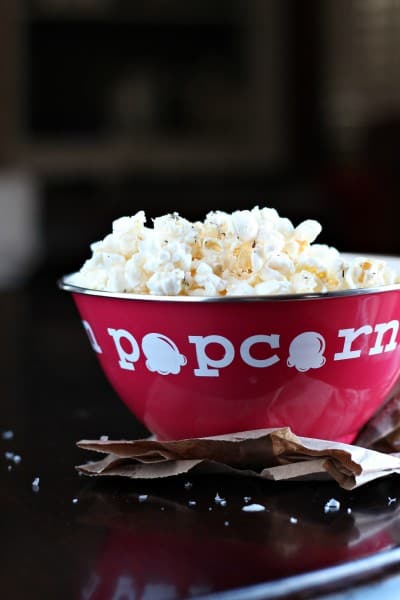 Herbed Parmigiano Reggiano Popcorn is a dressed up version of your typically plain popcorn. With a few additions of cheese and spices you'll take popcorn to new levels! Awards season is underway and the Oscars are next up. What do you like best about watching these awards shows? The fashion, the movie stars, the food? Yes, I like the food the best! I honestly couldn't tell you who is up for which award without doing a quick Google search (which I have now done and feel like there are many movies I have missed out on this year) but I do like any excuse to enjoy food for a special occasion. #WholeFoods wants to help you get ready to watch the awards with some friends.
One suggestion for hosting any party is to take the pressure off yourself– you do not have to prepare every last morsel of food that you serve to your guests. A shortcut that will be appreciated by both you and your friends is to buy a few main items and then add personal touches along the way. Let Whole Foods Market's prepared foods team do the cooking with Sriracha chicken wontons or wings. The meat department also has ready-to-cook, crowd-pleasing meatballs from Nature's Rancher, raised with no added growth hormones and no antibiotics, ever. Want a quick and easy way to add a fun home-made nibble to your food spread? Popcorn! And this popcorn is definitely a dressed up version suitable for an Oscars party.
Start with plain popcorn (microwaved, made on the stove top or even from a store-bought bag) then add your choice of herbs and cheese along with melted butter. Yes, it is that easy! #WholeFoods shares this recipe on their website for Herbed Garlic Parmigiano Reggiano Popcorn (recipe originally from www.ourbestbites.com).
#WholeFoods would like to offer one reader a $25 gift card to Whole Foods Market this month so that you can buy the ingredients to help create a celebration at your house. Enter the rafflecopter below for your chance to win! The giveaway has ended. Please note that I am part of the Whole Foods Brand Ambassador Program. All items were provided to me at no cost but I was not compensated for this post.