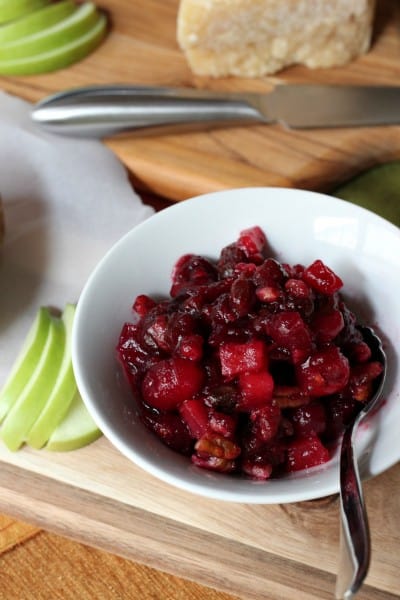 Cranberry Chutney combines cranberries, pears, and nuts to create a new tradition for your Thanksgiving. Thanksgiving is a time of traditions and I've learned that even if you aren't traveling home to gather around the table with mounds of extended family members that you can still find ways to celebrate traditions in smaller ways. Yes, preparing all day, baking pies and roasting turkey for a crowd surely will create special memories for your family but if your gathering is smaller or you simply want to (gasp!) skip all of that time in the kitchen, you can choose to do something different with your Thanksgiving weekend. I will be taking advantage of the long weekend to relax with my family, to catch up on a long to-do list around the house, to watch sports together and to golf. Even though the ground in Denver is covered with snow at the moment, by next week that sun will be out again and the golf courses will be quiet but open and ready for a Thanksgiving round. We've golfed on Thanksgiving the last few years then come home to a meal prepared by Whole Foods. The pre-roasted turkey dinner for four suits us perfectly: Diestel turkey, mashed potatoes, stuffing, cranberry relish, gravy and rolls. I usually bake a pie so that the house smells like I've actually done all of the Thanksgiving work in the kitchen myself and then we enjoy dinner, have a quick clean up and play cards and board games for the evening.
Ordering online from Whole Foods isn't just for small, quiet dinners like mine. You can pre-order your uncooked turkey, add side dishes, appetizers, and desserts too for any size meal. The last time I cooked for a larger group I cooked an organic Diestel turkey and it was delicious. If you order online before November 22nd, you'll receive a $10 your next purchase of $75 or more in December.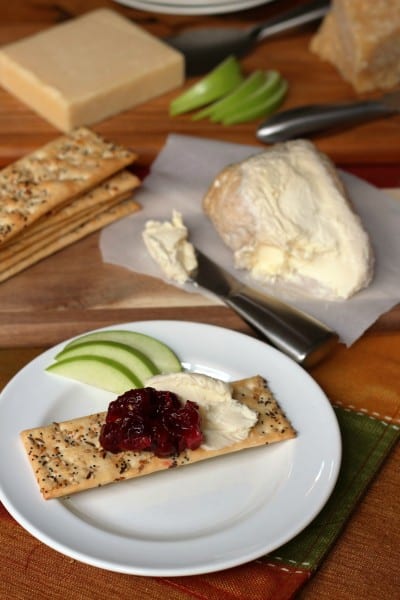 A nice way to gather with friends over Thanksgiving weekend for us has been to visit over a meal on the Friday or Saturday night. That is where this cheese platter and the cranberry chutney are the centerpiece. A cheese platter is a great way to start a low-key get together. Simply choose three to five types of cheese, add some fresh fruit like apples, grapes or pears, include a chutney or a fig jam, and serve with crackers or sliced bread. You hardly need a meal after this indulgence and you could choose to invite neighbors over to have wine and cheese. This cheese platter offers selections from Whole Foods: a soft, brie cheese called Delice de Bourgogne, a sliceable cheddar called Red Leaf Six Year Aged Cheddar, and a hard cheese called Mitica Parmigiano Reggiano. Try to mix your selection based on textures (soft, sliceable, and hard), or by types of cheese made with milk such as goat, cow and sheep, or by regions. The cranberry chutney is based on this recipe from Whole Foods with a few ingredients added (pears and raisins) to customize it using ingredients I had in the pantry.
Whole Foods would like to hear about your holiday traditions. Read more here about #MyHolidayTradish and learn how you can share your traditions, receive holiday recipe inspirations by email, enter to win groceries for a year, order your holiday meals, and find ideas for hostess gifts and more. Whole Foods would like to offer one reader a $25 gift card for you to enjoy this holiday season. Please enter the rafflecopter below if you wish to participate in the giveaway. The Giveaway previously ended.

Please note that I participate in the Whole Foods Blogger Ambassador Program. This is a sponsored post. Ingredients are provided at no cost to me but I do not receive additional compensation. All opinions are my own.