A dense, chocolate cake highlighted with bourbon makes this a grown up chocolate dessert. Top with a glaze AND a drizzle of chocolate to take this Chocolate Bourbon Mini Bundt over the top!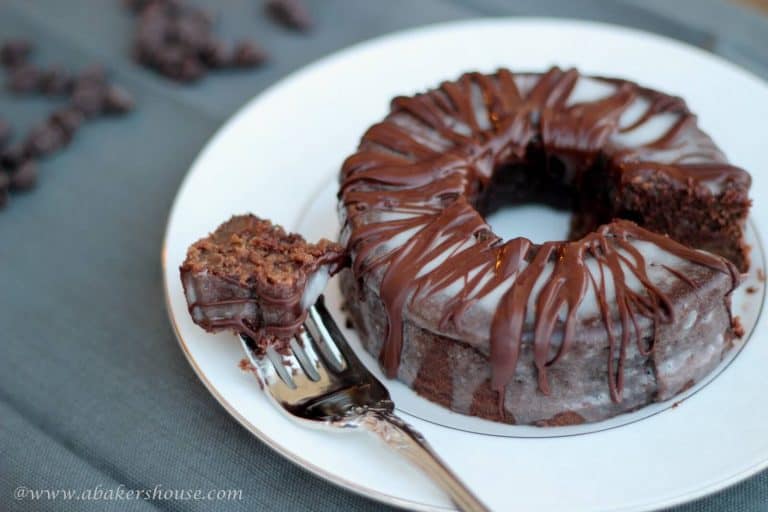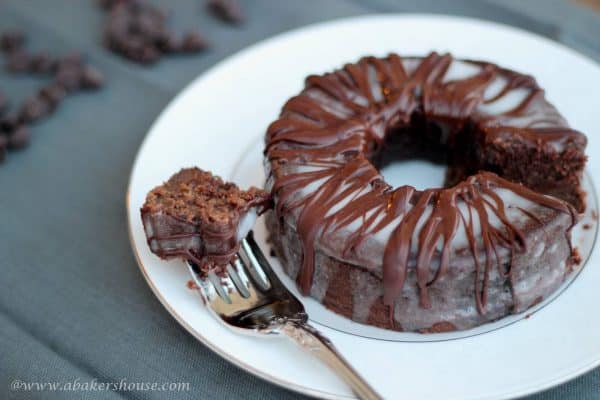 The inspiration for this Chocolate Bourbon Mini Bundt recipe comes from Family Circle for their Chocolate Bourbon Cake  I intended to change the shape slightly by using a mini Bundt pan.  Little did I know that I'd make the recipe my own through a mistake: I cut the recipe ingredients in half to fill my three small Bundt pans…but I neglected to cut the liquid measurement in half. The Family Circle recipe states that the batter will be thin, but the batter I made was so thin that it resembled something closer to chocolate water rather than chocolate cake batter. I added some flour and kept going, putting the Bundts in the oven and hoping for the best.
And with a bit of luck, these cakes turned out to be something I'd want to make again! Do not expect a fluffy cake, this creation is a dense chocolate cake, close in texture to fudge. The bourbon taste is present in an obvious way, yet it is tempered by the chocolate and espresso so that it is not overwhelming. The icing glaze topped with a chocolate drizzle finishes this dessert with flair.
I do think I'll try Family Circle's recipe again, following it line by line. If you try it, let me know. For now, though, I am eating my way through this pretty cake and plan to use the second two mini Bundts for cake truffles which would make sweet Christmas gifts for friends and neighbors.
Do you like chocolate cakes? You'll love these recipes too!
Yield: 16
Chocolate Bourbon Mini Bundt #BundtaMonth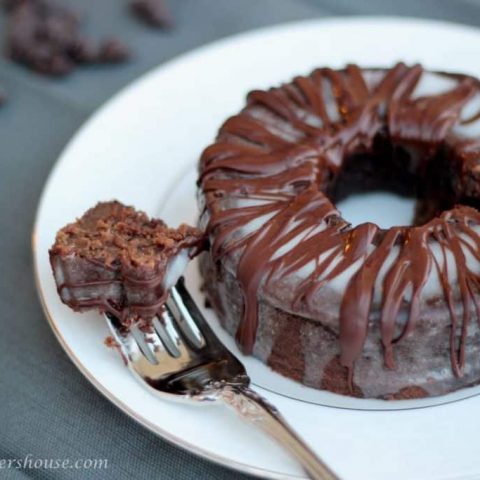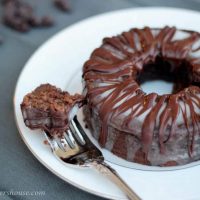 Decadent mini Bundts are perfect for any celebration!
Ingredients
1 1/2 cups all purpose flour
1/2 cup unsweetened cocoa powder
1 teaspoon baking powder
1/2 teaspoon salt
1 cup freshly brewed espresso
1/2 cup water
1/4 cup bourbon
10 Tablespoons unsalted butter
3/4 cup sugar
1 egg
1/2 teaspoon vanilla
Glaze:
1 cup confectioners' sugar
1 Tablespoon light corn syrup
2 Tablespoons milk
a few ounces of semi-sweet chocolate (optional)
Instructions
Directions:
Preheat oven to 350 degrees F. Prepare mini Bundt pans with baking spray and dust with cocoa powder.
Sift together the flour, cocoa, baking powder and salt.
In a medium saucepan combine the water, espresso, bourbon and butter. Heat until the butter melts then take off heat and whisk in the sugar. Cool slightly.
After the liquid mixture cools for 5-10 minutes, whisk in the egg and vanilla. Add the flour mixture right into the saucepan, whisking continuously.
Pour into the Bundt pans and bake for 30 minutes. Cool on a wire rack for 10 minutes then invert the cake. Cool completely.
Glaze: Combine the confectioners' sugar, corn syrup and milk. Whisk until smooth. It helps to put the small cakes on a wire rack sitting over a parchment or foil lined baking tray. Pour the glaze over the cooled cake. Allow it to set at room temperature or put the cake in the refrigerator for 20 minutes. melt the chocolate and drizzle over the cake.
Nutrition Information:
Yield:
16
Serving Size:
1 slice
Amount Per Serving:
Calories:

0
Total Fat:

0g
This data is provided by Nutritionix and is an estimate only.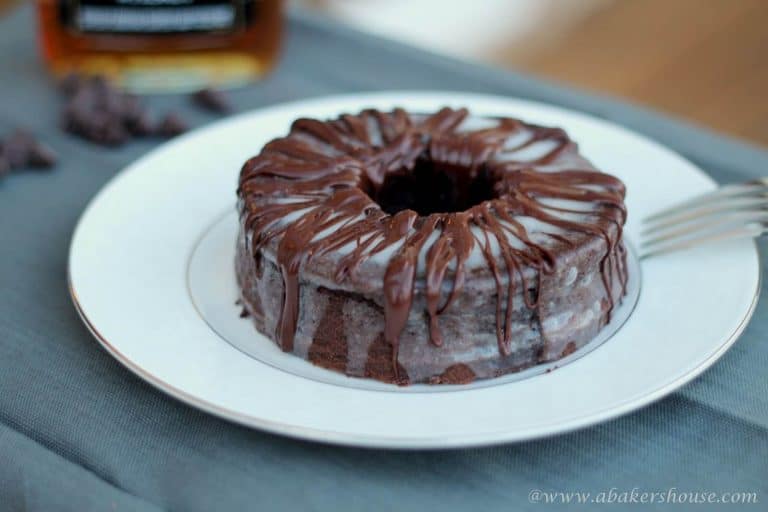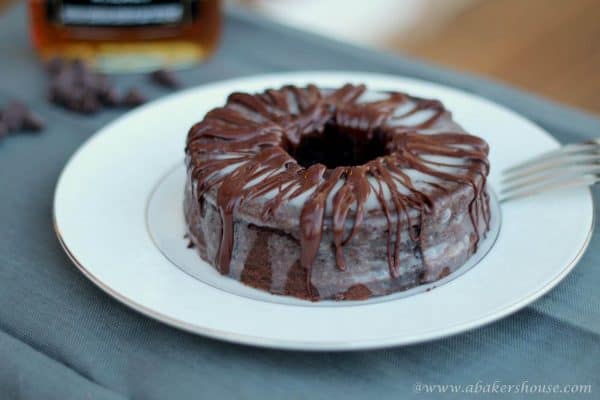 Welcome back to #BundtaMonth, a monthly celebration of all things Bundt hosted by Cake Duchess and Baker Street.  I am happy to join this group with my contribution for the December theme of boozy cakes: the chocolate bourbon mini Bundt.
Need some more inspiration? Check out these beautiful Bundts!
Araby Spice-Limoncello Bundt Cake with Limoncello Glaze
by Lora from Cake Duchess Bailey's and Buttershots Bundt Cake by Karen from In The Kitchen With KP Banana Pineapple Bundt Cake with Coconut Rum Glaze by Carrie from
Poet In The Pantry
Chocolate Bourbon Mini Bundt
by Holly from
A Baker's House
Chocolate Port Bundt Cake by Paula from Vintage Kitchen
Eggnog Rum Pound Cake
by Dorothy from
Shockingly Delicious
Madeira Pound Bundt Cake
by Renee from
Magnolia Days
Mint Chocolate Chip Bundt Cake with Creme de Menthe
by Laura from
The Spiced Life
Shirley Temple Bundt Cake Kim Beaulieu |
Cravings Of A Lunatic
Spiked Eggnog Bundt Cake with Bourbon Glaze
by Kate from
Food Babbles
Sweet Potato Bourbon Bundt by Jennie from
The Messy Baker Blog
Long Island Iced TeaCake
by Deb from
Knitstamatic
Rum and Raisin Butter Bundt with Rum Honey Glaze
by Stacy from
Food Lust People Love
Tiramisu Bundt Cake with Kahlúa Mascarpone Glaze
by Anuradha from
Baker Street
Vanilla and Bourbon Cake by Kate from
Diet Hood
Vanilla Mini Bundt Cakes with Kahlúa
by Alice from
Hip Foodie Mom