Caramel chocolate shortbread bars are a layered bar dessert that hits all the good points- did I mention the shortbread, the chocolate, and the caramel? So good!
Any one dessert with caramel or chocolate or shortbread would get my attention…but what happens when you combine all three flavors together? You end up with this recipe from Sunset Magazine's October 2002 issue: Shortbread Caramel Brownie Bars.
How do you make caramel chocolate shortbread bars?
This dessert is made in stages. The process might not be as quick as a box of brownies but it certainly tastes good and is worth your effort.
First the shortbread is mixed together in a food processor and baked until golden.
Next the caramel is melted and poured over a cooled crust.
Finally you top off the chilled caramel and shortbread with a layer of chocolate brownie batter and bake for another 35-40 minutes.

Print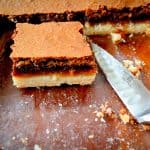 Caramel-Chocolate-Shortbread Bars
---
Description
What's not to love in these bars– layers of shortbread, caramel and chocolate come together in one perfect bite!
---
Ingredients
Ingredients:
1 1/2 cups butter
2 1/2 cups flour
1 1/4 cups sugar
2 Tablespoons cornstarch
12 ounces individually wrapped caramels
1/4 cup whole milk
10 ounces chocolate
3 large eggs
1 Tablespoon vanilla
1/2 teaspoon baking powder
1/4 tsp salt
---
Instructions
1. Start with the shortbread crust. Use 1 cup of the butter (note that you save 1/2 cup for later), 2 cups of flour (again save some for later), 1/2 cup sugar, and cornstarch in a food processor. Mix until the dough comes together. Butter or grease a 9 x 13 pan and press the shortbread mixture with your fingers into the pan. Bake in a 325 degree oven for 25-30 minutes then let the crust cool for at least 30-45 minutes.
2. The caramel layer comes next. Melt the caramels and in the microwave with the milk for one minute. Stir then continue to melt checking on the caramel every 15-30 seconds until completely smooth.  Pour the caramel over the crust and chill until solid, about 25 minutes.
3. Now you are ready to move on to the chocolate brownie layer. Use a double boiler to melt the chocolate and remaining butter (set a heat-safe bowl over top of a saucepan with a few inches of water gently simmering—don't let the water touch the bowl). Stir frequently until smooth. Take the bowl off the heat and whisk in the sugar, eggs, and vanilla. Once the batter is well mixed, add in the flour, baking powder and salt.  Pour the chocolate over the caramel and spread it to the edges.
4. Bake at 350 degrees F for 35-40 minutes or until the brownie layer is set and baked through.
5. I learned that it is very important to let these bars cool completely before trying to cut them into pieces. You could even make this a day ahead of time then cut them the next day. These bars keep well if covered in an air-tight container (like Tupperware or Ziploc) if you can resist eating them all on the first day!
---
Notes
Recipe source: Sunset Magazine October 2012
Recipe Card powered by