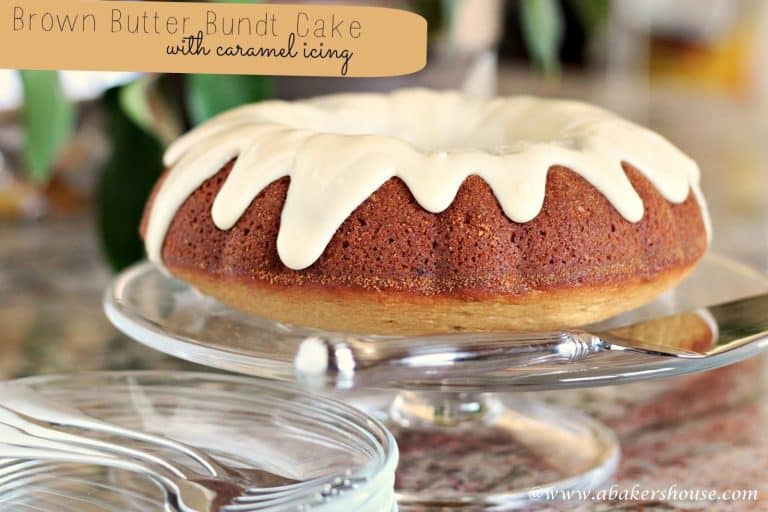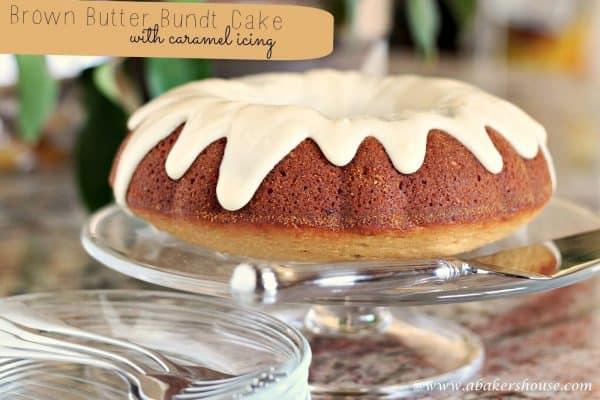 Brown butter Bundt with salted caramel icing — yes, you need this cake in your life. Could you eat any dessert (or fruit or bread for that matter) that has been drizzled with caramel? I could! Caramel is one of my favorite flavors. To highlight caramel, I chose to use a cake recipe from Cooking Light for their brown sugar pound cake and used brown butter in the batter. What a distinct, nutty flavor the brown butter added to this Bundt cake.
I kept it simple for this brown butter bundt with salted caramel icing but you could add walnuts or pecans to the batter or on top of this cake quite easily. The caramel was reserved for the icing and the combination was just right. The icing is off-white and not the deep caramel color I expected, but that is due to the icing base of butter and powdered sugar. The flavor of the homemade caramel sauce comes through beautifully and is amplified by the touch of salt.
Looking for more caramel tastes? Try these luscious dulce de leche cookies.
Bundt cakes feed a crowd and make for a great dessert for summer get-togethers. You'll enjoy recipes for Chocolate Bourbon Mini Bundt, orange creamsicle Bundt cake, and Lime and Coconut Bundt Cake. This month's #BundtaMonth theme of CARAMEL will surely give you ample inspiration for a cake to make as your next crowd-pleasing dessert. Each month Baker Street and Cake Duchess share a theme and our group bakes along. Want to join us? Please do!
Yield: 16 slices
Brown Butter Bundt with Salted Caramel Icing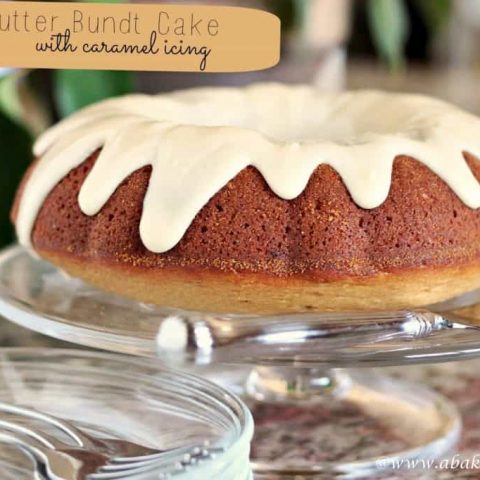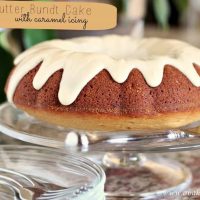 Brown butter yields a deep flavor in this simple Bundt cake and the salted caramel icing makes it a cake worthy of a celebration!

Prep Time 25 minutes

Cook Time 1 hour 5 minutes

Total Time 1 hour 30 minutes
Ingredients
2 Tablespoons plain breadcrumbs
3 cups all-purpose flour
1 teaspoon baking powder
1/4 teaspoon salt
3/4 cup butter, browned (See this tip for browning butter)
2 cups golden brown sugar
1 Tablespoon vanilla extract
3 large eggs
1 cup fat-free milk
1/4 cup vegetable or canola oil
Salted Caramel Icing:
1/4 cup sugar
2 TB water
1/4 cup cream
8 Tablespoons butter
1/2 teaspoon fine sea salt
2 TB brown sugar
1 cup powdered sugar
Instructions
For the Cake
Preheat oven to 350 degrees. Prepare a Bundt pan with cooking spray and coat with breadcrumbs.
First make the brown butter (here are instructions from a Cooking Light article). Let it cool for about 10-15 minutes.
In a large bowl mix the flour, baking powder, and salt. Separately, add the brown butter to the brown sugar and vanilla, beat with a stand mixer (or electric mixer) until well-combined. Add eggs and oil.
Now add the flour mixture to the sugar & butter mixture, alternating with the milk. Don't skip this step of alternating as it adds to the structure and formation of the crumb of the cake. Start and end with the flour, mixing on low speed.
Pour the batter into the prepared Bundt pan and bake for 60-70 minutes. Cool completely in the pan then invert onto a cake plate.
For the Icing
Combine 1/4 cup sugar and water, stirring at first then allow the mixture to heat undisturbed over medium high heat. Simmer for about 7 minutes or until the caramel color develops.
Remove from heat and add the cream, stirring until smooth. Let cool before adding to the remaining ingredients.
Meanwhile, cream the butter and salt until light and fluffy. Add the powdered sugar and brown butter, mixing until smooth.
Now add in the cooled caramel and mix on medium low until well combined. Pour over the cooled cake. Enjoy!
Nutrition Information:
Yield:
16
Serving Size:
1 slice

Amount Per Serving:

Calories: 389 Total Fat: 18g Saturated Fat: 10g Trans Fat: 1g Unsaturated Fat: 6g Cholesterol: 78mg Sodium: 279mg Carbohydrates: 53g Fiber: 1g Sugar: 35g Protein: 5g

This data is provided by Nutritionix and is an estimate only.

Here is what the group has been baking this month:
Brown Butter Bundt Cake with Salted Caramel Icing by Holly from A Baker's House
Buttermilk Bundt Cake with Salted Caramel Icing by Carrie from Poet In The Pantry
Caramel Pound Cake by Veronica from My Catholic Kitchen
Chocolate Bundt Cake with Salted Caramel by Alice from Hip Foodie Mom
Double Glazed Caramel Mocha Bundt by Stacy from Food Lust People Love
Dulce de Leche Bundt Cake by Renee from Magnolia Days
Dulce de Leche Swirl Pound Cake by Anuradha from Baker Street
Orange Caramel Bourbon Bundt Cake by Paula from Vintage Kitchen Notes
Salted Butterscotch Caramel Bundt Cake by Laura from The Spiced Life
Salted Caramel Mini Apple Cake Bundts by Anita from Hungry Couple
Snickers Bundt Cake by Karen from In The Kitchen with KP
Vanilla Bean Salted Caramel Bundt Cake by Kate from Food Babbles