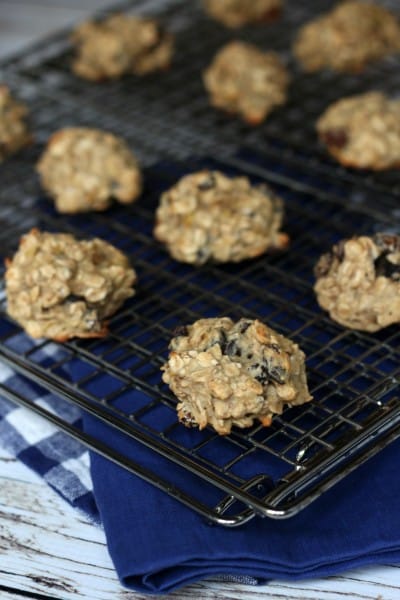 Banana Oatmeal Cookies add just enough of a twist to the traditional oatmeal cookie to make them special. With no added sugar, this recipe for banana oatmeal cookies packs the flavor without a heavy dose of sweetness. The new year often brings thoughts of healthier eating to the forefront of our minds. Big changes can be hard to make and some resolutions are harder to keep than others, so to take the pressure off a bit, try making small changes that can add up to a big difference.
At my house this idea means that I am trying to eat more fruit each day. And when I say "more" fruit, honestly I mean just eat "some" fruit because my diet is lacking in that area. I've done well so far with this strategy: only purchase fruit that will be eaten in the next three days and be determined not to have any fruit leftover after that time period. Start with a whole pineapple, some strawberries and blueberries then add one new fruit in each time you shop. Mangoes are in my kitchen now and I'm looking forward to enjoying them today. So, you might say, why am I offering you a cookie recipe when we'd all be better off just eating fruit for dessert? Yes, good question! Well I believe in all things in moderation and I know I won't be content with fruit only…so cookies are still part of my eating habits. Let's join the #CreativeCookieExchange this month with the idea of HEALTHY cookies, a concept that means something different to each individual.
Print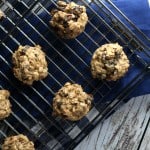 Banana Oatmeal Cookies
---
Ingredients
1 cup flour
2 cups oats
1 teaspoon baking powder
1/2 teaspoon salt
1 egg slightly beaten
1 teaspoon vanilla
3 ripe bananas
1/4 cup raisins
---
Instructions
Preheat the oven to 350 degrees F.
In a bowl mix together the flour, oats, baking powder, and salt.
In a second bowl mash the bananas then add the egg and vanilla.
Combine the wet and dry ingredients and mix until well blended. Add the raisins and stir well.
Drop tablespoons of the cookie dough on to parchment lined baking trays.
Bake for 18-20 minutes.
Cool on wire racks.
Recipe Card powered by
Check out what the group baked this month:
If you are a blogger and want to join in the fun, contact Laura at [email protected] and she will get you added to our Facebook group, where we discuss our cookies and share links. You can also just use us as a great resource for cookie recipes–be sure to check out our Pinterest Board and our monthly posts (you can find all of them here at The Spiced Life). We all post on the first Tuesday after the 15th of each month!