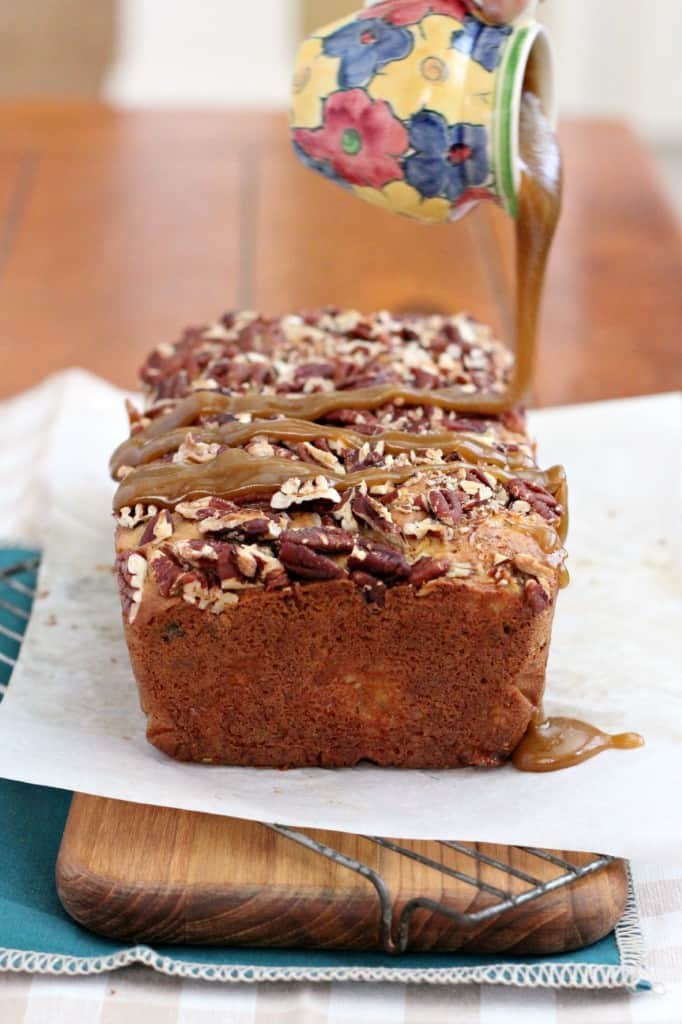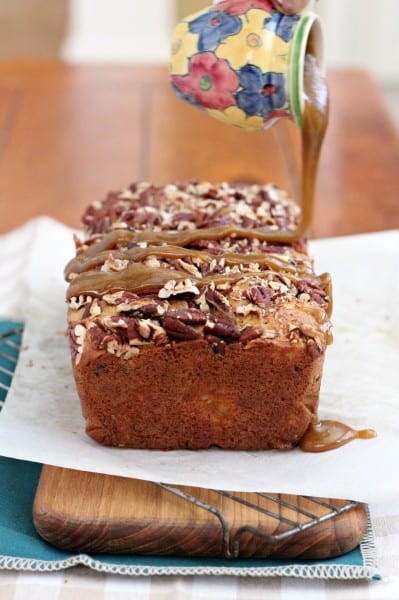 The #TwelveLoaves theme is apples and this quick bread is loaded with flavor. Praline apple bread has plenty of apples throughout each slice, and you won't want to miss the praline sauce on top of this quickbread. It is simple and easy to make yet you'll find yourself creating reasons to make it for other dishes too. Ice cream topping, apple dipping, fondue even? Just make it and you'll see that you'll want to eat it by the spoonful. I had throw my spatula and small saucepan in a sink full of hot, soapy water just to stop myself from finishing off this stuff. This recipe is from Southern Living and its success rests on the sour cream that creates a nice texture and the apples and nuts that provide a welcome bite.
Apple season is in full swing, don't you love this time of year? Whether you pick apples at your local orchard or buy them at your local store, get ready for some wonderful apple ideas for your bread baking this month! #TwelveLoaves is a monthly bread baking party created by Lora from Cake Duchess and run with the help of Heather of girlichef, which runs smoothly with the help of our bakers. Our host this month is Heather from girlichef and our theme is Apples. For more bread recipes, visit the #TwelveLoaves Pinterest board, or check out last month's mouthwatering selection of #TwelveLoaves Pear Breads!
Yield: 1 loaf
Praline Apple Bread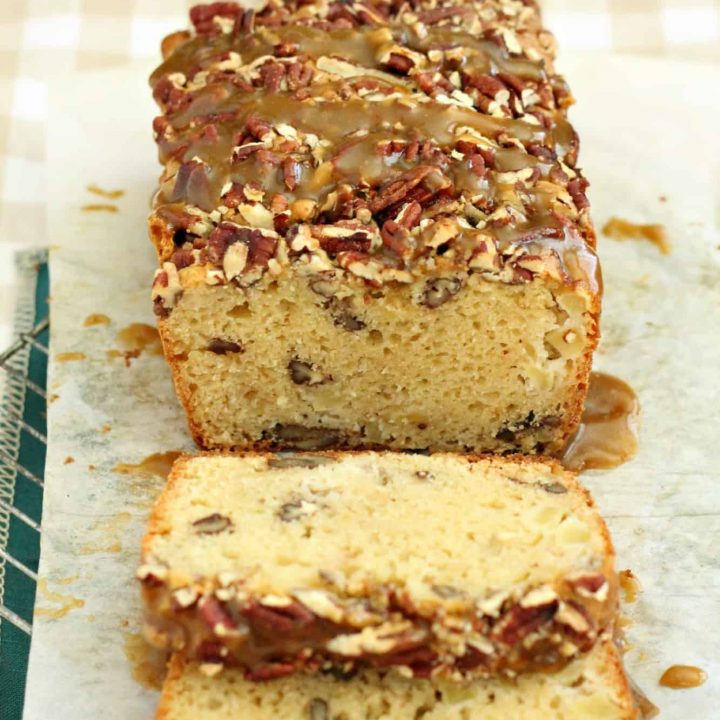 The praline topping really makes this apple bread something special to enjoy!

Prep Time 15 minutes

Cook Time 1 hour

Total Time 1 hour 15 minutes
Ingredients
1 1/2 cups chopped pecans, divided
1 (8-oz.) container sour cream
1 cup granulated sugar
2 large eggs
1 tablespoon vanilla extract
2 cups all-purpose flour
2 teaspoons baking powder
1/2 teaspoon baking soda
1/2 teaspoon salt
1 1/2 cups finely chopped, peeled Granny Smith apples (about 3/4 lb.)
1/2 cup butter
1/2 cup firmly packed light brown sugar
Instructions
Preheat the oven to 350 degrees F. Prepare a 9 x 5 pan: pray with baking spray then line with parchment paper.
Toast the pecans all of the pecans. Place on a baking tray and toast in the oven for 5-7 minutes, stirring once.
Slowly combine the sour cream, sugar, eggs and vanilla in a stand mixer fitted with the paddle attachment.
In a separate bowl, whisk the flour, baking soda, and salt. Add these dry ingredients to the sour cream mixture and mix until combined. Add the chopped apples and only 1/2 cup of the toasted pecans. Save the remaining pecans for the topping later.
Pour the thick batter into the prepared pan, arrange the remaining cup of pecans on top and press them into the batter.
Bake at 350 degrees F for about an hour. If the bread browns quickly you may cover the top with aluminum foil half way through the baking time. Remove from the oven and cool.
The praline sauce: melt the butter and brown sugar in a small saucepan. Bring to a boil for about a minute, stirring with a small whisk the whole time. Pour over the cooled bread and allow it to cool before serving.
Notes
Recipe source: Recipe source: http://www.myrecipes.com/recipe/praline-apple-bread-10000001918535/">Southern Living, September 2009
Nutrition Information:
Yield:
16
Serving Size:
1 slice

Amount Per Serving:

Calories: 265 Total Fat: 14g Saturated Fat: 5g Trans Fat: 0g Unsaturated Fat: 9g Cholesterol: 39mg Sodium: 223mg Carbohydrates: 33g Fiber: 2g Sugar: 19g Protein: 3g

This data is provided by Nutritionix and is an estimate only.

#TwelveLoaves: Apples