Have you heard of the membership site, Food Blogger Pro? In my opinion, it is THE resource for bloggers, particularly food bloggers, who are ready to learn and grow their blogs. Food Blogger Pro (FBP) serves both beginners and seasoned bloggers alike. More than 350 videos show you the step by step path you can take to improve your online presence. Membership is open a few times a year and you can join the nearly growing tribe of bloggers in May and in November.
Please note that links in this post are affiliate links. I'm a Food Blogger Pro affiliate and a member. If you click through and make a purchase I will receive a commission at no extra charge to you.

Food Blogger Pro is led by Bjork Ostrom and his team. Bjork's wife, Lindsay, runs the wildly successful blog, Pinch of Yum. Food Blogger Pro aims to make the world of food blogging a little less intimidating by sharing the tools for online blogging success. I joined in November, 2017, after a few years of watching from the sidelines. I wish I had joined sooner! My blog grew more in six months than it had in years!
What are the benefits of joining Food Blogger Pro?
Continued education– there is always something new to learn about the business of blogging
Improve your photography
Learn about making food videos
Build traffic to your blog
Get discounts on blogger resources
Learn from live bootcamps as well as Question & Answer sessions with industry experts
Ask ANY blogging related question to the Food Blogger Pro community of experts and bloggers
Here are 7 ways to grow your blog with Food Blogger Pro:
Learn what you didn't you you didn't know: Yes, that is a mouthful. There is a lot to learn when starting your blog. Hosting, domain names, themes, the list goes on. And the tricky part, is that for a beginner SO MUCH of what you need to learn, you'll have NO IDEA that you needed to know it. When I started my blog I googled a lot. A lot. You can make a lot of progress googling, reading, and learning your way through content both on and offline but Food Blogger Pro takes the mystery out of the process. And don't think for one second if you have been in the blogging world for some time that there aren't areas where you could improve! We all tend to spend time running in place in a hamster wheel, doing the same old same old, when there are ways we could improve and become more efficient at what we do online. Food Blogger Pro offers more than 350 videos that walk you through topic after topic to make your blog better.
Improve your Photography: The videos and content on Food Blogger Pro that focus on photography are a great place to start. Read here how I improved by photography with FBP and Lindsay's Tasty Food Photography ebook. You'll learn the basics of photography, how to shoot in natural light, in artificial light, what food props and backgrounds work well for food photography, and how to edit photos. It is great to have solid recipes, but if your photos aren't impressive then you won't get much traffic.
Find the Confidence to Jump into Food Video: You've surely noticed that food videos are a BIG thing in the online food world but getting started in video can be intimidating. Food Blogger Pro walks you through step by step teaching you the ins and outs of how to make a food video. Get started with your iphone and make videos like this one which I learned how to do from Food Blogger Pro.
Build your Traffic: Search engine optimization (SEO) is key for a successful food blog. FBP goes in depth teaching about how best practices in SEO can build your traffic. You'll find useful tips that are easy to implement so that you can optimize your site and increase your traffic.
Discounts: Food Blogger Pro offers its members deals and discounts for tools and services you may want to use for your food blog. Nutrifox is free for yearly FBP members. There are discounts for Tailwind, #Hashtag Legal, ConvertKit and more than 20 others.
Bootcamps and Minicourses: Periodically, the FBP team offers bootcamps and minicourse, in addition to the monthly live Q&As that are broadcast to members. You'll have access to Bjork and his team as they delve deeper into topics that are relevant to the food blogging community.
Ask the Community Forum ANYTHING!: One of the highlights of Food Blogger Pro is the Community. You will find support, you'll find fellow bloggers who cheer for your success and pick up the pieces after failures. Is your site down? Well, ask the community for advice to see if anyone has shared a similar problem. Is your site slow? There is a long thread of advice for improving site speed. Do you need feedback on a photo or do you want to share your goals each month? Check, check. All of that and more is offered on the community forum. Bjork and his team offer advice as do many of the members. I would renew my membership solely on this feature and resource– it is incredible.
My personal Food Blogger Pro review:
Here is how I use Food Blogger Pro: First I pick a topic offered on the Video series. I watch the step by step videos, take notes, and then create a list of action items.
I start by trying to implement the action items on my own using the advice shared. If I encounter any hiccup or have any questions (it can be scary making changes to your site! who can relate?) then I post a question on the community forum and go from there.
Responses have been really quick and helpful in my case. I've learned how to best install plugins, how to improve my site speed, why to switch from http to https, and how to improve my photos and get started with videos.
If you are not sure about joining Food Blogger Pro, try some of these free resources to see how you can start your blog and improve your blog.
BIG NEWS: On May 17th, 2018, the team at Food Blogger Pro is offering a one-day SEO Bootcamp. I will certainly tune in. This is your chance to try out FBP to see the depth of information provided and the professional way that the FBP team shares information. Come try the SEO Bootcamp out!
Listening to Bjork's (free) Food Blogger Pro podcast every week is a must-do. Every Tuesday morning I look forward to the new content offered. Bjork interviews industry leaders, shares valuable advice, and brings topics to my attention that are worthwhile and interesting.
Read this free ebook, 10 Mistakes that Bloggers Make and How to Fix Them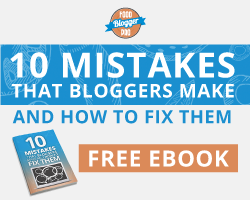 Any more questions, just ask me! I am happy to share my experience with you. Membership is only open a few times a year, so if you miss out this time, you can opt to be notified the next time it opens.
Pin this info on Food Blogger Pro for later!
Holly Baker started the food blog, A Baker's House, in 2011. She is the writer, recipe creator, and photographer for the site. Holly loves to bake and shares recipes for gluten free food, canning recipes, as well as traditional desserts too. Her recipes and food photography have been highlighted by BuzzFeed, Reader's Digest, and She Knows.