Homemade potato rolls feel like a real accomplishment when you pull these little pillows of bread out of the oven but they are really not all that complicated. This bread—potato rolls—is a new recipe for me but one that has been well-tested by the Food Network. I incorporated left over mashed potatoes into the dough and the resulting rolls were a success. Make these potato rolls for your Easter dinner, use them for sliders at a summer barbeque or serve them as small sandwiches at a baby shower. Whatever your occasion, these rolls can play a part. I'm sure I'll find many reasons to make these potato rolls again, let me know how you will use them too!
Through trial and error I am learning that making breads at home is not as intimidating as I once thought. The ingredients are basic and I usually have what's required in my pantry without needing an extra trip to the store. The hands-on time of making bread is minimal—mix ingredients, knead the dough, then let it rest before continuing translates into 10 minutes in the kitchen, run an errand, and return to your rising dough. While baking bread may span a few hours or even over night, the time you spend actively working with your dough is not overwhelming.
Print
Potato Rolls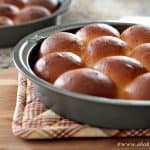 Ingredients
Ingredients:
Please note that my only change from the Food Network recipe is that I had mashed potatoes to start the recipe; their recipe begins with 1 medium potato that is cooked then passed through a potato ricer or food mill.
1 cup of smooth, mashed potatoes
1/2 cup hot water (115 degrees F)
2 large eggs, room temperature
2/3 cup sugar
2 1/4 teaspoons active dry yeast (1/4 ounce package)
1 teaspoon fine salt
4 1/2 cups all purpose flour
1/2 cup unsalted butter (1 stick) at room temperature
Instructions
Please click through to Food Network to follow their detailed directions.
I shared these potato rolls on the blog Wild Yeast.