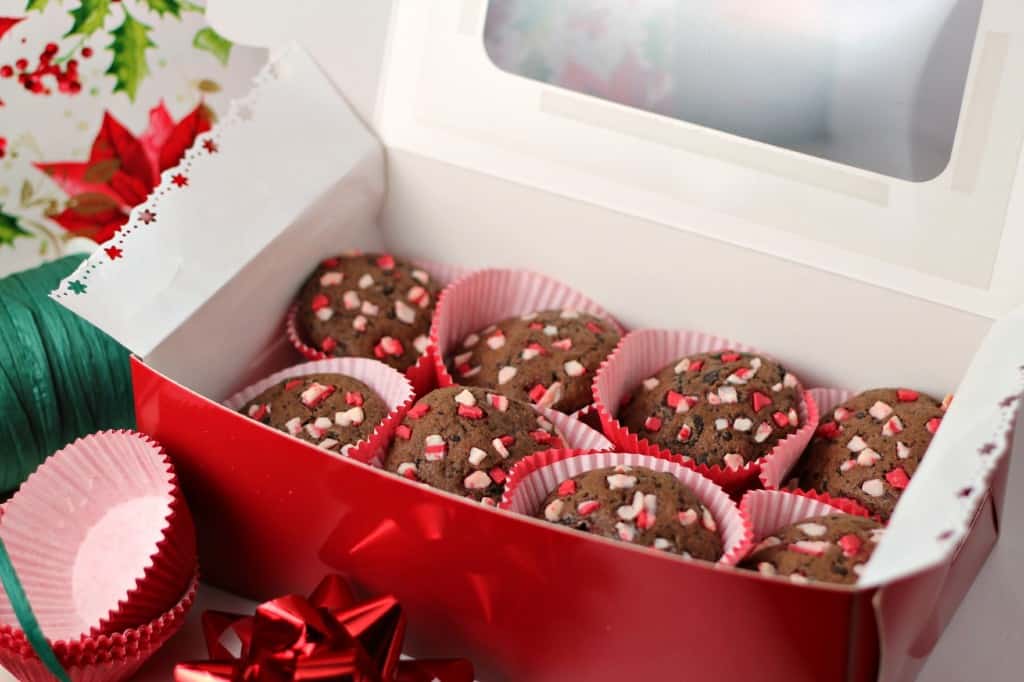 The theme this month for #CreativeCookieExchange is PEPPERMINT! What a perfect ingredient to get us in the Christmas spirit! I found a secret ingredient that will turn many of your ordinary holiday cookies into peppermint gems: Andes Peppermint Crunch Baking Chips. If you can stop yourself from eating handfuls right out of the bag, then these chips will add that special touch to these and many cookies.You don't have to create a brand new recipe to enjoy a new treat. I started with a cookie I already like to bake and added the peppermint crunch just like you'd add chocolate chips. I made two batches in the #CookingLight challenge of #BakeaSecondBatch. The first batch went to teachers at my son's preschool and the second batch to a friend as a thank you. Packaging cookies in cupcake baking cups is a nice way to present the cookies and to keep them from moving around inside the container. Last year I used Pringles containers to store, gift and ship my cookies. How do you like to wrap homemade gifts?
Recipe from Crazy for Crust, page 150 (peppermint chips added)
Ingredients:
1 1/4 cups all-purpose flour (I added another 1/4 cup to my dough)
1 Tablespoon baking powder
1/2 teaspoon salt
12 ounces bittersweet chocolate
4 Tablespoons (1/2 stick) butter, softened
2 large eggs
1/2 cup brewed espresso, room temperature
2 Tablespoons granulated sugar
1 cup confectioners' sugar (to roll the balls of dough in before baking)
1. Combine the flour, baking powder and salt in a bowl, set aside.
2. Heat the chocolate and butter in a double boiler until melted. Set aside to cool.
3. Beat the eggs, espresso and granulated sugar until smooth.
4. Add the flour mixture and chocolate to the egg mixture. Wrap in plastic and refrigerate for 2-3 hours or until firm.
5. Preheat the oven to 350 degrees F. Line baking sheets with parchment.
6. Put the confectioners' sugar in a bowl. Use a melon-baller to scoop consistent amounts of dough. Roll them in your hands into balls. Drop the dough balls into the confectioners' sugar and coat thoroughly.
7. Place the balls on the cookie sheets about 2 inches apart. One dozen should fit on each cookie sheet. Bake for 10 minutes then let cool for 5 minutes before transferring the cookies to a rack.
Here is what the group has made this month– what gorgeous cookies!
Peppermint Bark Shortbread from Food Lust People Love
Peppermint Mocha Cookies from If I Ever Owned A Bakery
Peppermint Dark Chocolate Drizzled Coconut Macaroons from All That's Left Are The Crumbs
Mint Chocolate Cookies from Made With Love
Chocolate Peppermint Cookies from Ninja Baking
Peppermint French Macarons from Cookie Dough and Oven Mitt
Chocolate Peppermint and Chocolate Chip Cookies from Karen's Kitchen Stories
Cocoa Peppermint Cookie Bark from The Spiced Life
Chocolate Peppermint Crinkle Cookies from A Baker's House
We would love for you to join us. Please link up below!
Here are some ways to get involved:
To join in the fun, just complete the steps below:
1. Write a blog post with recipe and original photo. The theme this month is peppermint! We would like the recipe to be one you're making for the first time, and photos must be original.
2. Post the Cookie Exchange badge somewhere on your blog so others can join in the fun: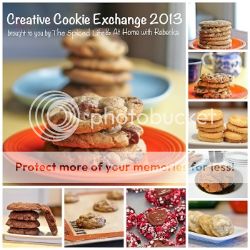 3. Make a good faith effort to visit and comment on the other cookies in the Linky party. We all love cookies so that should be easy!
4. LIKE the Creative Cookie Exchange Facebook Page
5. FOLLOW the Creative Cookie Exchange Pinterest Board:
6. LINK your blog post below using the Linky tool



You can also just use us as a great resource for cookie recipes–be sure to check out our Facebook page, our Pinterest Board, and our monthly posts. You will be able to find them the first Tuesday after the 15th of each month!