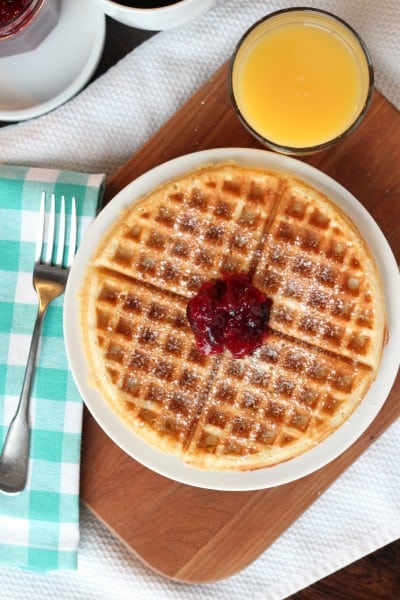 The #BreadBakers theme this month is Overnight Breakfast Breads. This includes yeasted breads that you prepare the night before then bake in the morning as well as quick breads that you prepare ahead of time then mix and bake in the morning. December is a busy time for celebrations and getting together with family and friends. It is always nice to think ahead and to make dishes ahead of time so that you– the baker– can enjoy the fruits (or breads!) of your labor with your loved ones.
Waffles are a favorite in our house and I must say, usually they are the Kellogg's Eggo variety. For a change I wanted to make these from scratch. My neighbor kindly let me borrow her waffle-maker and our kitchen quickly became waffle-making-central. First up were these lovely overnight waffles made using a King Arthur Flour recipe. I really liked the idea of making this the night before, leaving the batter to slowly develop in the refrigerator overnight, then finishing them in the morning. This dough is one of the easier yeast doughs you'll come across. Nothing fancy, just mix the ingredients then place them covered in the refrigerator overnight. We made the full batch (8 on a standard waffle-maker, 4 on a deep, Belgian waffle-maker) and froze the extras. The leftovers toast up beautifully– no one has missed the usual Eggo waffles. Top with syrup, fruit, or simply confectioner's sugar & cranberry sauce (or jam) as I have done here.
Overnight Belgian-Style Yeast Waffles with #BreadBakers
Ingredients
1 1/2 cups lukewarm milk
6 tablespoons butter, melted
2 to 3 tablespoons maple syrup, optional
3/4 teaspoon salt
1 teaspoon vanilla extract
2 large eggs
2 cups King Arthur Unbleached All-Purpose Flour
1 1/2 teaspoons instant yeast
Instructions
Please click through here for the full instructions from King Arthur Flour.
http://www.abakershouse.com/overnight-belgian-style-yeast-waffles/
Here is what the group is sharing today, enjoy!
#BreadBakers is a group of bread loving bakers who get together once a month to bake bread with a common ingredient or theme. Follow our Pinterest board right here. Links are also updated each month on this home page.
We take turns hosting each month and choosing the theme/ingredient.
If you are a food blogger and would like to join us, just send Stacy an email with your blog URL to foodlustpeoplelove@gmail.com
I have a giveaway going on right now and would love for you to enter. Who wouldn't want $25 towards your Whole Foods groceries this month? Click through here to enter.