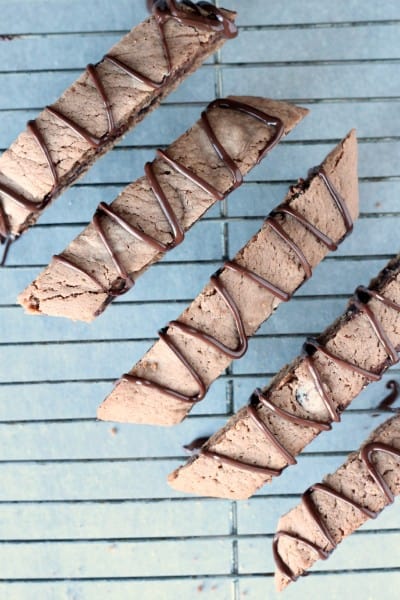 Are you still looking for that perfect cookie recipe to bake this month? Look no more, you have come to the right place. The #CreativeCookieExchange is sharing BISCOTTI recipes today. This cookie is just what its Italian translation says: it is twice-baked. First you make a dough and shape it into a long, flattened log. Bake this for a short while then you'll slice the log into diagonal pieces, arrange them on the cookie sheet and put it all back into the oven for a second baking. A welcome crunchy cookie will result. We've baked all types this month and hope you'll find a flavor combination to fit your taste.
I had coffee and chocolate on my mind when looking for biscotti recipes. I'd been munching on a sweet treat I found at Whole Foods– chocolate covered coffee beans. Yum. I am not much of a coffee drinker but I do love the smell and flavor of coffee so baking with it is a natural fit. If you can find chocolate covered coffee beans, add them in to this recipe, but if not, the addition of espresso powder and chocolate chips will create that mocha flavor profile. Drizzle with some melted chocolate to finish and you'll have a treat ideal to serve with a cup of coffee or hot chocolate.
A Whole Foods giveaway is still going on through Wednesday so please stop by here to enter for your chance to win a $25 gift card to Whole Foods!
The source of this recipe is an Almond Biscotti recipe that I found in a recent America's Test Kitchen publication called "Step by Step Holiday Baking". The primary changes are the omission of ground almonds and the addition of the espresso powder and the chocolate in my version. Enjoy!
Ingredients
2 1/4 cups all purpose flour
2 tsp baking powder
1/4 teaspoon salt
2 eggs
1 TB cocoa powder
1 tsp espresso powder plus 3 TB boiling water
1 cup sugar
4 oz butter, melted
1 teaspoon vanilla
1/2 cup dark chocolate chips
1/2 cup chocolate covered coffee beans (optional)
#Topping
Optional: 1/2 cup chocolate chips or your choice, melted
Instructions
Preheat the oven to 325 degrees F.
Stir the espresso powder and boiling water in a small bowl. Set aside.
Prepare a baking sheet with parchment paper.
Combine the flour, baking powder, salt, eggs, and cocoa powder in a medium mixing bowl. Whisk gently to combine. Set aside.
Using a food processor, add the eggs and process for 2-3 minutes or until they lighten in color and double in size. Slowly add the sugar to the eggs (keep the processor running) then add the melted butter, vanilla, and espresso. Scoop the mixture back into the bowl that contains the flour mixture. Fold to combine then add the chocolate chips and coffee beans (optional).
Shape the dough into two long rectangles, measuring approximately 8 inches by 3 inches. Place them on the baking sheet. Spray with baking spray.
Bake for 30 minutes. Remove from oven and let rest on the baking sheet for 30 minutes. Gently slide the loaves to a cutting board and cut with a serrated knife on the diagonal in 1/2 inch slices. Place the slices with the newly cut side down back on the baking sheet. Bake for an additional 30 minutes, turning the slices to the opposite cut side halfway through. Cool on a wire rack.
Optional finish: melt chocolate chips in the microwave in 30 second increments, put the melted chocolate in a small Ziploc bag. Cut a hole at one of the corners then drizzle the chocolate over the cooled biscotti.
http://www.abakershouse.com/mocha-biscotti/
You can also use us as a great resource for cookie recipes. Be sure to check out our Pinterest Board and our monthly posts (you can find all of them here at The Spiced Life). You will be able to find them the first Tuesday after the 15th of each month! Also, if you are looking for inspiration to get in the kitchen and start baking, check out what all of the hosting bloggers have made: