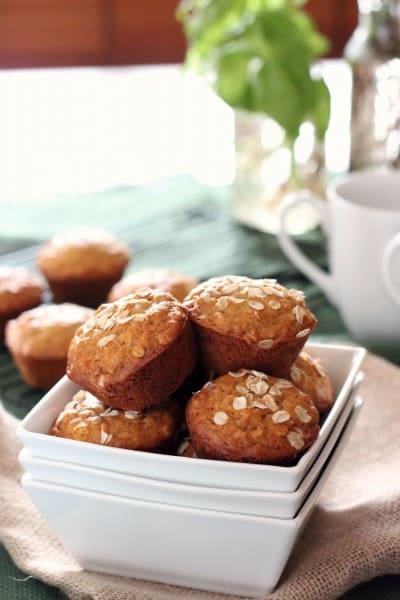 Oatmeal is such a popular way to start the day and adding oats to a muffin is nice way to incorporate this ingredient into your breakfast baked goods. I found this recipe on the Food and Wine website; apparently the recipe was inspired by the bee hives at the White House. When the #Breadbakers announced that Oatmeal Breads would be the theme for July I knew I wanted to give these muffins a try. My only changes were to use all white flour rather than whole wheat since that is what I had in the pantry and I also omitted the cardamom but added a touch of nutmeg. These were best fresh and warm right out of the oven but my parents kindly ate them the day after baking. A pat of butter or dollop of honey would be a good idea especially on day two. Next time I'll freezer half of the batch and then heat them one at a time as needed. The smell of honey and oatmeal baking in the oven was indeed welcome even on a summer's morning so recreating that feeling with the aid of the freezer would stretch out the enjoyment for sure.
Please find the full recipe here.
This month our baking group was led by Rocío at kids & chic, many thanks!! If you are a food blogger and would like to join us, just send an email with your blog URL to foodlustpeoplelove@gmail.com. #BreadBakers is a group of bread loving bakers who get together once a month to bake bread with a common ingredient or theme. You can see all our of lovely bread by following our Pinterest board right here. http://www.pinterest.com/flpl/bread-bakers/ Please enjoy these Oatmeal Breads shared below.
Oatmeal Bread themed #BreadBakers: