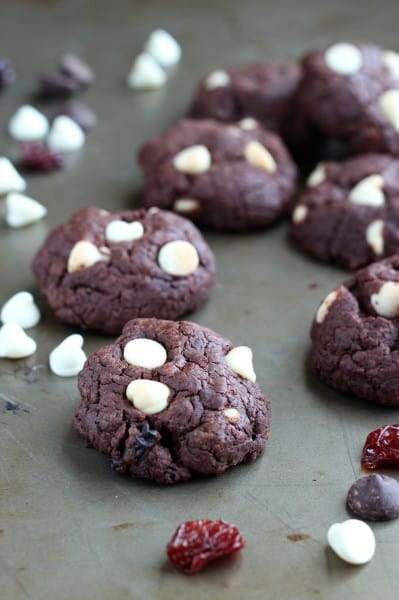 The #CreativeCookieExchange is at it again– this month the theme is CHOCOLATE and BERRIES! You can't go wrong with either of those ingredients; combining them might get you extra points in my book. That is what I did in these double chocolate cookies with dried cherries. I started with this favorite brownie cookie recipe (which really is fantastic all by itself) and I added white chocolate chips and dried cherries to round out these chocolate cookies. Add nuts if you wish, a bit of salty crunch would be a nice addition here.
Double Chocolate Cookies with Dried Cherries
Ingredients
1 cup all purpose flour
1/4 teaspoon baking powder
1/4 cup butter (1/2 stick)
12 ounces chocolate (I used bittersweet chips)
1/2 cup brown sugar
2 teaspoons vanilla
2 large eggs
1/2 cup white chocolate chips
1/2 cup dried cherries
Instructions
Combine the dry ingredients of flour and baking powder. Whisk lightly and set aside.
Either use a double boiler to melt the butter and chocolate or do so in the microwave on 30 second intervals at half power. Let cool for a few minutes then add the brown sugar and vanilla.
Pour the chocolate mixture into a larger bowl and mix in the eggs. Slowly add the flour mixture then add the white chocolate chips and the dried cherries.
While you preheat the oven to 350 degrees F, cool the dough in the refrigerator for 10-20 minutes.
Make balls of dough that weigh 1 oz each and bake on baking trays lined with parchment. Bake for 14-15 minutes. Remove from oven and cool on racks.Makes approx 32 cookies.
Notes
Recipe adapted from Krystina Castella's book, Crazy about Cookies, page 78
http://www.abakershouse.com/doublechocolatecherrycookie/
Let's see what the cookie bakers have been up to this month:
Do you love baking (and eating) cookies as much as we do? If so, we'd love for you to join this baking group. Creative Cookie Exchange has decided to stop using the linky. What this means is that the only way to join in the fun is to become a host. Just contact Laura at thespicedlife@gmail.com and she will get you added to our Facebook group where we discuss our cookies and share links.
You can also just use us as a great resource for cookie recipes–be sure to check out our Facebook page, our Pinterest Board, and our monthly posts. You will be able to find them the first Tuesday after the 15th of each month!