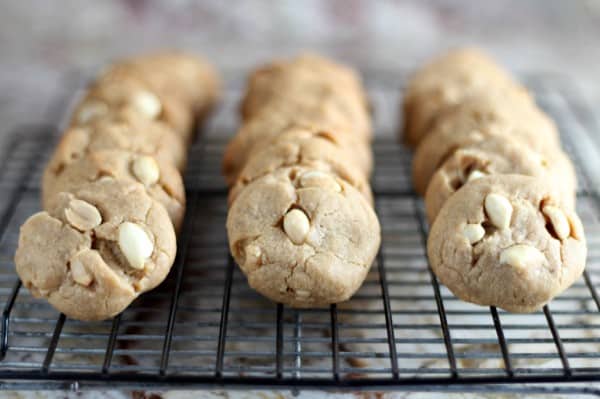 Peanut butter cookies are a favorite of mine and when my son asked to make some recently I was only too happy to agree. I've shared recipes before for the standard peanut butter cookie and a dairy free peanut butter cookie so this time we added some texture and made chunky peanut butter cookies. You could use chunky peanut butter as the original recipe from Williams-Sonoma's book, Dessert of the Day, suggests, or you could add a generous portion of whole peanuts (halves and pieces are fine too) to the dough before baking. My only advice would be to err on the side of under-baking rather than over-baking. I got my first batch out of the oven just at the right moment but let the cookies on the next batch bake until the bottoms had browned, making a crunchy cookie rather than a soft, yet chunky peanut butter bite. Even so, we happily ate both batches.
Chunky Peanut Butter Cookies
Ingredients
1/2 cup butter, melted
1/2 cup brown sugar
1/2 cup granulated sugar
1 cup peanut butter (I used smooth peanut butter)
1 egg
1 tsp vanilla extract
1 1/2 cups flour
1/2 tsp baking powder
1/2 tsp baking soda
1/2 tsp kosher salt
1 cup peanuts (or pieces/halves of peanuts)
Instructions
In a stand mixer combine the butter and sugar until light and fluffy. Add the peanut butter, egg, and vanilla. Mix until well blended.
In a separate bowl whisk the flour, baking powder, baking soda and salt.
Pour the flour mixture into the bowl of the stand mixer as you mix on low speed.
Add the peanuts and mix until they are distributed throughout the dough.
Refrigerate the dough for 30 minutes.
Preheat the oven to 350 degrees F. Make small balls of dough then gently flatten them with your fingers and bake on a parchment covered baking sheet for 12-13 minutes.
Notes
Recipe (with slight changes) from Williams-Sonoma's book, Dessert of the Day, page 137.
http://www.abakershouse.com/chunky-peanut-butter-cookies/