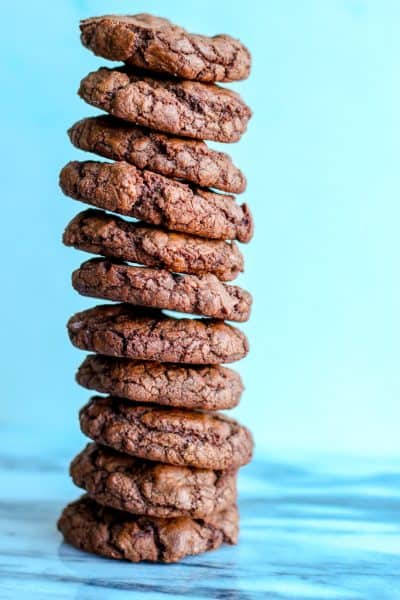 Sometimes life presents tough decisions: should you eat a cookie or a brownie? Wonder no more, make these brownie cookies because you will have the best of both worlds! Brownie cookies are exactly that– a combination of the chewiness of a brownie matched with the shape and serving size of a cookie. The outer layer provides a cookie crunch while inside you'll find your brownie flavor ready and waiting. These chocolate cookies are perfect for sharing at a potluck, baking for the school bake fair, swapping at a cookie exchange, and packing up to ship them across the miles. How high can you stack your brownie cookies?
Tough choices in life: Do you want a cookie or a brownie? Have both!
The depth of chocolate flavor in the brownie cookies comes from 12 ounces of melted chocolate that is added into the cookie dough. Chilling the dough before you shape the cookie balls is a key step not to skip. The cooled dough allows you to shape the cookie brownies easily. Since they are chilled going into the oven the brownie cookies hold their shape well while baking.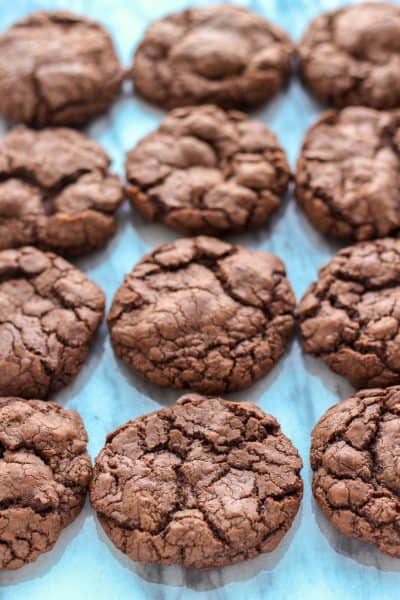 Ingredients
1 cup flour
1 tsp baking powder
1/4 cup cocoa powder
1/4 cup butter
1/2 cup brown sugar
1/4 cup granulated sugar
1 tsp pure vanilla extract
2 large eggs
12 oz semi sweet chocolate chips, melted and cooled slightly
Instructions
Preheat the oven to 350 degrees F. Prepare baking sheets with parchment paper.
In one bowl add the flour,baking powder, and cocoa powder. Whisk gently then set aside.
In the bowl of a stand mixer beat the butter, white sugar and brown sugar. Add the vanilla and the eggs, continue to blend on medium high speed. Lower the speed to medium low and incorporate the melted chocolate into the mixture.
Using a spoon, fold in the flour mixture to the wet ingredients. Fold until just barely incorporated.
Chill the cookie dough in the refrigerator for 30 minutes.
Remove the cooled cookie dough and make tablespoon sized balls of dough. Place on the baking sheets.
Bake for 11-13 minutes. Let cool on a wire rack.
http://www.abakershouse.com/brownie-cookies/
Looking for more ideas? Try these 12 Cookies to bake this Season.